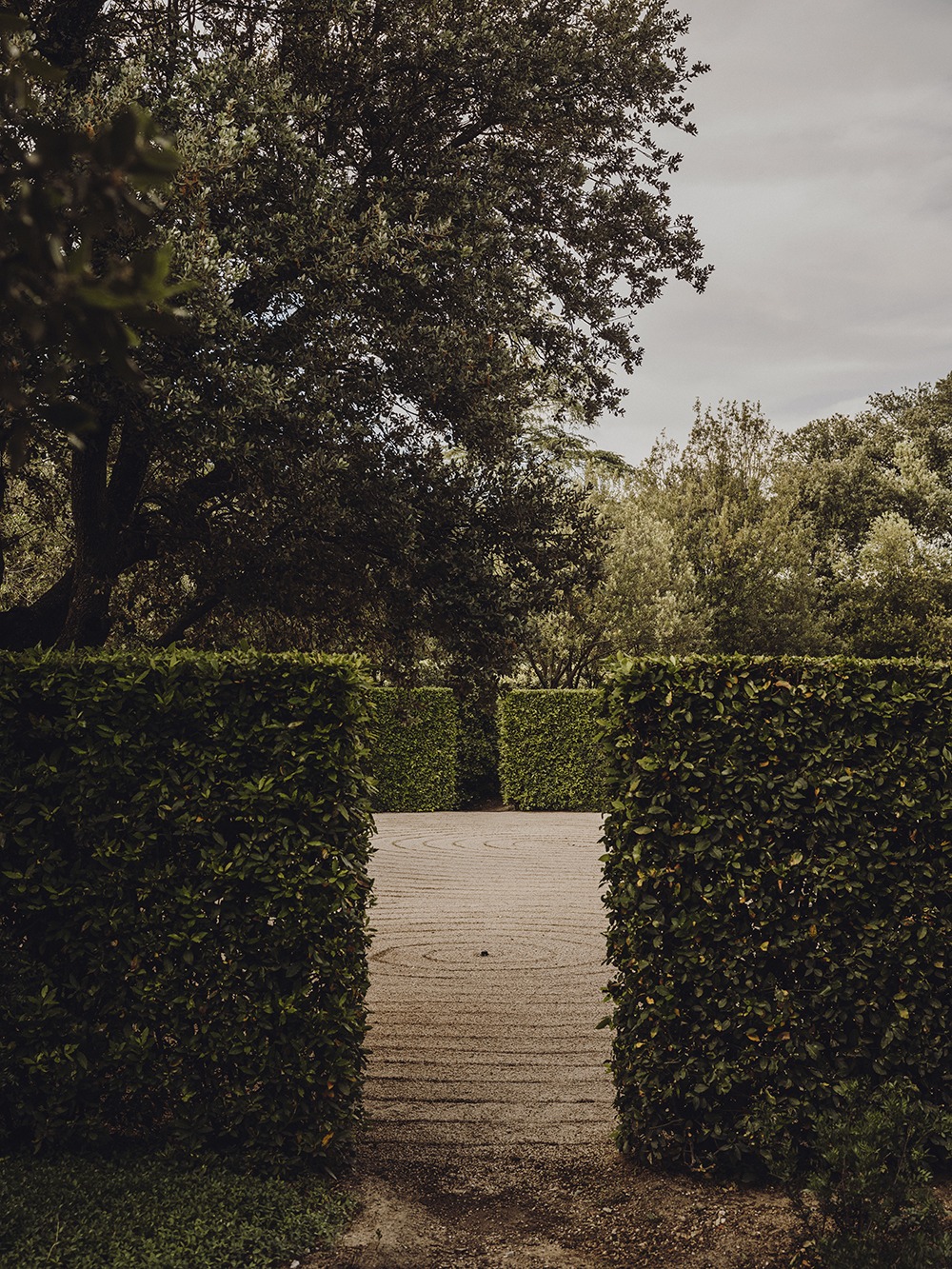 As I walk, I heed the spherical pattern traced on the ground…my mind is engrossed in circular trains of thought…I feel as if I am floating…walking on the ripples caused by an imaginary pebble as it drops into the pond…right in the middle of the circumference.
The person who launched the pebble is Fernando Caruncho, interpreter of a language conveyed through light and nature, expressed in the form of a garden.  However, this is not the only way that Fernando imparts its message. Today, on our visit to his studio, there is a magnetic rhythm to Fernando's conversation that guides us in discovering what underlies that notion commonly known as a landscape or–what is tantamount to the same– what underlies what we call life.  
Close

In this little corner of the world on the outskirts of Madrid, there are no shortcuts to the course of events. Time follows its natural order and the passage of time is awarded an almost religious respect. Gardening is based on this same respect. Fernando's studio has specialized in sparking off dialogue between landscape gardening (in the sense of creating gardens conceived to accompany and enhance architecture) and this last discipline for over forty years.
Lulled by the unusual tempo of Caruncho's words, we converse with him about the divine, the human and a combination of both. For this creator, one is meaningless without the other. His background in philosophy–whose studies he completed before turning to the world of gardening–exerts a strong influence on his vision of the world. His gentle tones and unhurried pace lend a credibility to words that have a transformational capacity. "Gardens are a question of faith, where desire plays a key role. I believe in love as a universal force. It's that unfamiliar force that gives us our balance in this chaotic universe".
Close



Fernando spent part of his childhood in Ronda, Malaga, where his parents had an apartment. "At the end of the tree-lined avenue, La Alameda del Tajo, I would cling onto the railings of a vantage point hovering above a 200-metre drop and gaze at the landscape that stretched out before me", he recalls."Maybe that was the origin of my passion. Ronda is a place where one feels closely in tune with the landscape".
Read more in Issue No. 12.
Close