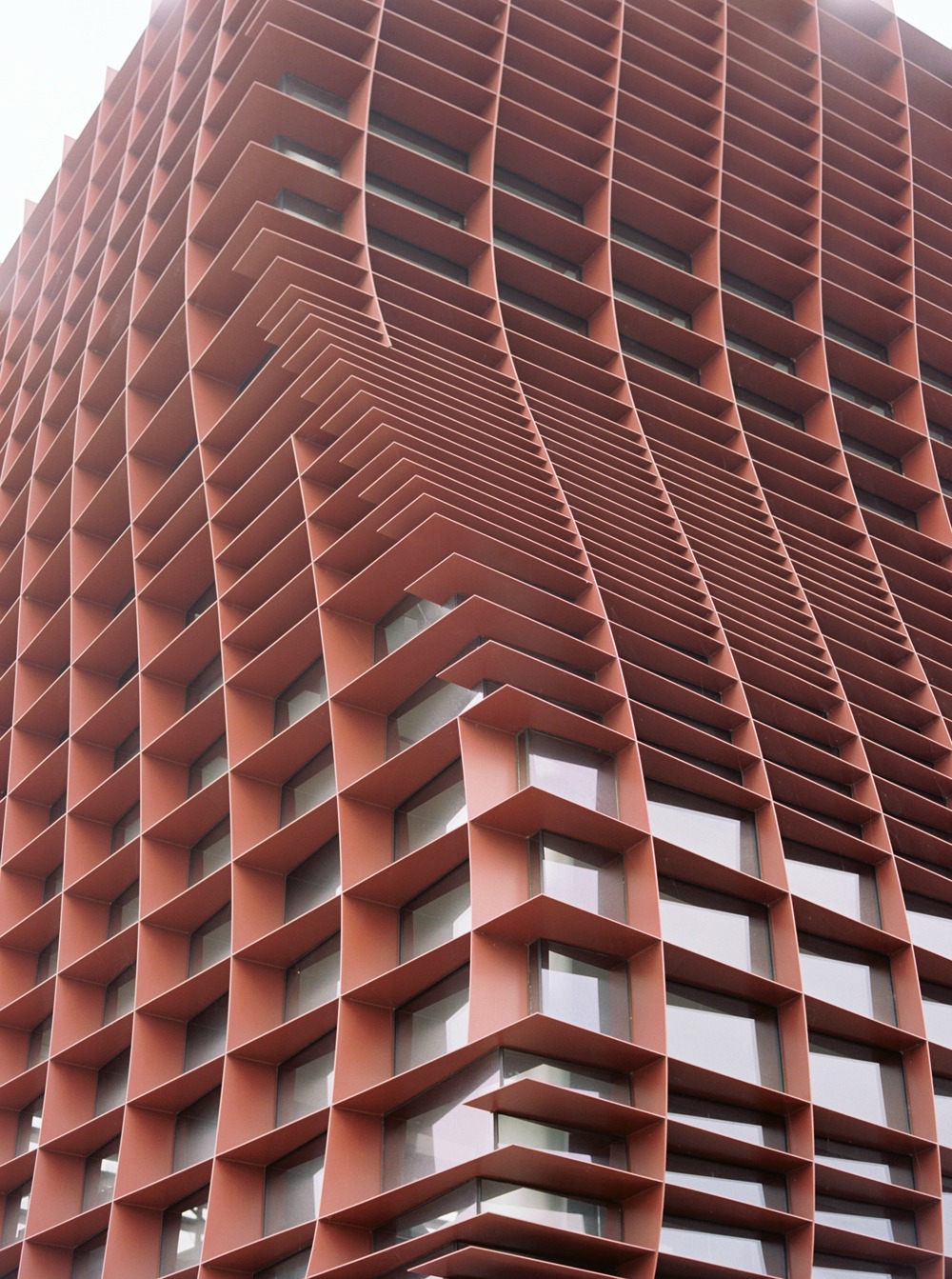 FADE IN:
A NEW BUILDING SITE IN THE SMALL WAREHOUSE/STUDIO NEIGHBORHOOD OF HAYDEN TRACT (CULVER CITY, LOS ANGELES). DESERTED. JANUARY 2014, 3:00 AM.
Close


As its headlights skim across the upwardly undulating rust-colored steel exoskeleton, the non-descript black VW sedan comes to a stop.  A young man leaves both hands on the steering wheel and leans forward to stare through the windshield, and then on second thought, opens the door slowly and approaches the 4-story half-constructed "building." Still not able to identify exactly what this structure is, he circles the worksite three times, and then, finding a vulnerable spot in security, slips inside.
He repeats this sequence most every night for 6 months; each time imperceptibly shifting his initial encounter of arrested attention towards that of durational intention. Eventually, he meets the architect of the Waffle building, Eric Owen Moss, and begins to organically assemble a creative team which will shape the essential components of Vespertine.
Close

Chef Jordan Kahn (VO)
(with a quiet sense of reflection and deep appreciation) 
I do my best work when I work with others.
As with many LA stories, this one begins with an improvised route to avoid traffic, that leads to a chance (or even, Close) encounter.  It relies on a protagonist with broad cultural interests, from art to music, to film; whose modus operandi is receptivity rather than frantic overdrive, and whose creative platform is "restaurant." That night in Los Angeles, Chef Jordan Kahn was on his way home from his inventive French-Vietnamese restaurant, Red Medicine.  At age 31, he already had been hailed as a kind of chef wunderkind and was carrying the forward momentum of success. But at this moment, an encounter he describes as an "epiphany," he down-shifted to a slow unfolding of the possibilities that three years later would open as Vespertine. 
In addition to the architectural team at Eric Owen Moss, the core collaborators include Jona Sees (textiles, garments), This Will Destroy You (original score), Ryota Aoki (ceramics), and Stefan Hagopian (biodynamics). "I curated the people," says Jordan, "but their work is theirs.  I admired them; they were already influences on my work, but I didn't know them." Prompted only by a short story written by Jordan, each of these "genuine authentic people" worked independently and "without ego" to express their contribution to Jordan's vision. Vespertine is an ensemble built out of artistic respect and trust, at a specific moment in time: "The uniqueness of the result could never be replicated." 
Close