It is by the river bank that you will find the home of designer Lea Sarasjoki and first mate Robert Dreakman. Their home, which is at the same at the same time, B&B Fiskars, and the ground floor houses their brand new bar named, Laundry. Now I am here with them, admiring the fresh oranges and waiting for …the breakfast in Fiskars!
Close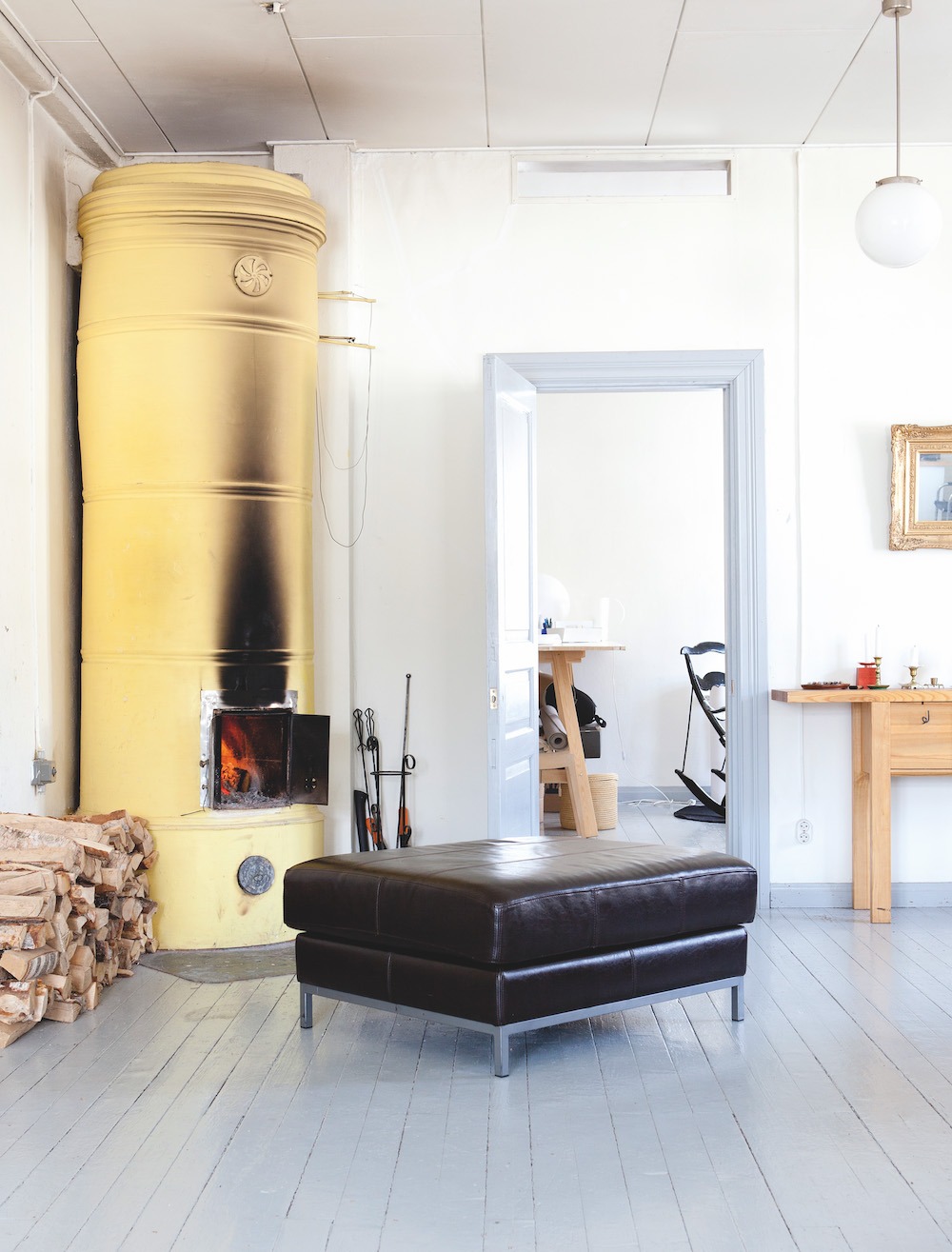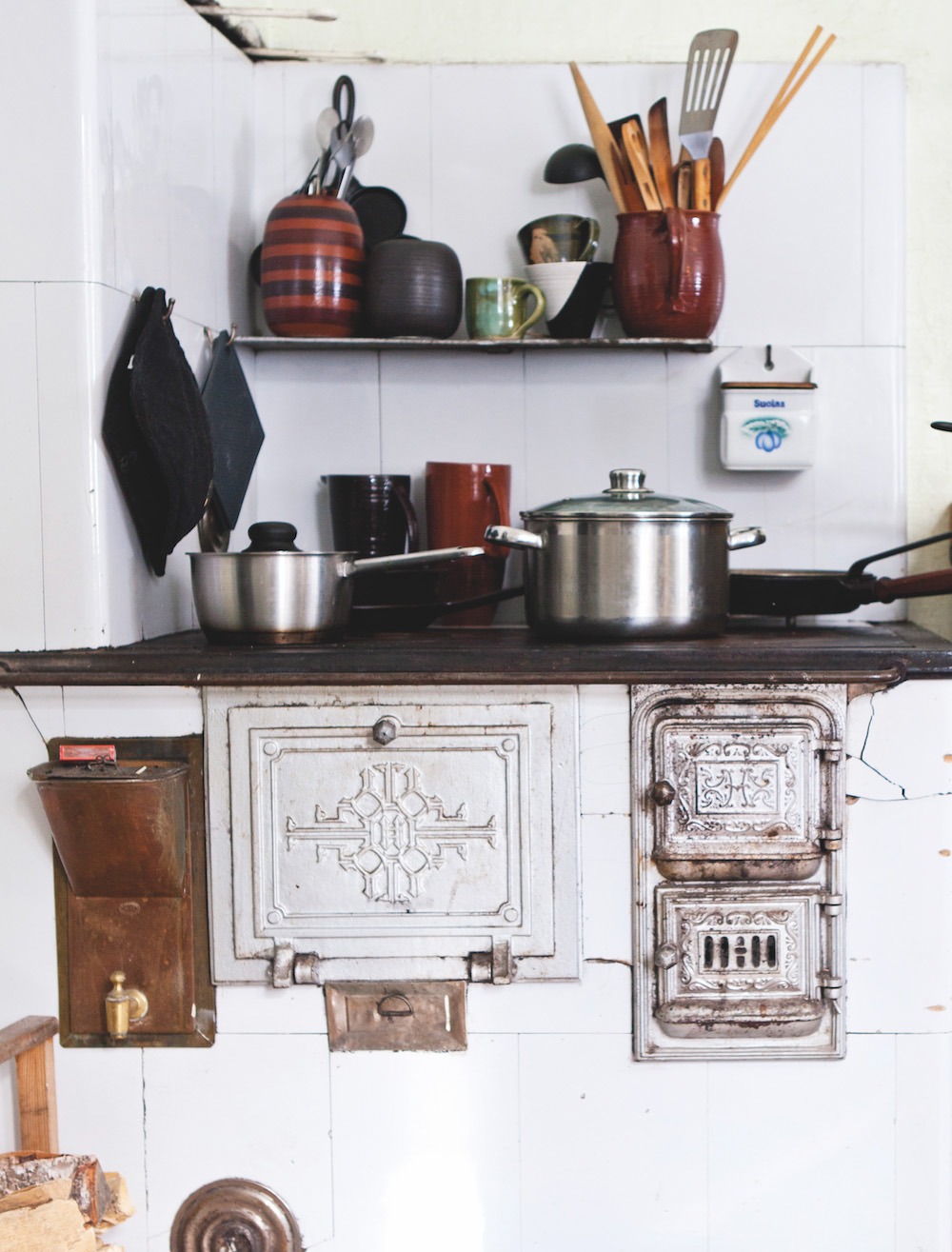 You arrive at Fiskars. You have driven about an hour (if you left from Helsinki) and found the river on your right. It runs through the village, sometimes slowly, sometimes with force. Bridges link the shores together and old trees curve over the water. The centre of the village has always been that river. In the past, the river brought the industry here that forged iron and copper from 1649. The village was even given its name from that company. Industrialists planted exotic trees and plants onto the surrounding slopes, and majestic industrial buildings were erected.
Then the industry changed and the old Fiskars village and its buildings gradually became empty as, at the same time, they deteriorated. Fiskars company later decided to settle the matter (wisely!) and rented the area's old houses primarily to artists and artisans.
Close
The aim was to preserve this culturally and historically significant village inhabited by factories, despite the fact that there was no longer any industry. After its silent period, the village is now filled with life again. The houses have been restored into homes, and industrial facilities have been converted into workspaces. The specially planted trees and plants from the old times form the exceptional flora in Fiskars that can be experienced through various nature routes around the village. The new creative community gave the village a vibrant culture, and one of its clearest expressions is a popular annual summer exhibition (organised by ONOMA), where art and design come together. In the summertime, the lure of design, art and nature fills the village of Fiskars with people. There are artisan boutiques, eateries and little workshops. For children there is a new colorful playground where you can even play the drums. An artist or a designer, curious to experience this feeling of doing for longer than just a beautiful summer's day, can even apply for alonger artist residency here!
Close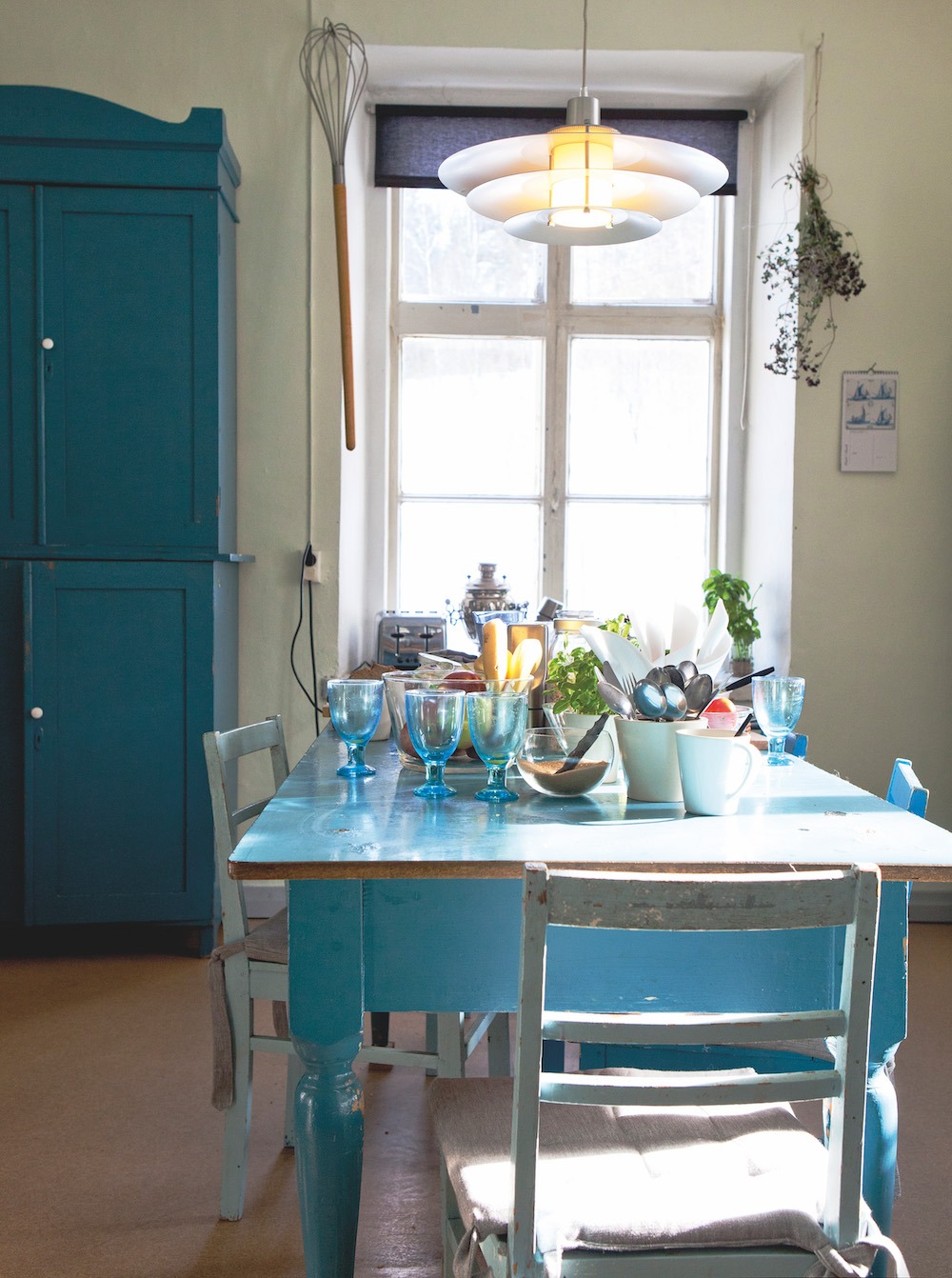 Kati Rapia: How did a dutch sailor, Robert Droekman, come to find the river bed leading through inner Finland to Fiskars village, where he discovered his very own Finnish designer, Lea Sarasjoki, as well as work, and a home for himself. Your very first meeting took place in particularly romantic locations!
Lea: Perhaps adventurous locations would suit better! I was on a vacation in the Canary Islands – La Gomera was the name of the island – on the old sailing schooner, from the home port of San Sebastian. Schooner's first mate seemed nice! When I returned to Finland, I sent a package of mushrooms I had collected from the forest and dried along with a recipe and a letter to this first mate. I did not even remember his full name. But after the chanterelles Rob sent me an email …
Rob: Then you both ended up here in Fiskars – an exceptional place with a river cutting through the village, full of ironworks history, design, and summer events!
L: I used to work as a package designer for a large firm, but finally I decided to be a freelancer designer. It was then possible to combine living and working here in Fiskars, and this village was familiar to me already. I have continued doing packaging design, but also material design, exhibition design and variety of development projects. And now this house employs quite a bit indeed! First I had my studio at home, then the B&B, and now even a bar, all at home! 
Close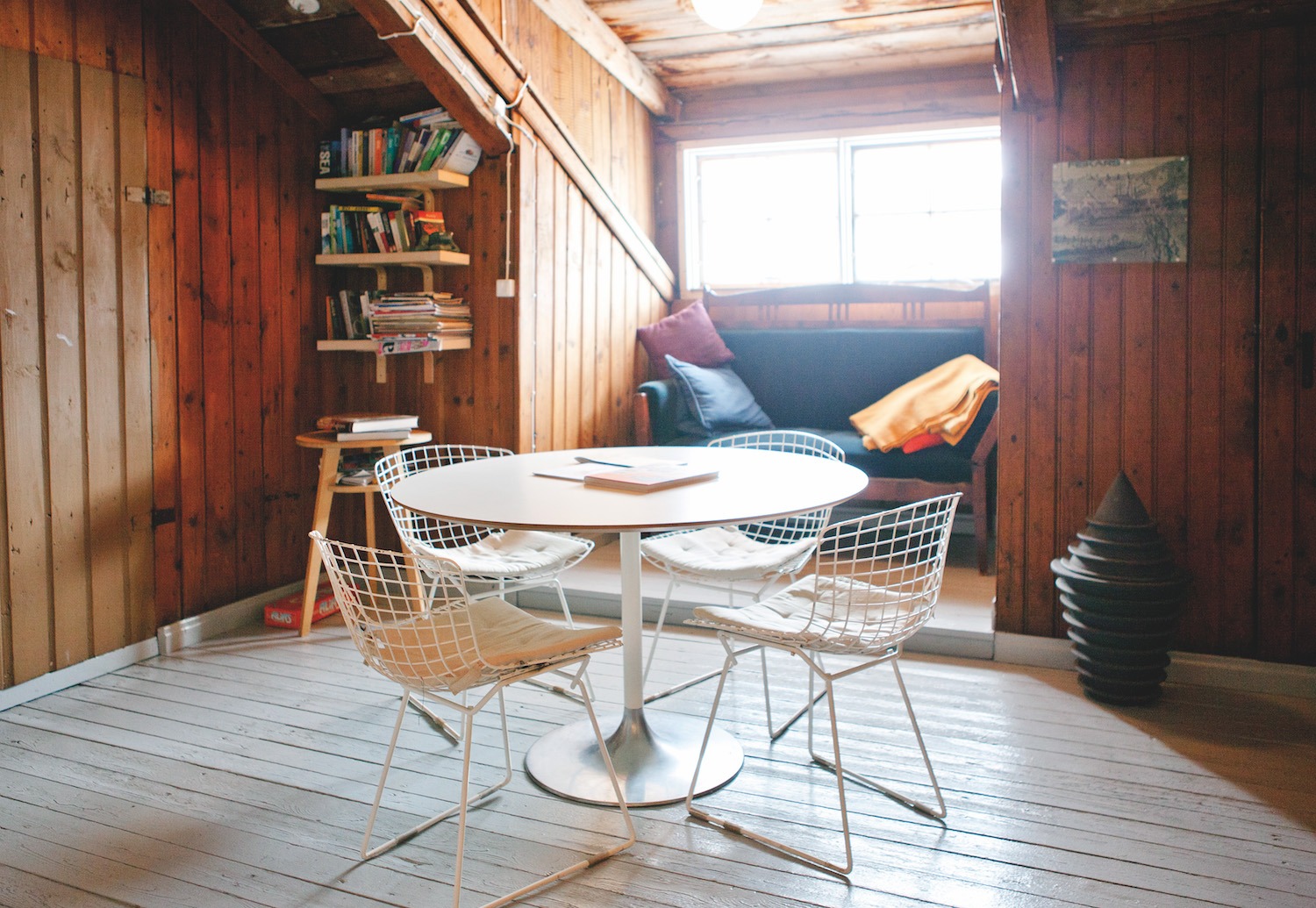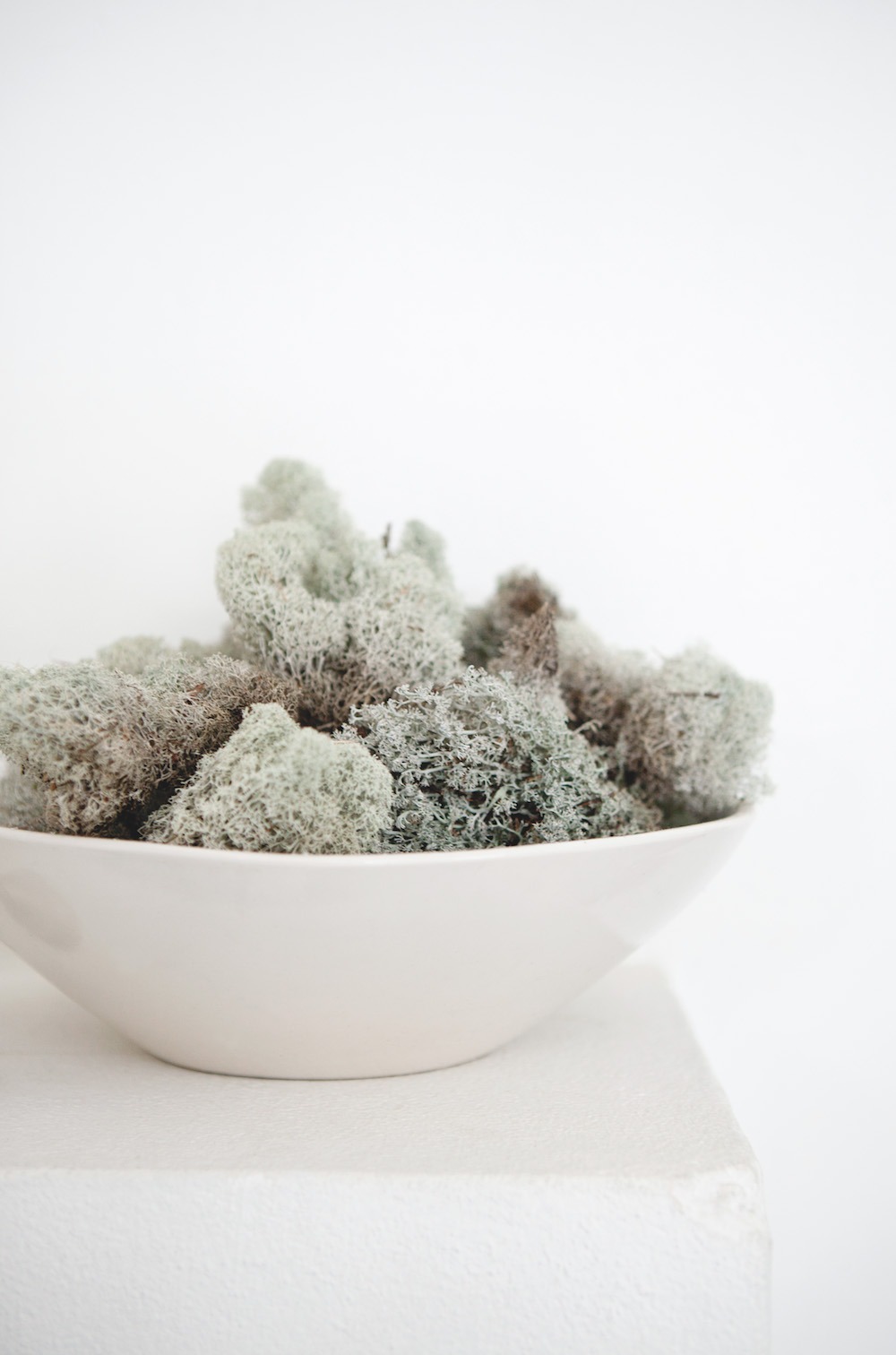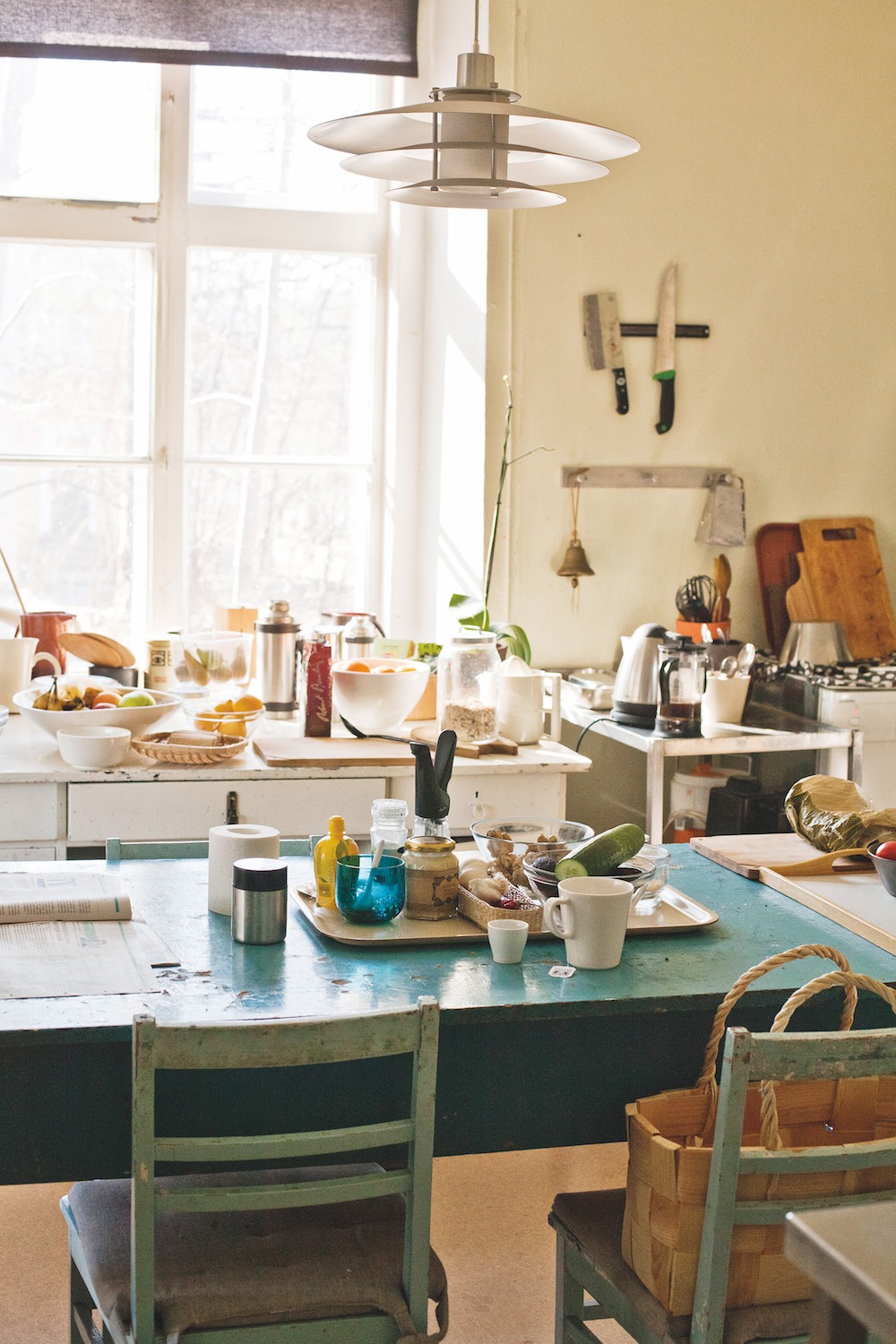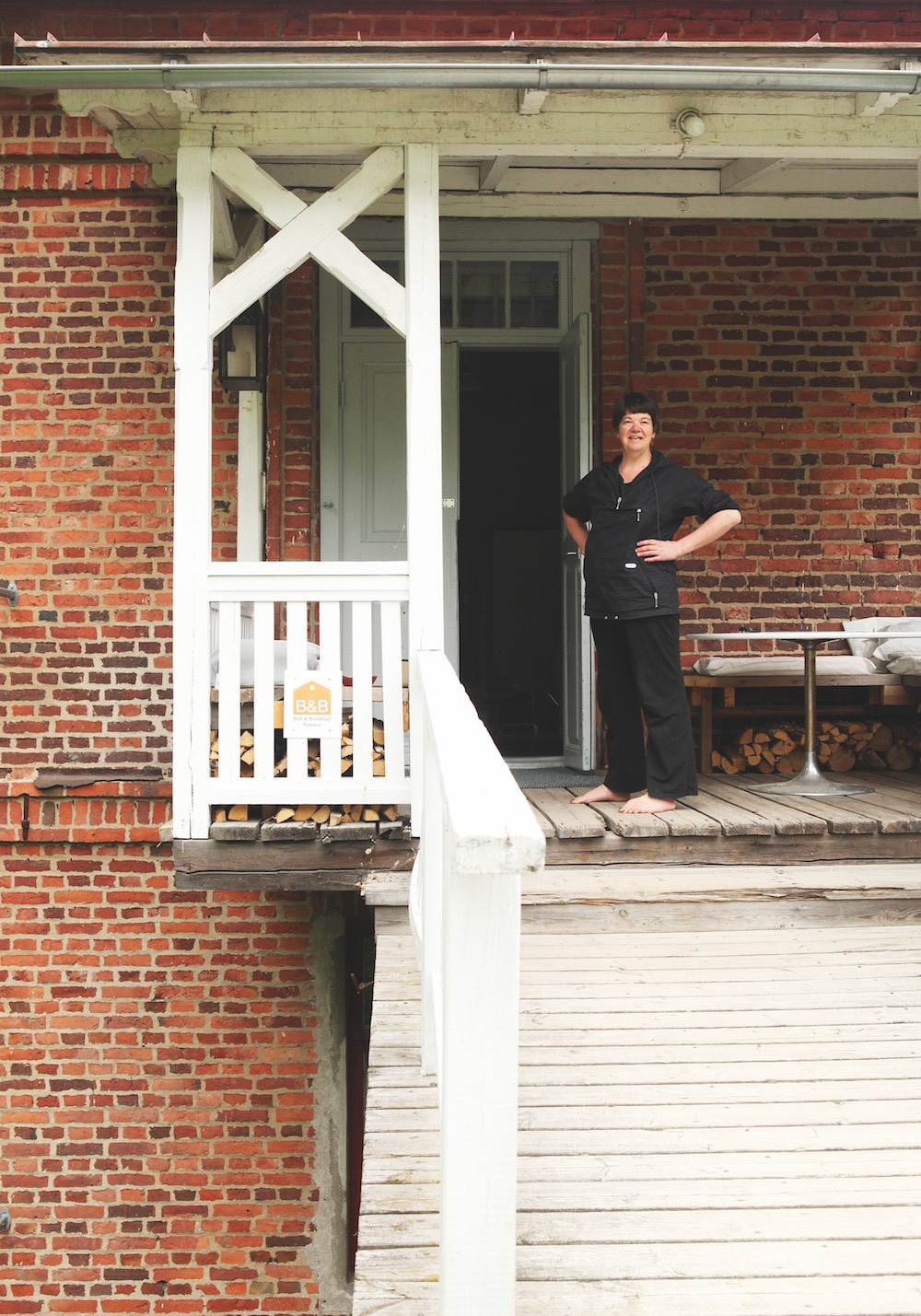 K: Quite effectively connected! I also heard that for some time the Fiskars Artist Residency was taken care of by you, Lea?
L: Yes, but I was forced to give that up when there was just not enough time, and the residence is now handled by ONOMA (the village artisan association). We are very firmly stuck here in Fiskars since our new bar opened one year ago, Laundry-bar! Fortunately, the bar has been received wonderfully well, such a casual place seems to have been really missing!
R: It is so much fun to come to spend time in our own bar. Or to watch movies, or sports on the big screen…
K: Tell me something about this house!
L: The house was originally rented by my ceramist mother back in 1995, and many members of our family have lived here, each settling and getting the house into shape in turn with their own hands and their own resources. My brother had his ceramics workshop on the ground floor before the Laundry-bar. The house was built in the 1860s and it was fortunately spared the worst renovation booms, but there were also amenities we did not have – even drainage or bathrooms at the beginning. But the space and atmosphere of 370 m2 we had. The house was already called a laundry at that time, because the ground floor had been operating as a village laundry, so that's how the bar got its name. Rob just designed a large LAUNDRY sign, made of wavy sheet metal. The house interior has been shaped by itself, the furniture has been inherited, received as presents, self-designed, found…or made by Rob.
R: I made the big wooden table boards and benches from local, 100 – year old elm wood. Local is the key word in here -the other tables and chairs are made by the legendary Nikari wood studio, the tablewear is from Iittala, which is also an important part of Fiskars. And the village nowadays has a brewery, so we have the honor of selling even local beer (Rekola). 
Close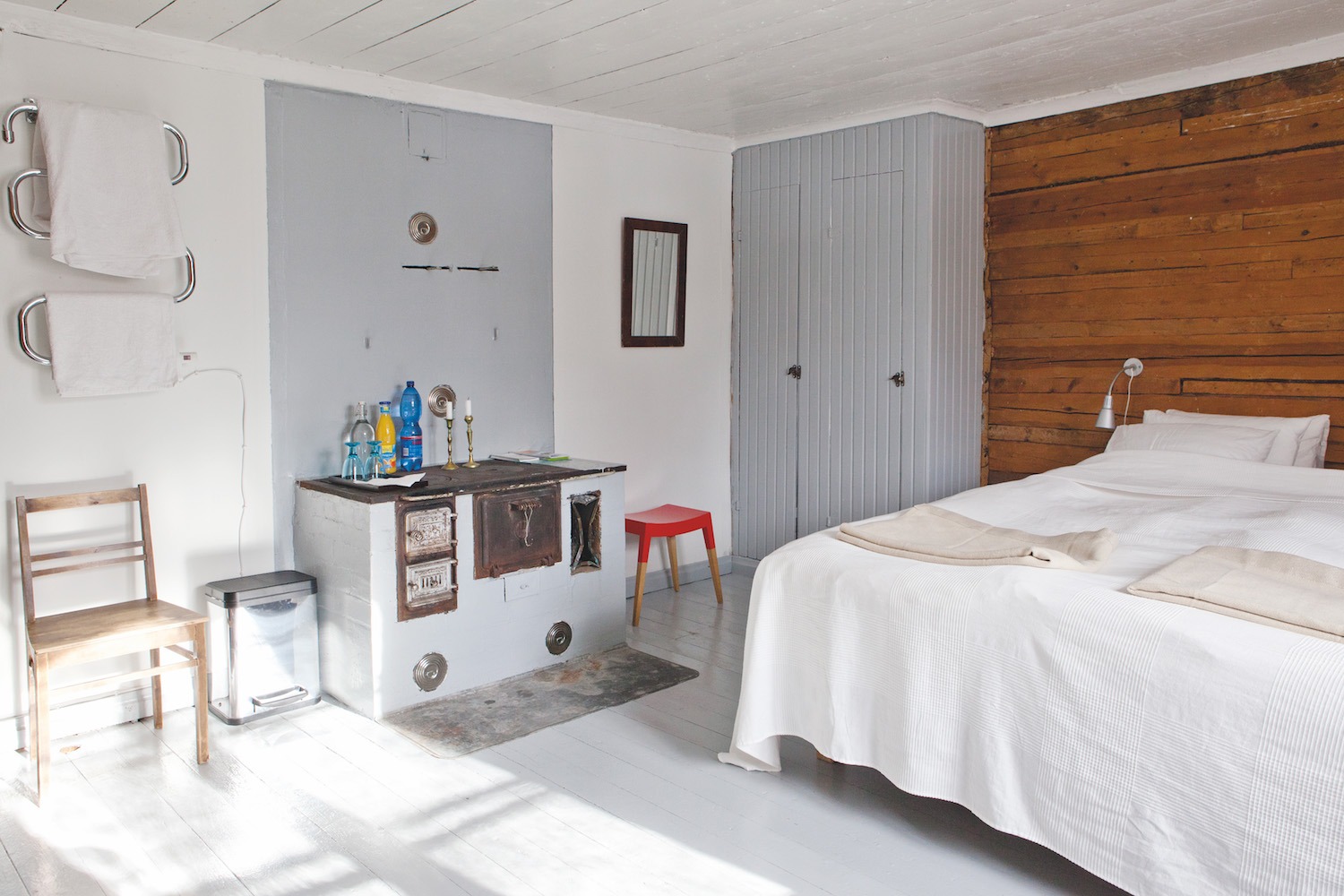 K: You've been running B&B Fiskars in your home for a long time. Guests stay in the upstairs two bedrooms and share almost all the other rooms of your home with you. How does it feel to have breakfast with strangers?
L: Just normal! Guests, of course, decide for themselves whether they want to keep some distance between us or not. Sometimes the conversations with guests tend to get very long! Though originally we decided to start the B&B only for economic reasons. We renovated the upper floor into two guest bedrooms with a lounge space, and Rob built a special low-roofed room for child guests.
K: Oranges are included in the breakfast in Fiskars, are they not?
L: We make our guests a simple but delicious breakfast! The breakfast usually offers scrambled eggs, cheese, yogurt, bread, pickles, and most importantly, the fresh orange juice!
R: It must be because I have spent so much time in the Mediterranean, but I think fresh orange juice must always be available. Laundry bar now has a mechanized orange juice squeezer, and I have also built a storage there for oranges – the same kind of hollow benches that sailing boats have. The bar operates as a café during the day and and guests often have their children with them, and orange juice is their great favourite. Well, is it tasty ..! Kati's daughter Helka (with no expression on her face): Yeah.
Close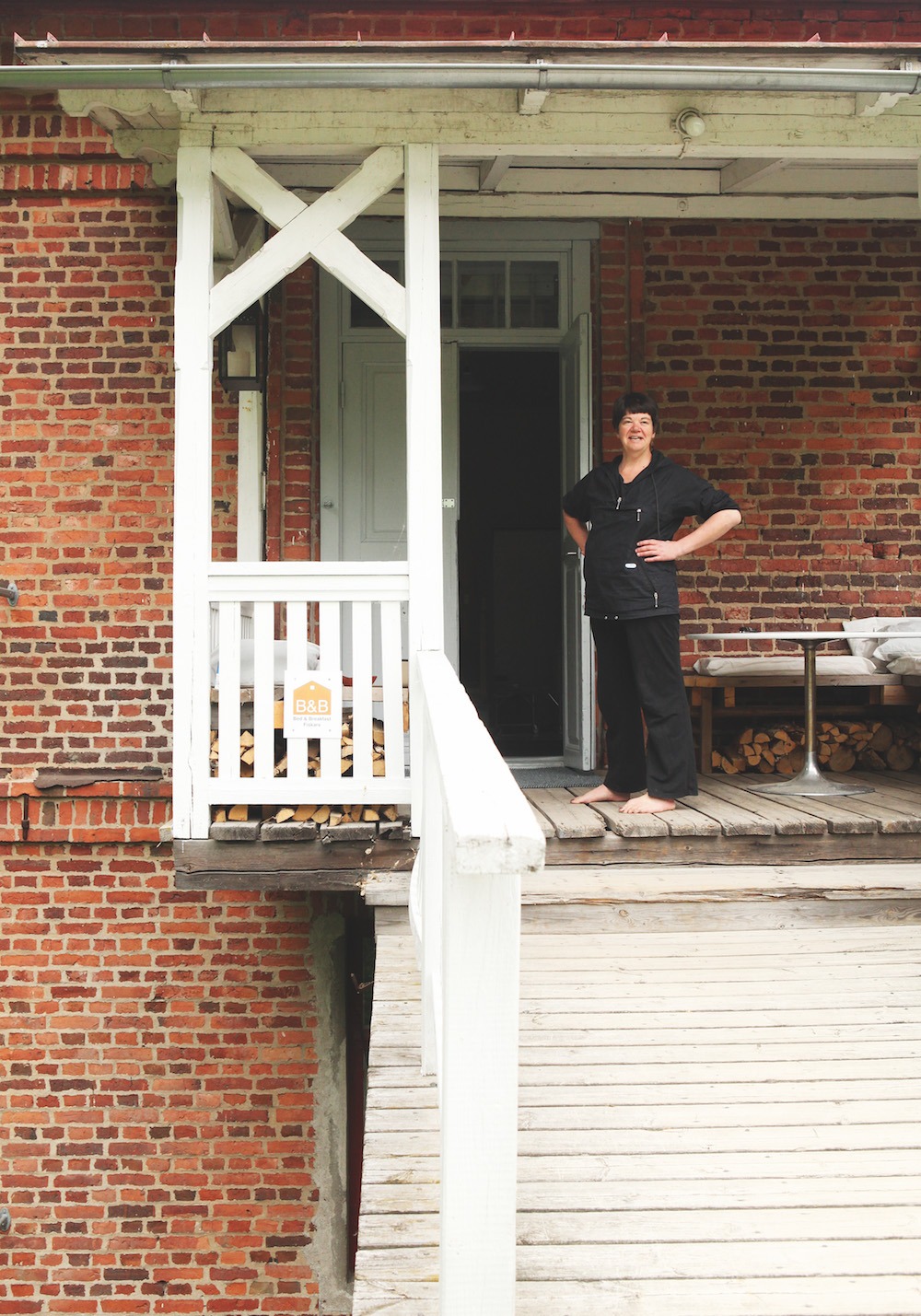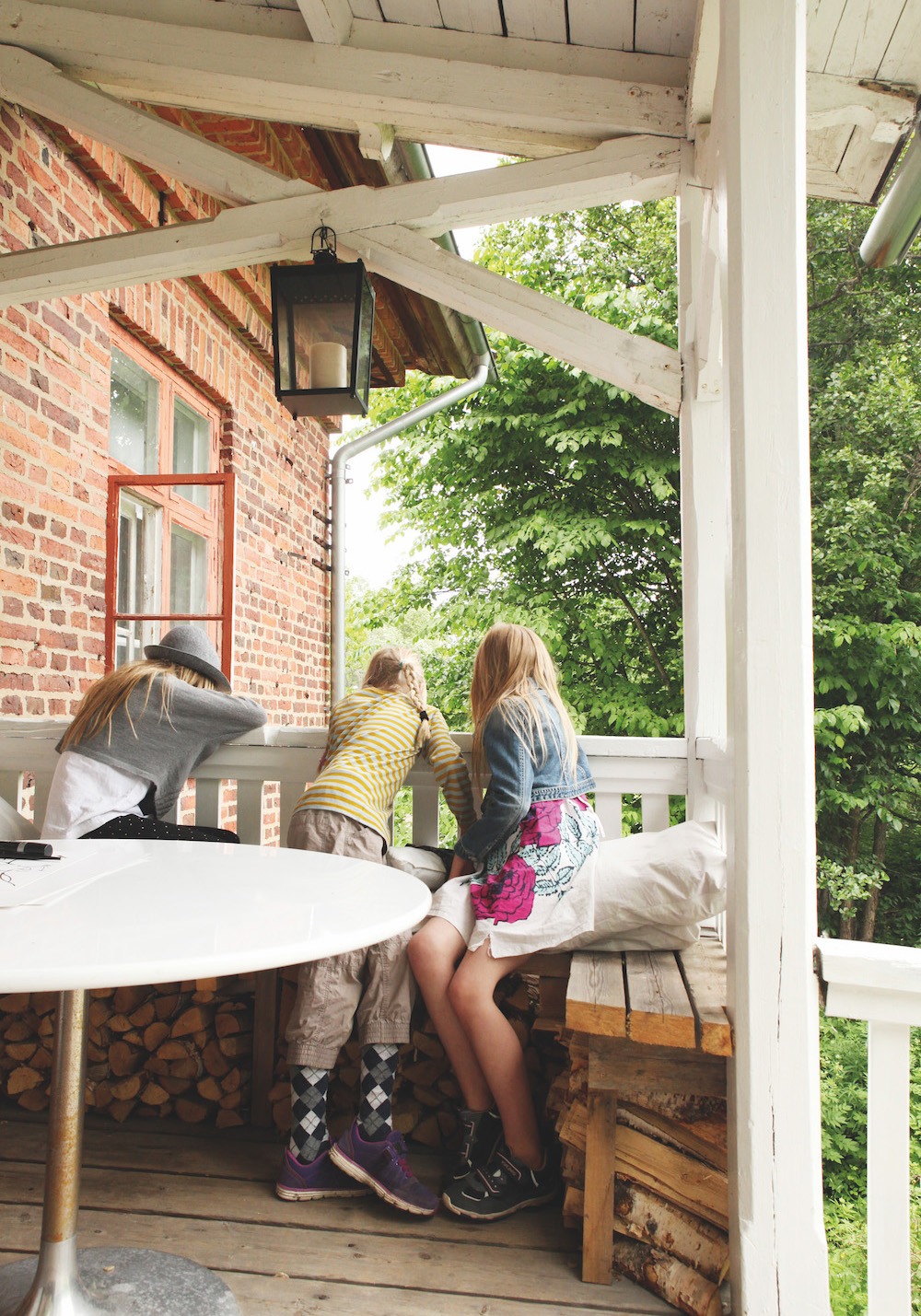 Q: Fiskars village milieu and riverside delight anyone. I can already imagine my own family living here. You have lived here for a long time, and know better how to tell, and perhaps without the rose coloured glasses, what is actually best in Fiskars?
L: Drinking coffee on the porch is always wonderful on a summer's morning. The best of Fiskars is nature and the fact that there are so many people around with creative ideas. And there are more activities available than I could ever handle!
K: Can a guest come here at any time, and how do they find you?
L: Oh come at any time, all year round, but especially in the summer. You can give us a call, or book through Airbnb, for example. We are in the centre of Fiskars, so it's easy to find. We have had great guests from near and far, and we already have guests who come many times – just to linger or to work during the weekend.Thank you so much Leah and Rob, see you soon!
Close