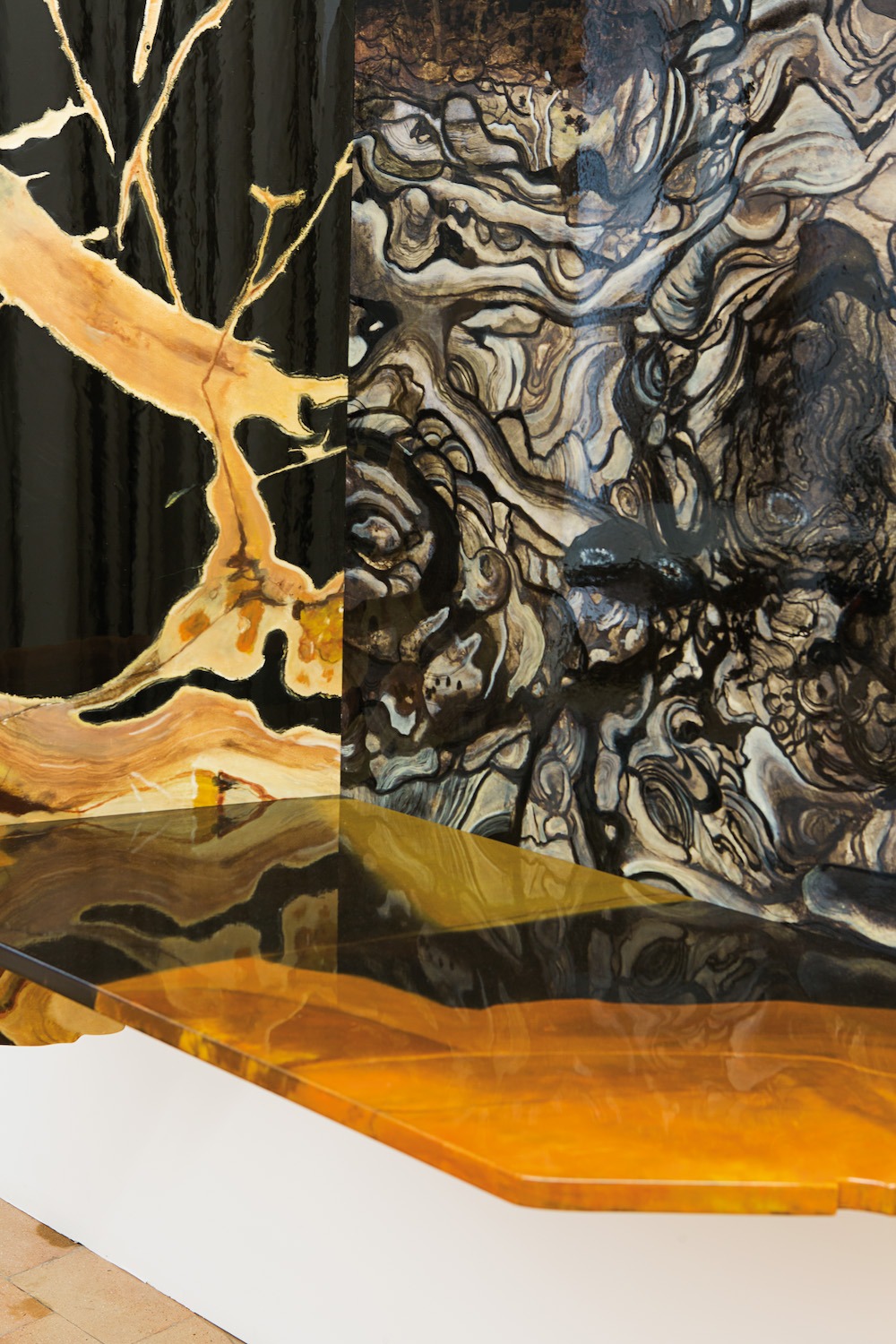 Amaryllis Jacobs and her partner Kwinten Lavigne are the founders of The Brussels gallery Maniera. Their first exhibition involved displaying furniture in the privacy of their own home. The interior objects were created by the Belgian architecture duo office Kersten Geers David Van Severen and studio Anne Holtrop, a dutch independent architect.
Close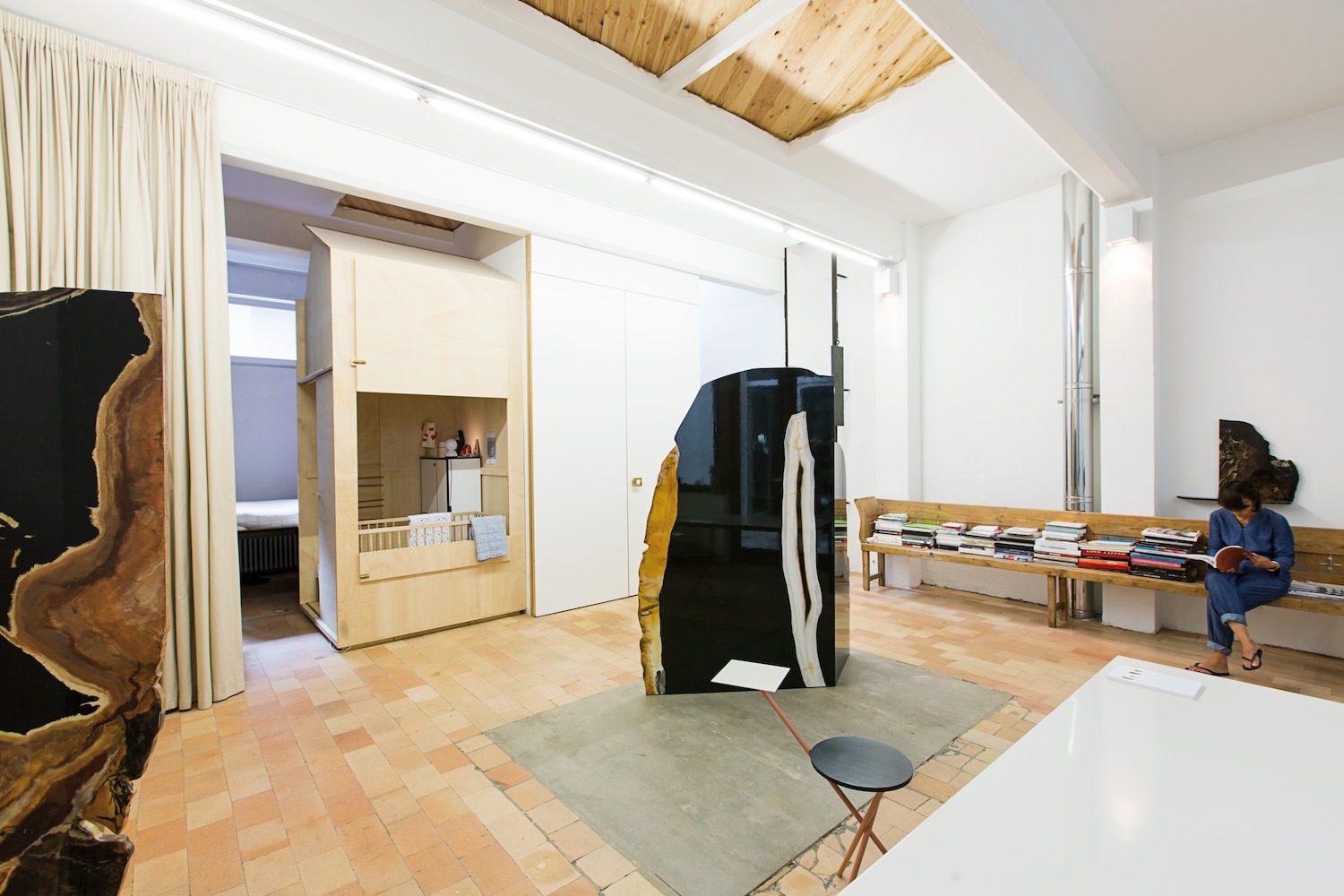 Tell me a little bit about yourself and your partner Kwinten Lavigne.
Kwinten and I met in Bozar while working on an exhibition together. We have been a couple for almost 10 years and we have a lovely daughter, Alexa. We are lovers of architecture and art, and our project brings these two inseparable disciplines together and flirts with the boundaries between them. The concept of Maniera is simple. We invite architects who have a close relationship to the visual arts, and artists who are clearly inspired by architecture, to créate furniture or objects that play with the thin line between the functional and the conceptual. Maniera also brings together our very different talents. Thanks to his production background, Kwinten assists our architects and artists in the development process and finds the best craftsmen to make the furniture. My experience in communication helps us to find a public for our exclusive furniture pieces and exhibitions.
Close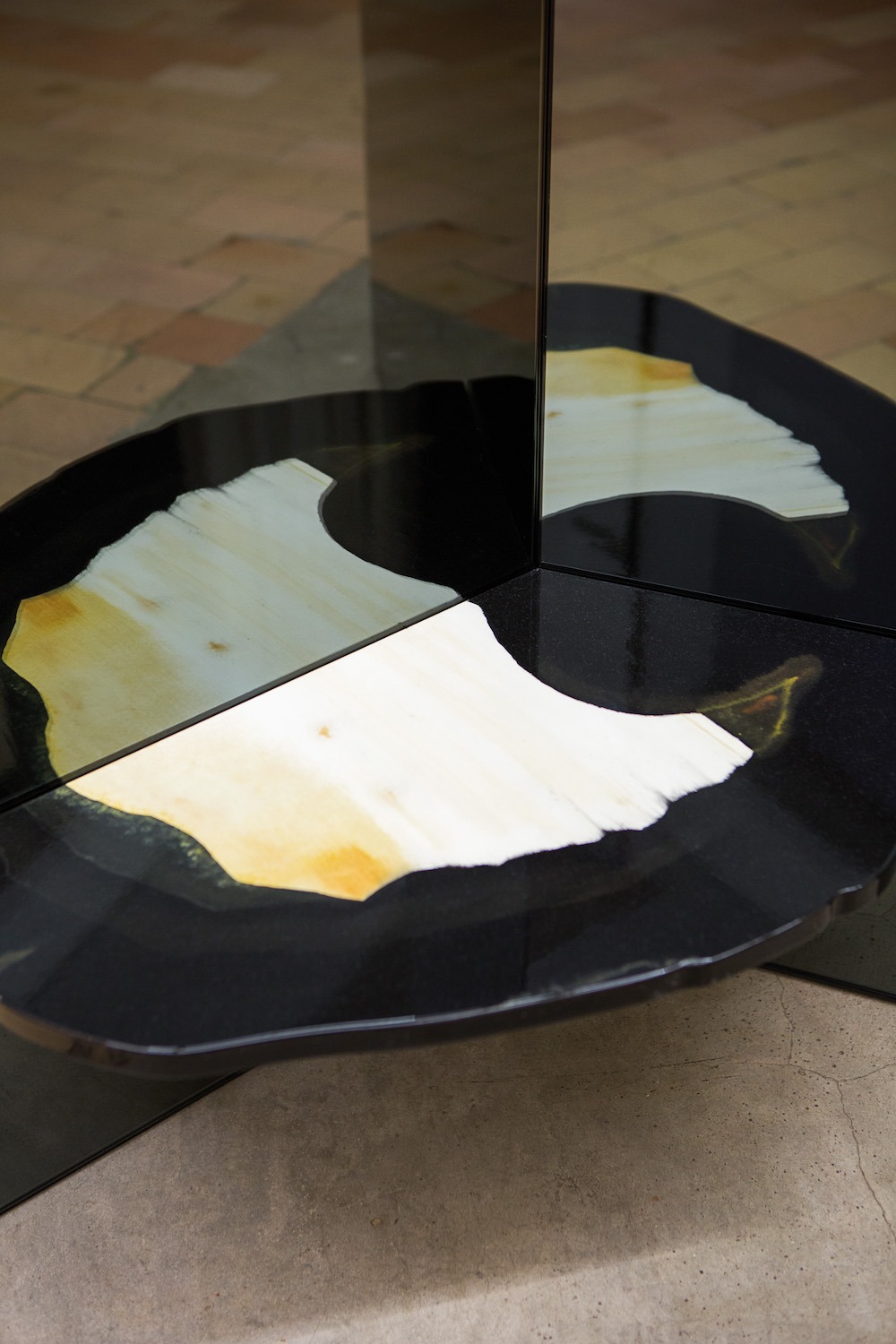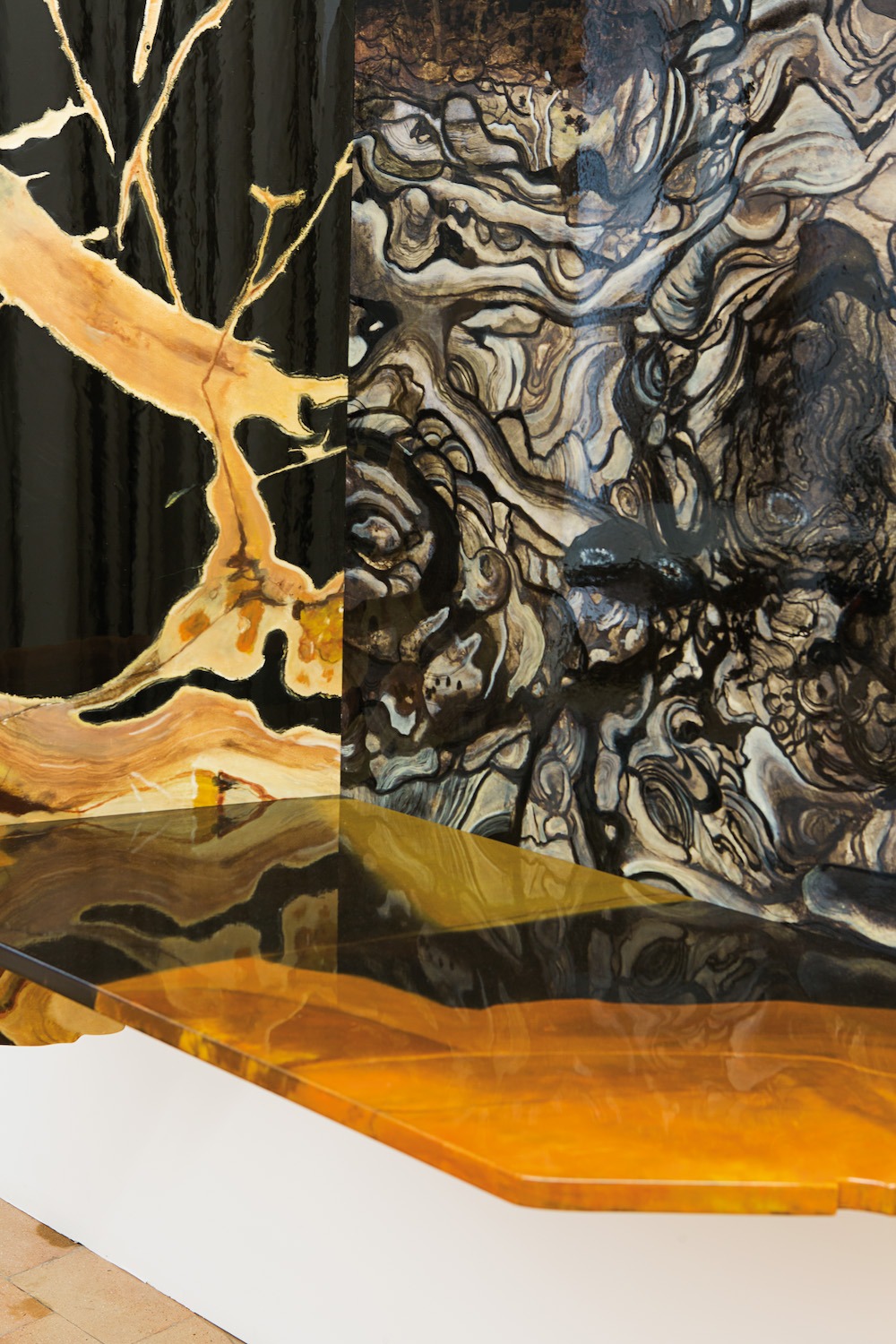 How did you get the idea to open your own private home as an exhibition space?
We did not want to rent gallery space, we preferred to invest in production, and quickly decided to organize our first exhibitions in our own home. Our home lends itself perfectly as an exhibition space due to its architecture. There are two levels that are almost square boxes. There are high ceilings and the repetition of columns makes the spaces very beautiful. There is history in the building; built in the 1920's, its original use was an old lingerie factory. Just before we moved in, it was a jazz club. The architecture is very flexible, it turned out to be easy to turn it from a living space into a gallery space. Showing furniture in a domestic surrounding is so much more interesting than presenting them in just another white box.
There is history in the building; built in the 1920's, its original use was an old lingerie factory. Just before we moved in, it was a jazz club.
We are passionate about interesting living spaces, interesting homes. And in this space each furniture piece is important, although they are mainly just found in the street (and carefully renovated by Kwinten) or inherited. There are only a few pieces we actually bought, like a chair designed by SANAA, an Alvar Aalto lamp and an Enzo Mari scale. We have some art pieces from artists Kwinten worked with and some artista friends. A home is a collage of furniture, old and new, of colours, fabrics, art objects, books and plants. An eclectic ensemble that fits the owners completely and that evolves continuously. What makes a good piece of furniture? The story behind it, the materials used, the composition of the different elements (complex or simple) and –most importantly– the way it perfectly fits in a space.
Close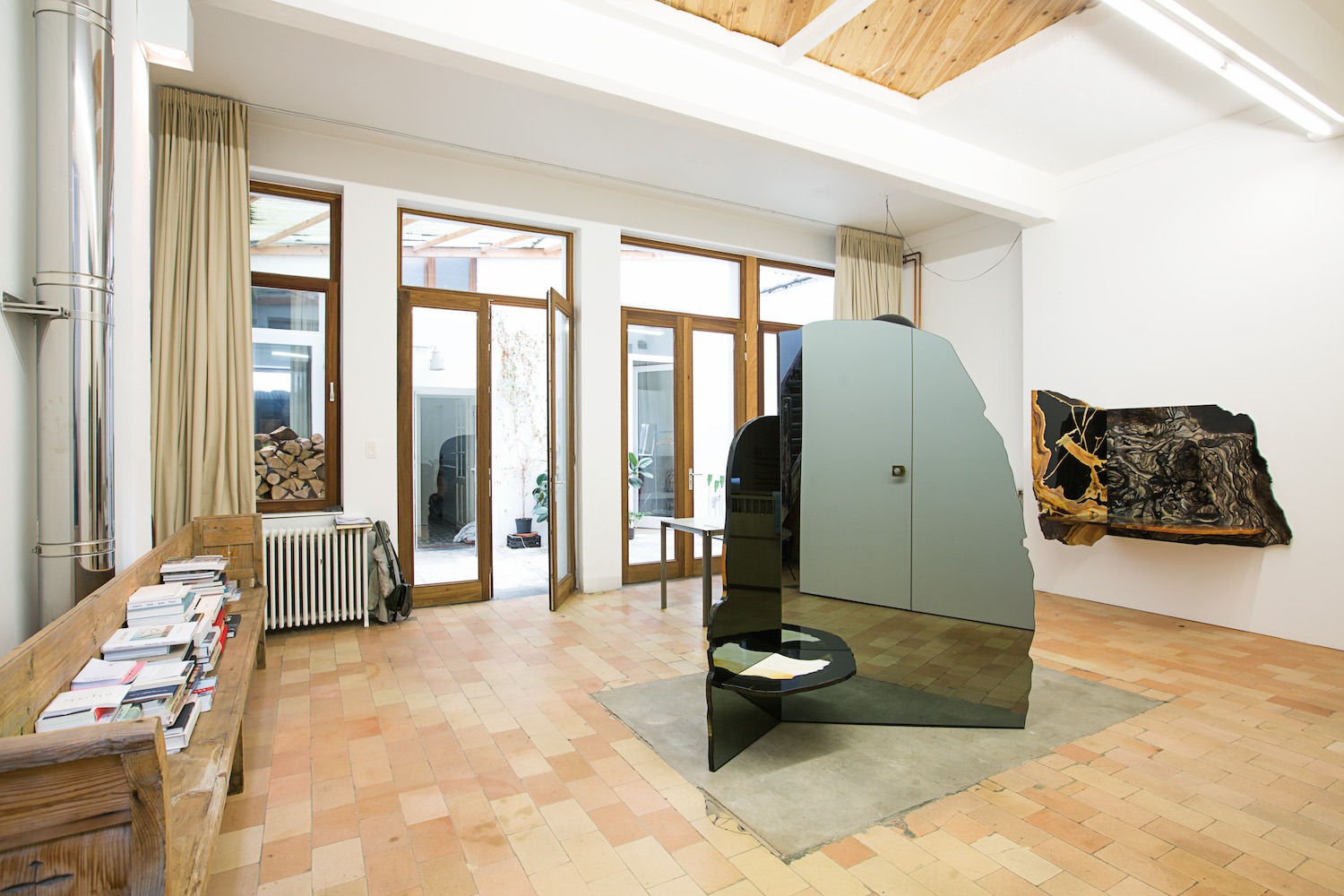 Why did you select these particular pieces of furniture?
We wanted to invite an up and coming generation of architects to design furniture. OFFICE Kersten Geers David Van Severen is one of the most interesting and uncompromising young architectural practices at work today. They never designed furniture before. This was their first experiment, with a very successful outcome. The Solo Chair and tables they designed for Maniera were shortlisted for the Icon Award for Best Furniture 2014. The architecture of Anne Holtrop is very different but equally interesting. The starting point for his buildings are mostly existing materials or shapes that initially have nothing to do with architecture. For us, he designed a series of furniture based on a collection of stones amassed by French writer Roger Caillois. The remarkable thing in these stones is that we tend to see images in them. Caillois described these images in the book TheWriting of Stones. Holtrop carefully selected fragments of the stones and from them made his Mirror, Desk and Shelves. The objects are hand-painted by marble painter Sylvie Van der Kelen who recreated the effect of the stones. Next to the furniture by OFFICE and Anne Holtrop, we showed pictures by Dutch photographer Bas Princen in our first exhibition.
The furniture is now integrated in our interior and can still be viewed on appointment.
Bas' photographic work focuses on the urban landscape in transformation. He is a close friend and long-term collaborator of Kersten, David and Anne. He photographs all their finished buildings and installations. He actually forms the link between the two practices. Therefore we thought it was a good idea to show his pictures. He was involved in the project from the beginning. Being a trained industrial designer, he helped our architects during the whole process of furniture making. He was in fact crucial in the project. A lot of architects in the past have successfully designed furniture; think of the classics by Loos, Le Corbusier, Van Der Rohe, Grey, Aalto or Rietveld. Their visionary furniture, often independent of manufacturers' specifications, have brought vitalising stimuli into the world of design. We believe that they are so superb, because they design with the consideration for space in mind. Architects frequently play with the capacity of furniture to act as objects defining space.
Close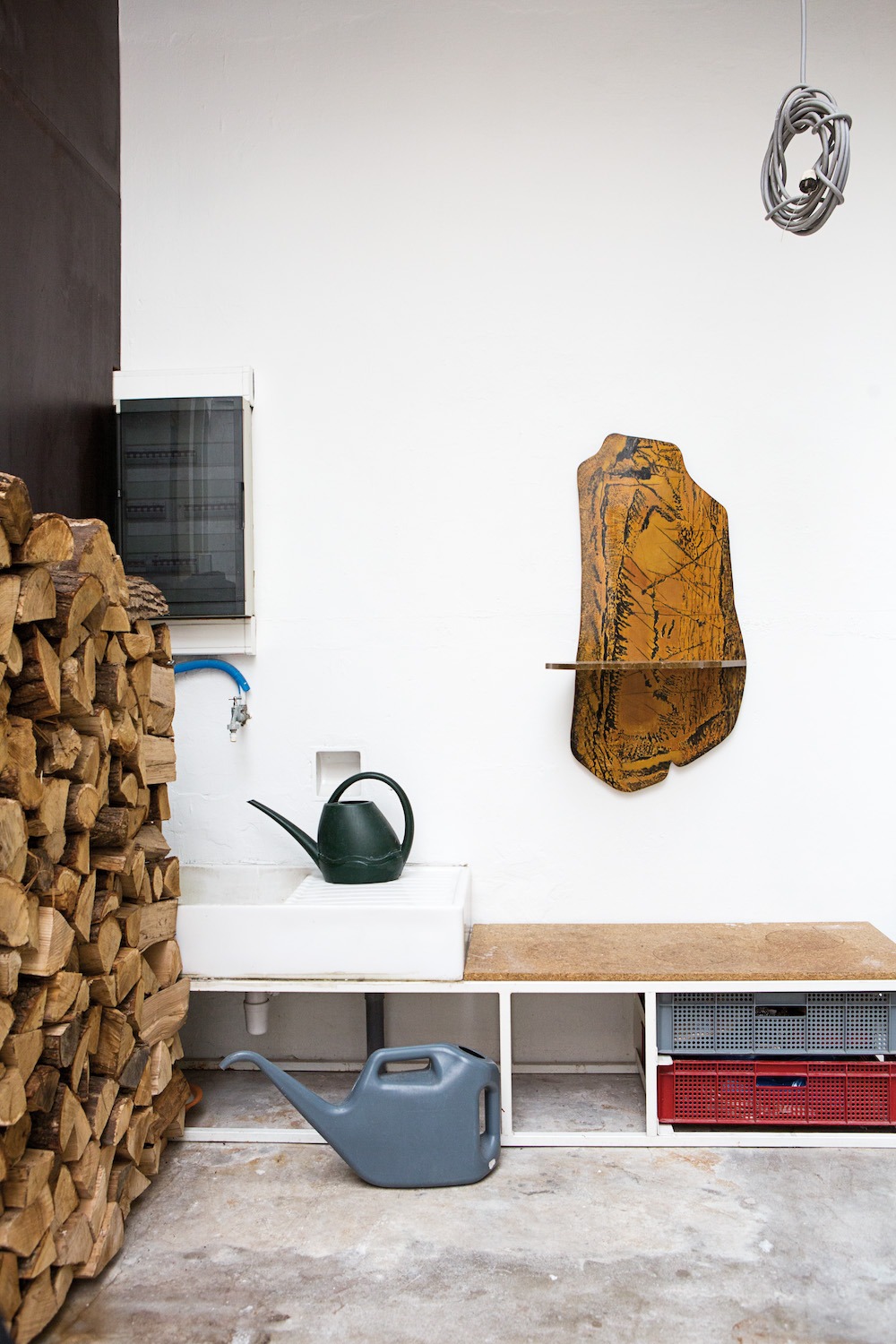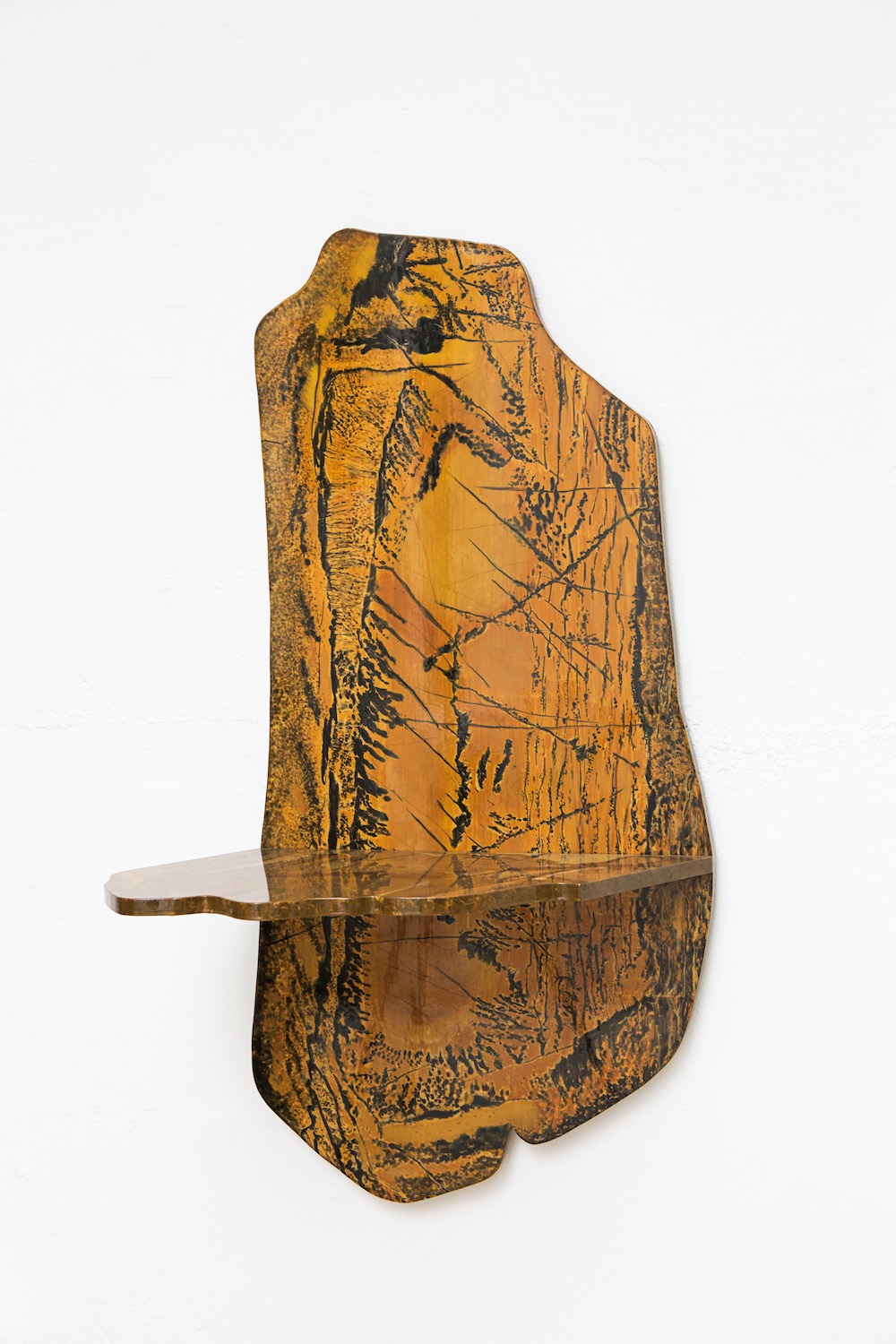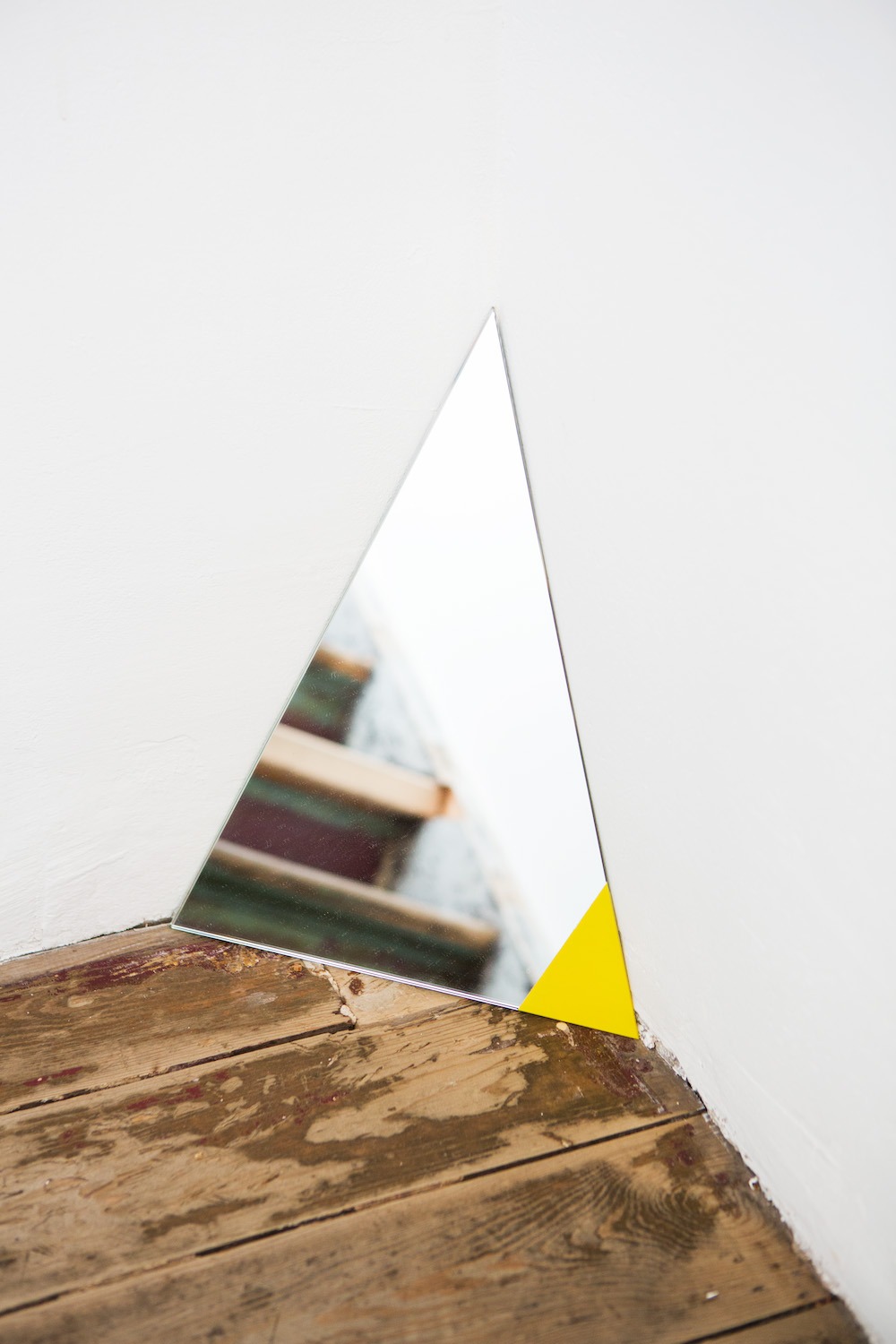 How did you feel about giving up your privacy and let visitors enter and explore your living spaces?
The opening attracted a lot of people. Our house was completely full, it was almost impossible to see the furniture pieces because there were visitors all over the place. The following two months, we held an open house on Fridays and Saturdays and the rest of the week was by appointment only. We were not selective as to who could visit, anyone was welcome! After the exhibition, we turned our house back into a home. The furniture is now integrated in our interior and can still be viewed on appointment. It is a whole new perspective for viewers. The privacy aspect is certainly a challenge. Offering our entire private home to share with an audience, especially with a young family and a busy life is hard work and requires a lot of flexibility and adaptability from all of the family. Our daughter adapted to the new living arrangements extremely well. She gave different names to the objects. She watches out for Anne's Mirror and Kersten's Chair. We are also Airbnb hosts and therefore used to having people in our home. Maybe that is why we quickly accepted the idea of exhibiting our furniture in our home. The lack of privacy is counter balanced by the excitement and creativity of this project, and overwhelming positive responses from all over the world.
Close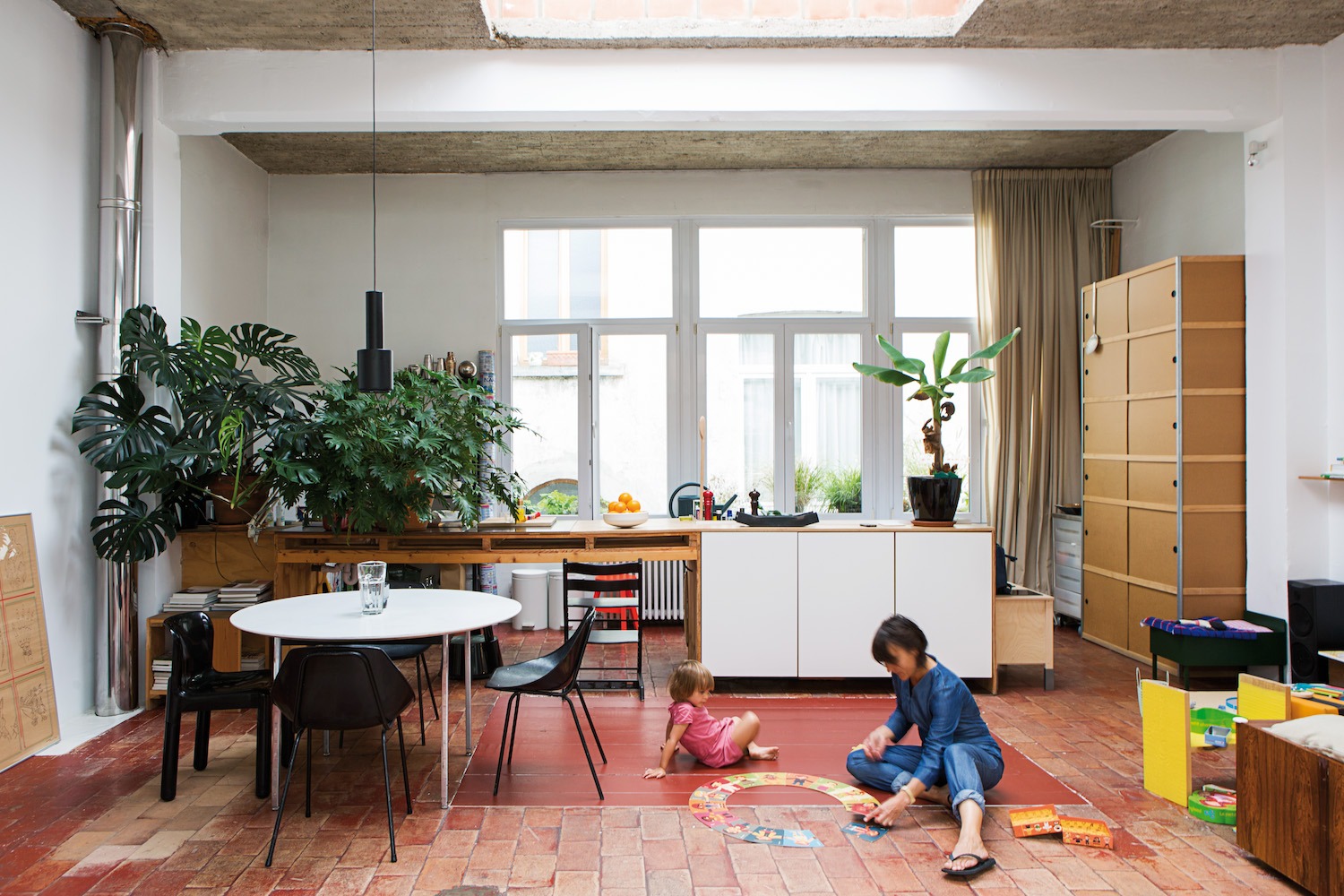 Who are the visitors you will remember…?
We remember the visit of the artistic director of an important American furniture brand. He really wanted to see the furniture by OFFICE. We welcomed him in our humble home. He liked what he saw and invited Kersten and David to design another chair that might be issued by the brand in the near future. After the opening, we had a big dinner at my sister's place, who lives in the same building. She completely cleared her house to make space for a long table. At that table, we had collectors who support our project along with some great architects and designers and a handful of close friends. I think that all those who were present had a great time. It was a like a big family dinner. Other visitors were often architects or architecture students. Those who came on Saturday nights, before closing time, were lucky. Kwinten mixes great cocktails. We invited our visitors to have a drink on our rooftop.
Close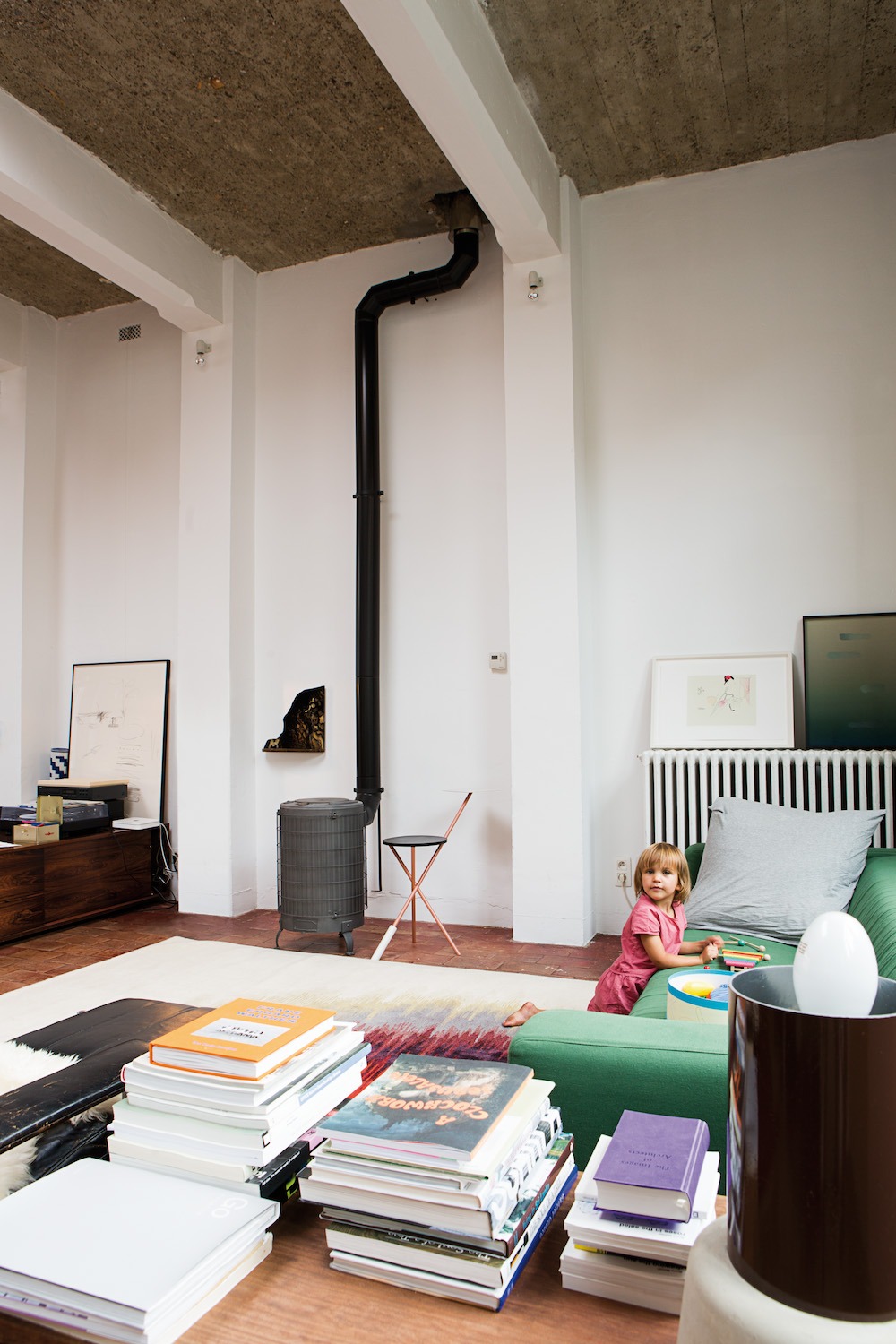 What are your long term dreams and goals for the project?
The long-term vision would be to grow the project and work with more great architects and artists from Belgium and beyond. We want to explore other living spaces where the art and furniture could be displayed, and for these to coincide with various art and architecture festivals in different cities. Next to exhibitions in living environments, we will present the collection at several art and design fairs.
When will you be welcoming visitors to your home again?
We will have our next exhibition in April 2015. Before that, viewings of the furniture by OFFICE KGDVS and Anne Holtrop can be arranged by appointment.
Close