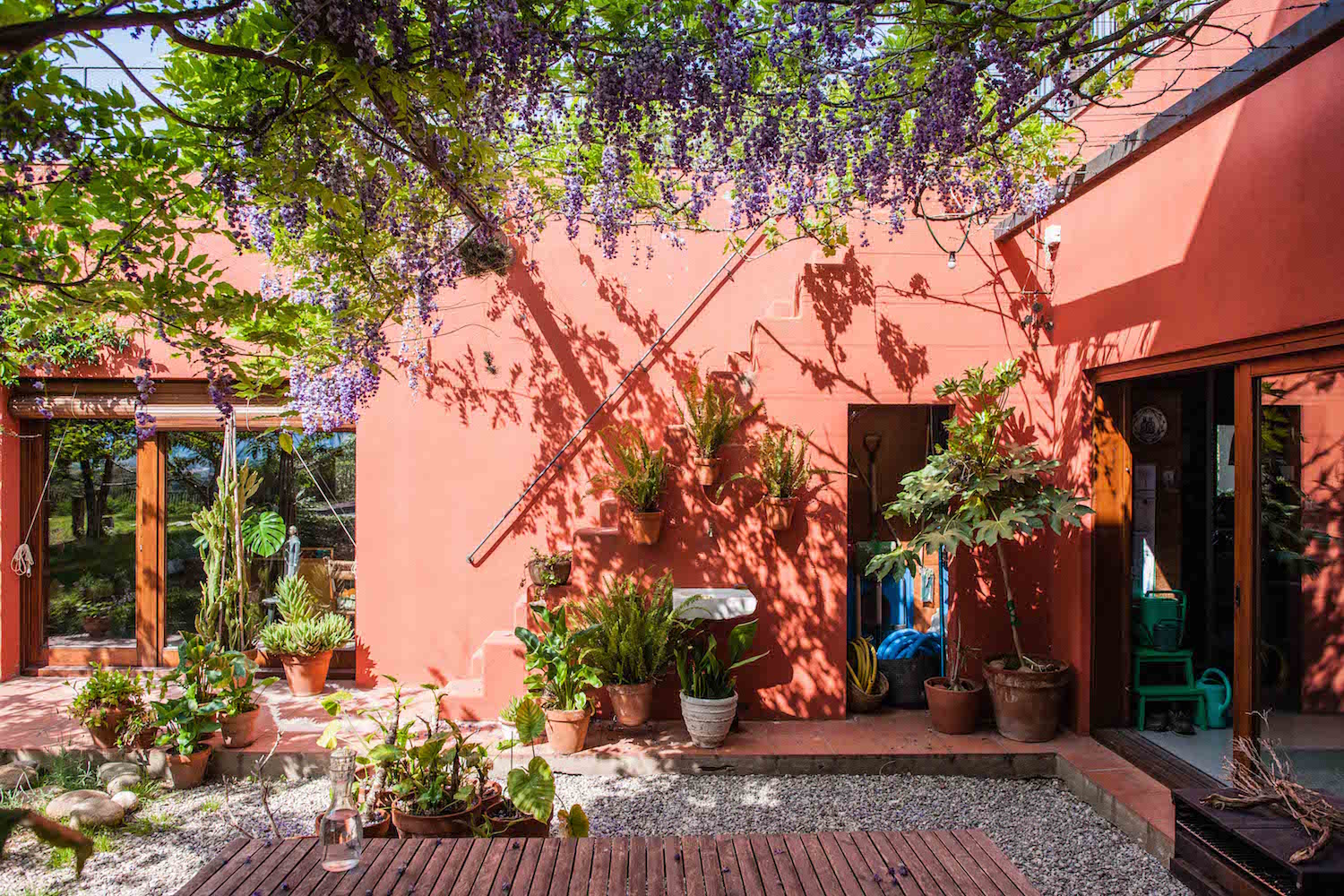 A theatre rests on a peaceful hill, but what waits in the wings today is far from the artifice of performance. Now it lays the scene for life, where a small family share their play space with the friends and family around them. Lluc, Borja and their son, Lucas invite you to share a slice of their life upon the stage.
The hill rises in one of the most peaceful towns in the province of Barcelona, yet the history of this house is a vibrant one, unexpected in the surrounds. A theatre, concert venue, and multi-purpose space called LaPenya24, is where Lluc and Borja live with their son Lucas and dog Gala. The home is once again a theatre, after a few years of rest, and the energy and spirit of entertainment continues within its walls.
Close
I arrive at the house a few days before Marc Parrot is programmed to give a concert. They explain it is better this way, because the preparations for the event will keep them far too busy on the day itself. It allows me the opportunity to contemplate the beauty of this house close up, where the little things say so much about this endearing family. There is the garden statue from a theatre production that Lluc designed, the vegetable garden on the roof terrace, the beautiful garden filled with trees with their branches about to bloom on this spring day, and every little detail tells of the world designed by all three.
Close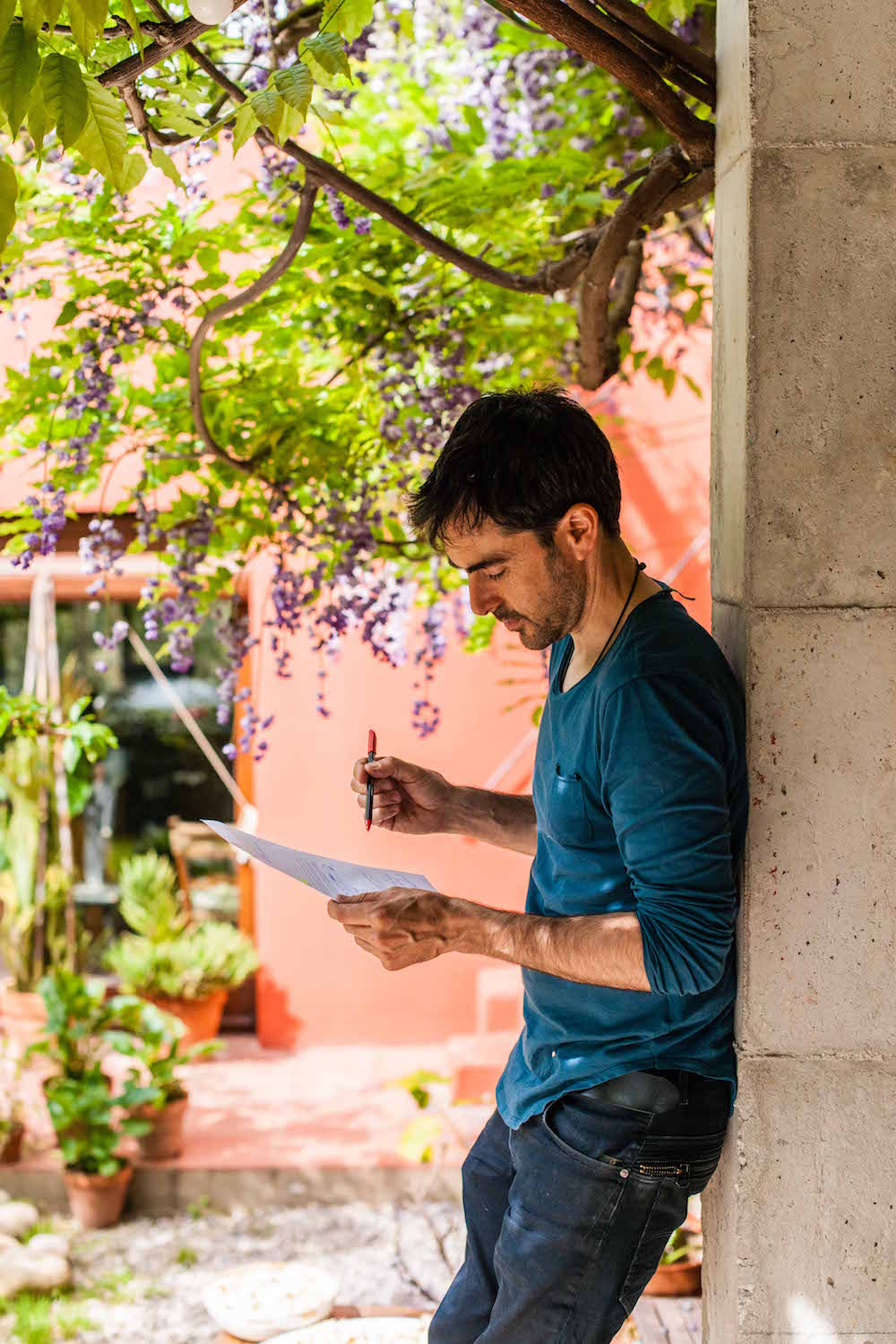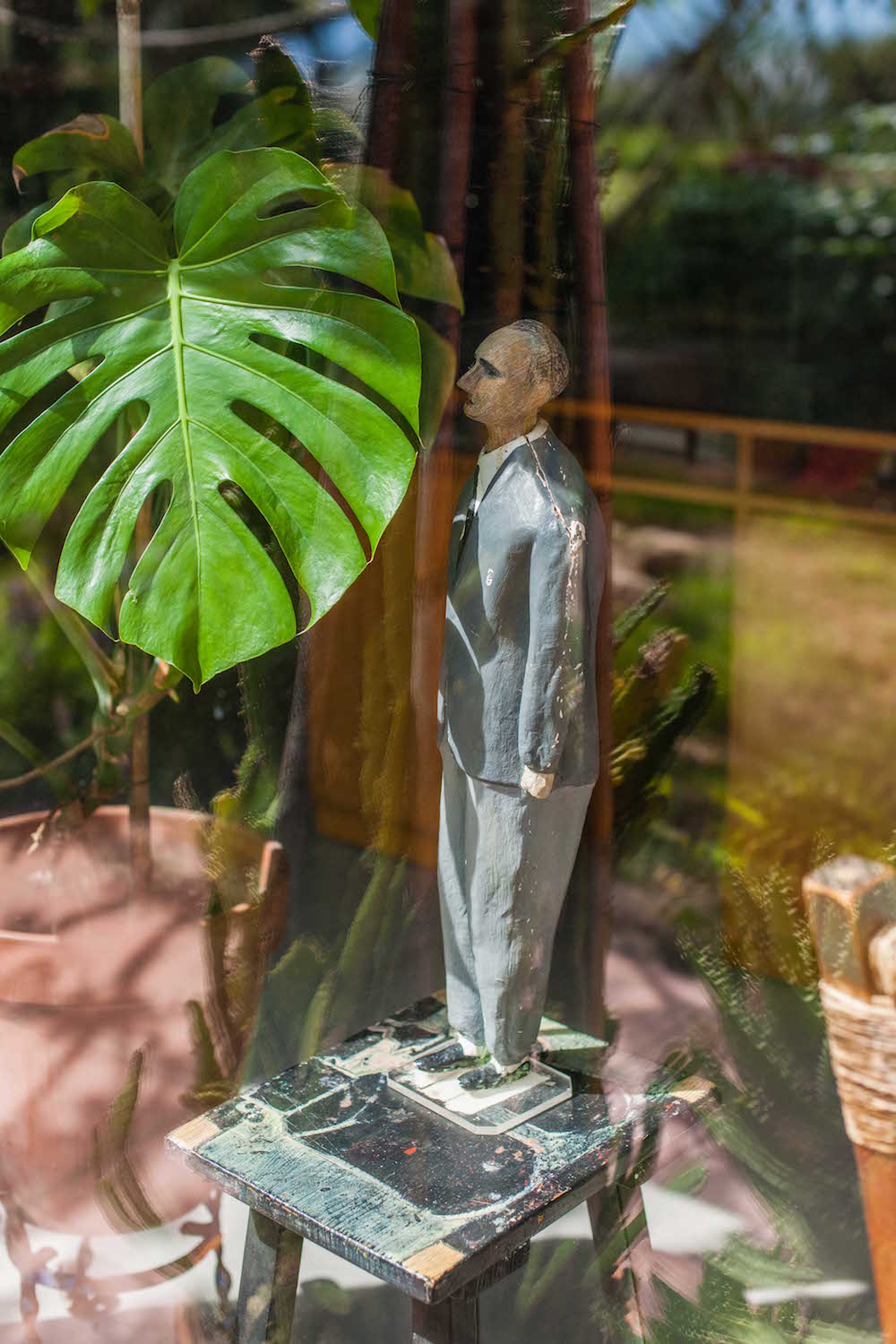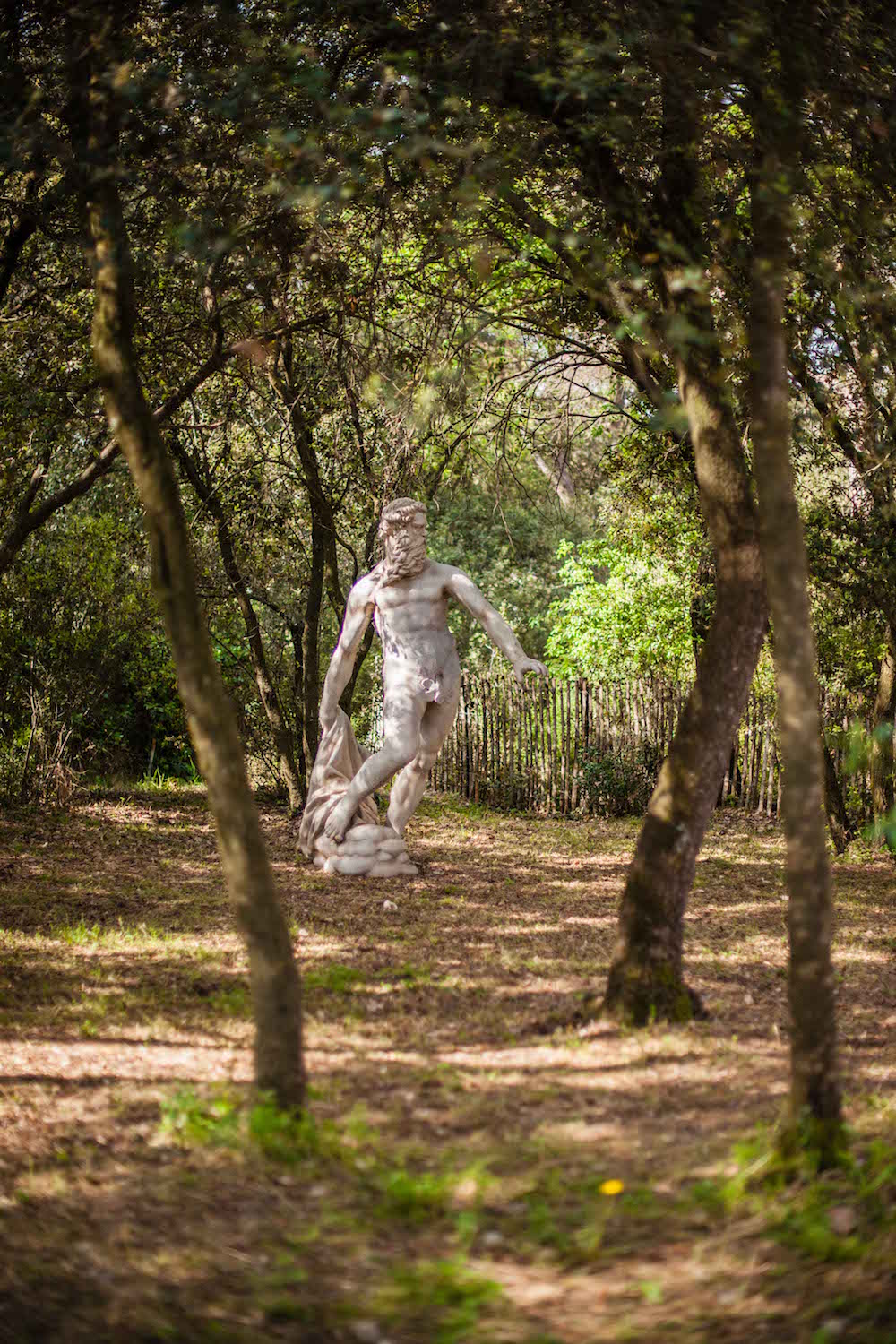 Lluc and Borja speak with great excitement and a glow in their eyes that reminds me of children. They seem aware that we are actors in the game of life, in the broadest sense of the word, and are not willing to be spectators, but part of the troupe. Lluc is the son of stage designers in whose footsteps he followed, and grew up in a home where there were always guests and inviting new people in was the norm. He designed his own house along the same lines. "I thought of it as an open space, precisely in order to welcome people".
With Borja's help, they turned the space into a real home: "When Borja and I met, the house wasn't finished being built, so we finished it together. The essence is of the both of us." Lluc and Borja's house sits on a low hill with impressive views: Cardedeu below, Montseny at its back, and Montserrat on the horizon. This setting allowed them the opportunity to create a stage in the middle: "The natural terrain gave us a change in level that suddenly transformed the space into a stage. All we had to do was make the stairs that lead to the bedrooms disappear", Lluc explains. When the staircase rises, the house becomes a theatre, concert venue, flamenco tablao, or whatever it needs to be.
Close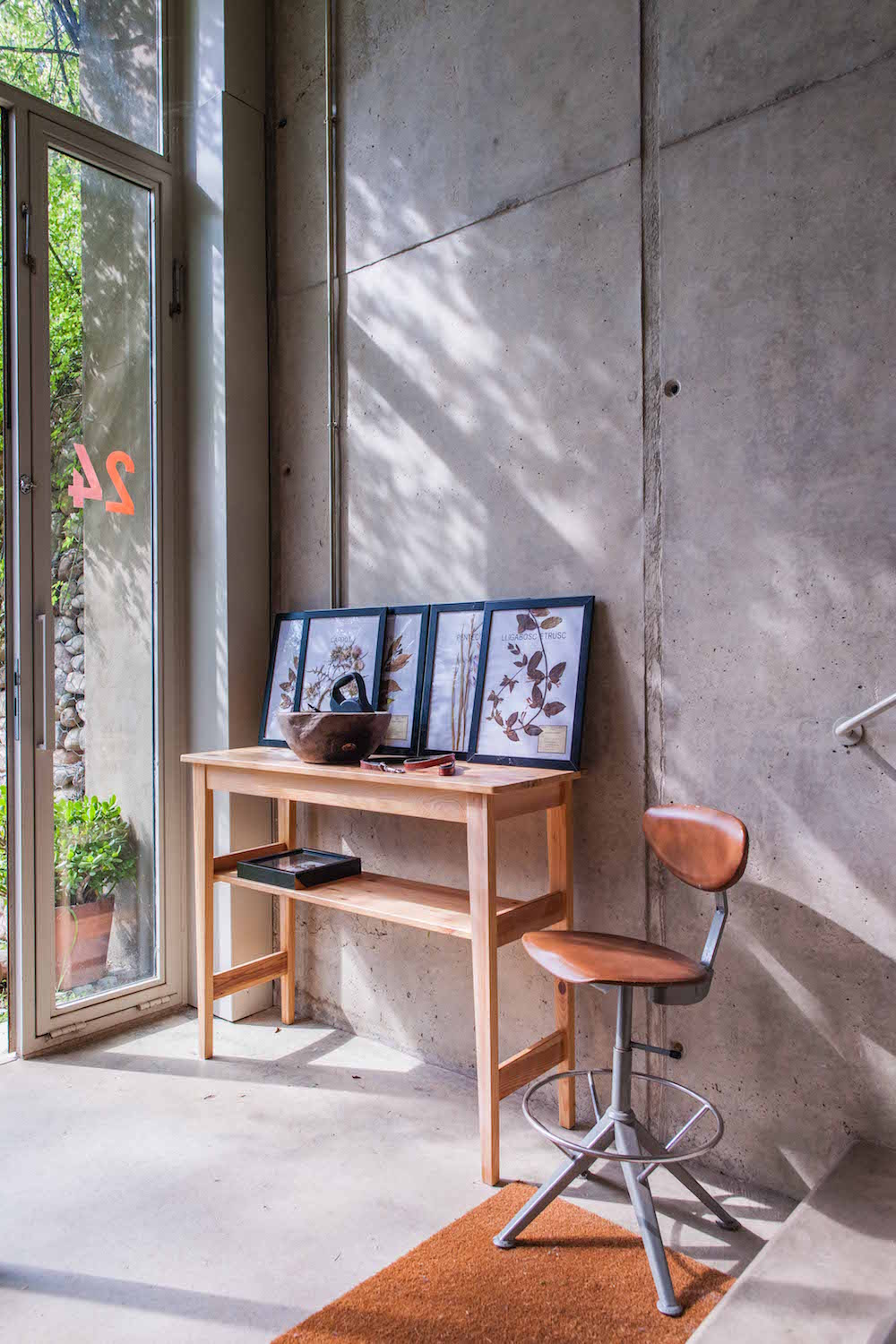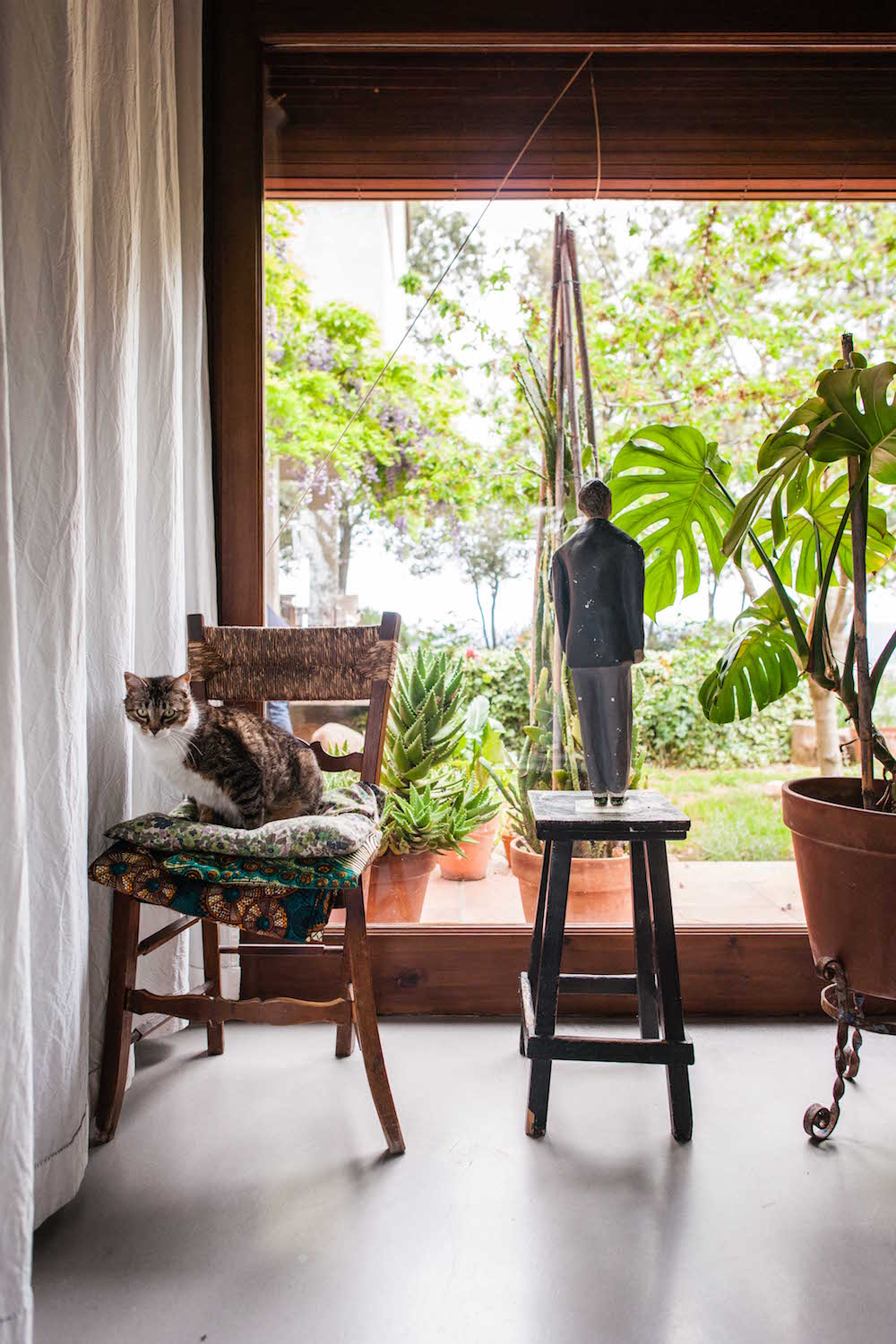 They are a couple who complement each other by their differences. While Lluc is very attached to the land, Borja feels like a nomad. It was Lluc's great-grandparents who first came to live in Cardedeu. "My paternal grandmother's family had strong ties to this area for three hundred years," and Lluc has never lived away. That does not mean he is not a man of the world; on the contrary, he travels a lot for work and spends long periods of time away from his home. When he returns, he knows there is no place like home, and prefers to invite friends round rather than go out.
Borja, on the other hand, was born in Granada but is a man without firm roots. "I come from a family where we're all from different places and, because of my father's job, I've lived in places like the Canaries, Galicia and Madrid." He went to Barcelona at the age of twenty to finish his architecture degree. "It was the city of marvels. I learnt Catalan very quickly and I very much feel at home here, but if I have to pack my bags tomorrow, I will." He wears his heart on his sleeve, and is proud of the way he is. "We're so different in this way!" Borja exclaims. "In so many ways," Lluc adds, as both laugh.
Close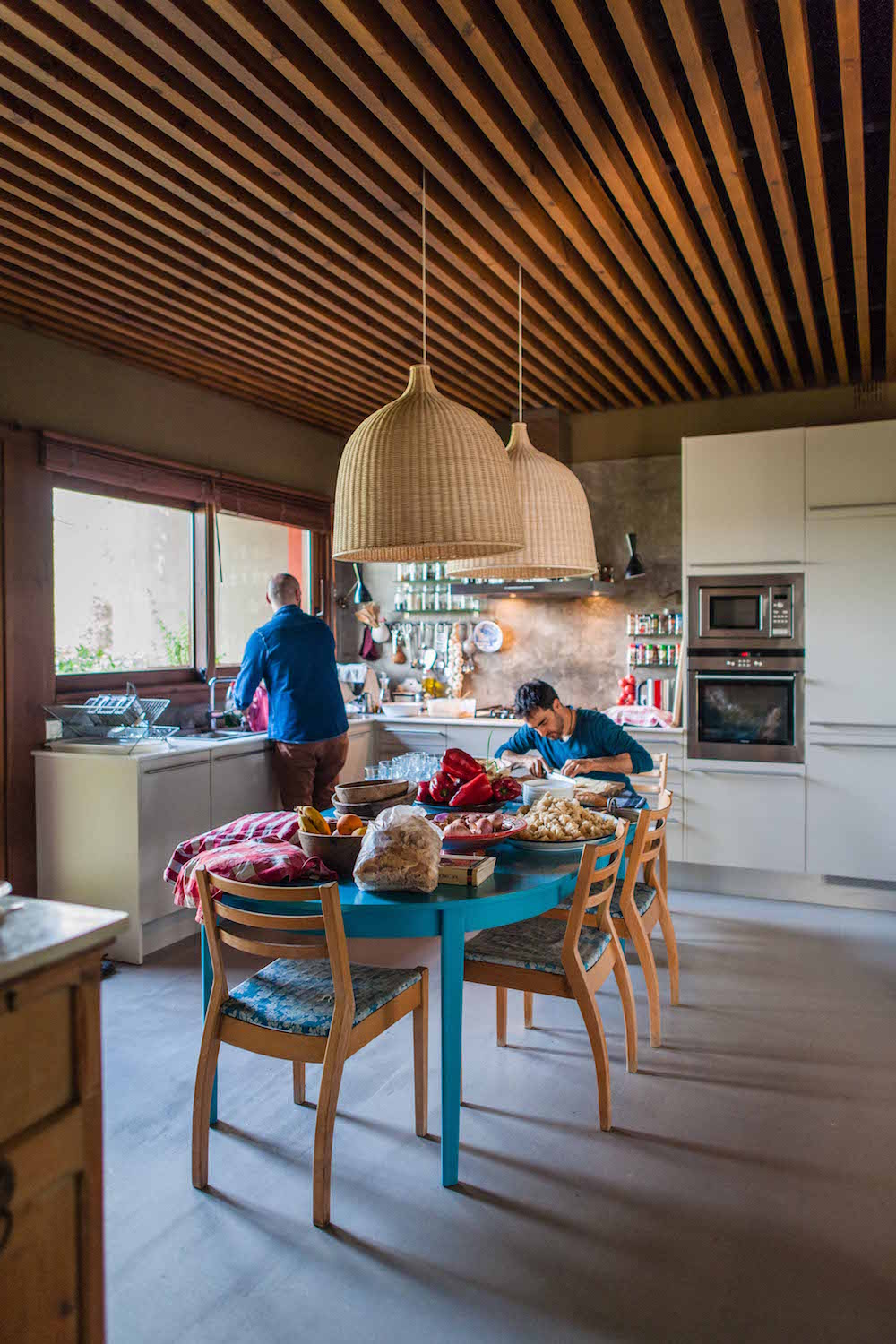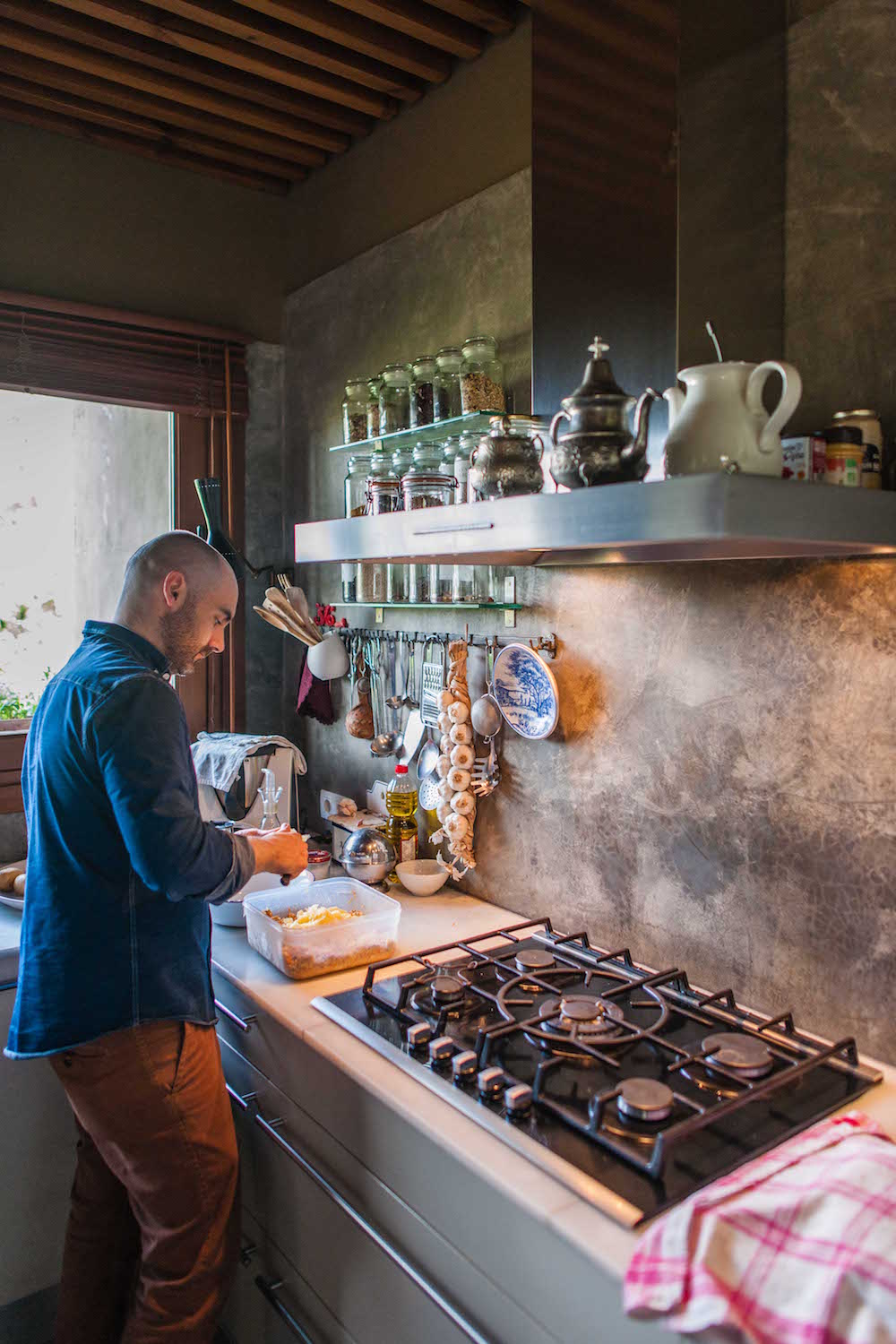 The house was finished in June 2009, and the first performance took place that same year. It served as an inspiration in the minds of both, but the arrival of their son Lucas brought things to a halt. A year and a half ago, the stage made its comeback. With only the intention of having an enjoyable evening, fifty people made sure it was a success. It was such a special night that they considered making it a regular occurrence. "We looked at the possibility of combining our interests and of enjoying our home at the same time. We have very different jobs, stage designer and teacher, and suddenly we could see a common project through to completion", they explain.
"The natural terrain gave us a change in level that suddenly transformed the space into a stage. All we had to do was make the stairs that lead to the bedrooms disappear", Lluc explains
Lluc makes the selection from quality event proposals for which he prepares his own stage design. Borja's tasks revolve around dinner. He is in charge of designing the menu that is adapted to each of the performances. The week before the event he is very nervous, although, as he explains, "When you see that everybody is eating and they say, 'Gosh, how good is that?' it's worthwhile. Despite everything I forget about the effort I made because, I have to tell you, there are times that are rough on me. The kitchen is that of a normal family, and that is a limitation when it comes to designing a meal for sixty or seventy people."
Close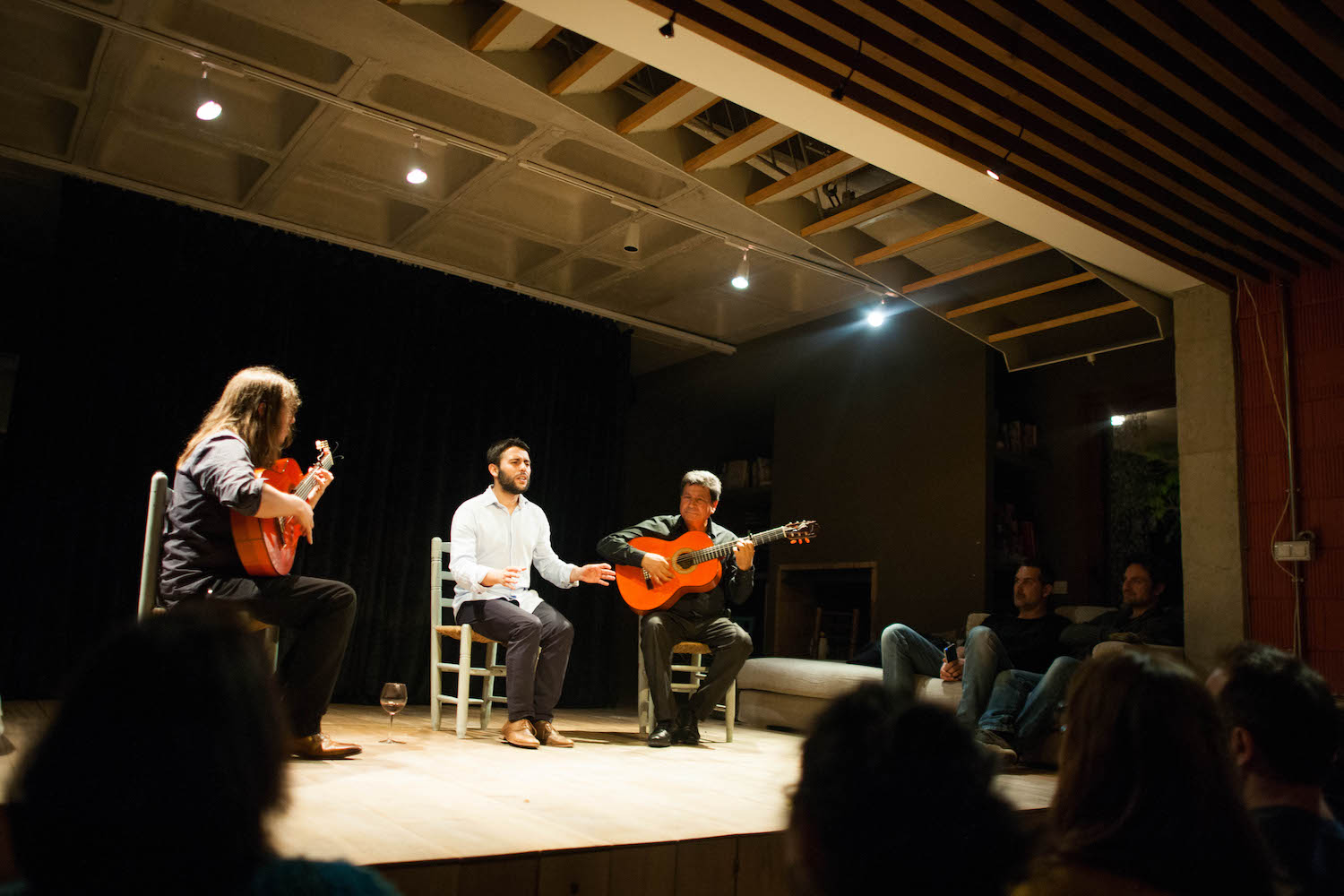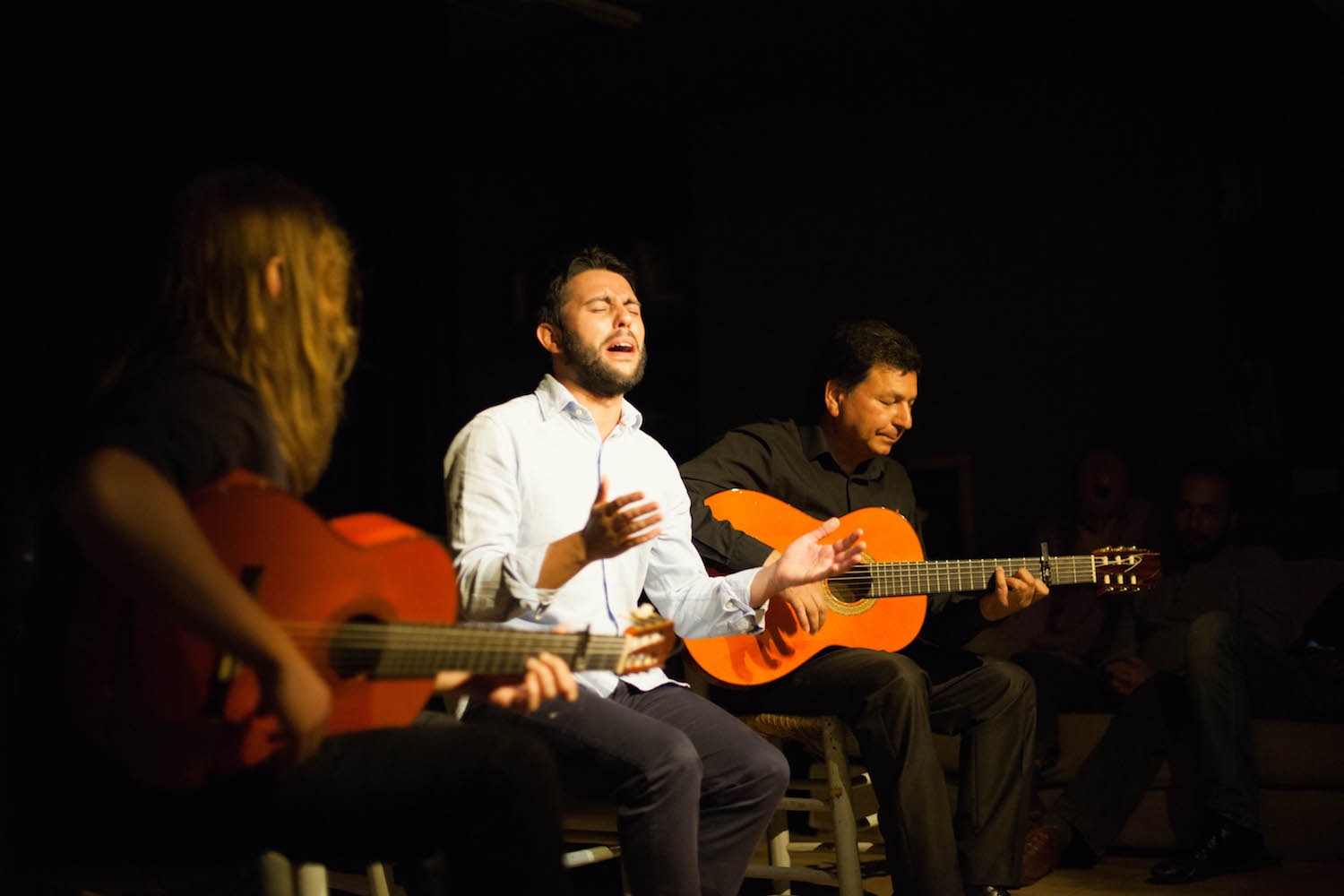 To date, they have had seven editions and have no thoughts of stopping. They are led by enjoyment and sharing the space that the house gives them, and only invite their circle of friends and friends of friends. They do not use social media for publicity. You can only find them on Instagram where they post photos of gatherings afterwards, as a sort of personal album.
Night falls and the stage is filled with small tables with little lights behind the singer, which we will be using later for dinner. The trees in the garden, stylishly illuminated, form a backdrop. The atmosphere is welcoming. The audience, full of friends and family, laugh and show their excitement. I feel fortunate to be there, sharing in what is taking place at LaPenya24, and everything that Lluc and Borja have achieved. I sit in the back row and from my privileged position, beneath a small tree decorated with little red birds, I can see everything: the 'stalls' full, the audience enthralled, and the house artiste, the stage. When it is over, Lluc approaches Borja, "How about a hug? We've done it!" Through this creative family surrounded by their friends, the magic of the theatre lives on.
Close