We use to say that love leads to mimetism. What happens when you love an object unconditionally? Do you end up being like that object?
Knowing Benoit-Pierre Emery reinforces my hypothesis. The softness of his gestures, his allure, his tone of voice, the modesty of the way he talks, the brightness in his eyes, all of this leads me to the conclusion that he looks a lot like his silk scarves.
Close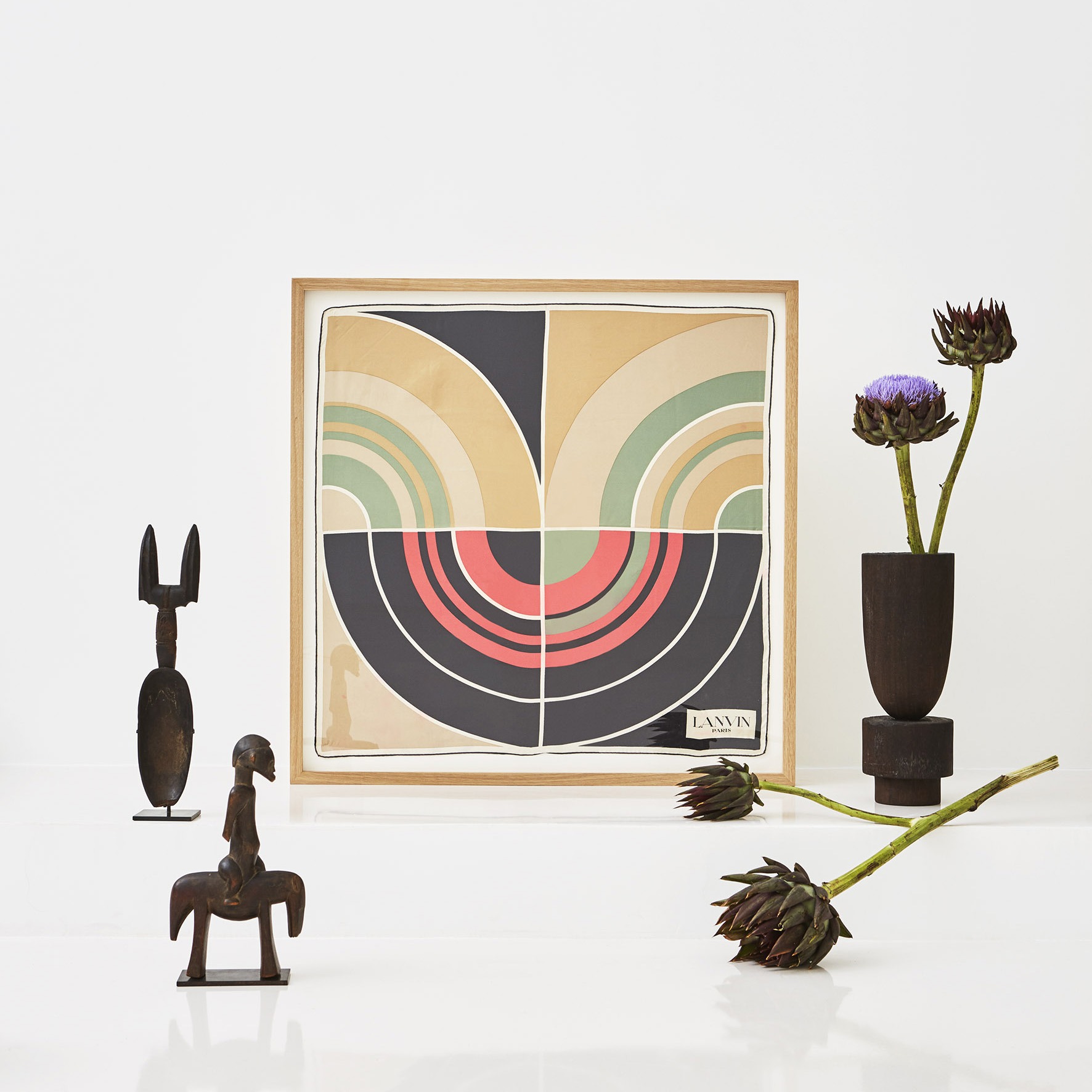 Everything began while studying at the Royal College of Art in London (in the printmaking department), Benoit-Pierre Emery discovered the joy of printing on silk. As time passed, it grew into a veritable passion and over the last fifteen years it has taken a very special form. Numbered white lacquered boxes, each filled with the same – yet different – items, i.e. one example per box of his vast collection of over 10,000 vintage silk scarves!
Over time, he has gradually filled the little boxes with scarves from all over the world, each containing 100 grams of pure vibrant colour. He sees them as a veritable manifesto of graphic design. A concise diorama of 20th-century artistic movements from op art to pop art, and tachisme to minimalism. These scarves that he covets continue to inspire and motivate, and he is constantly amazed by the infinite patterns and colourways that are played out on these small squares of silk, rather like pocket paintings.
Close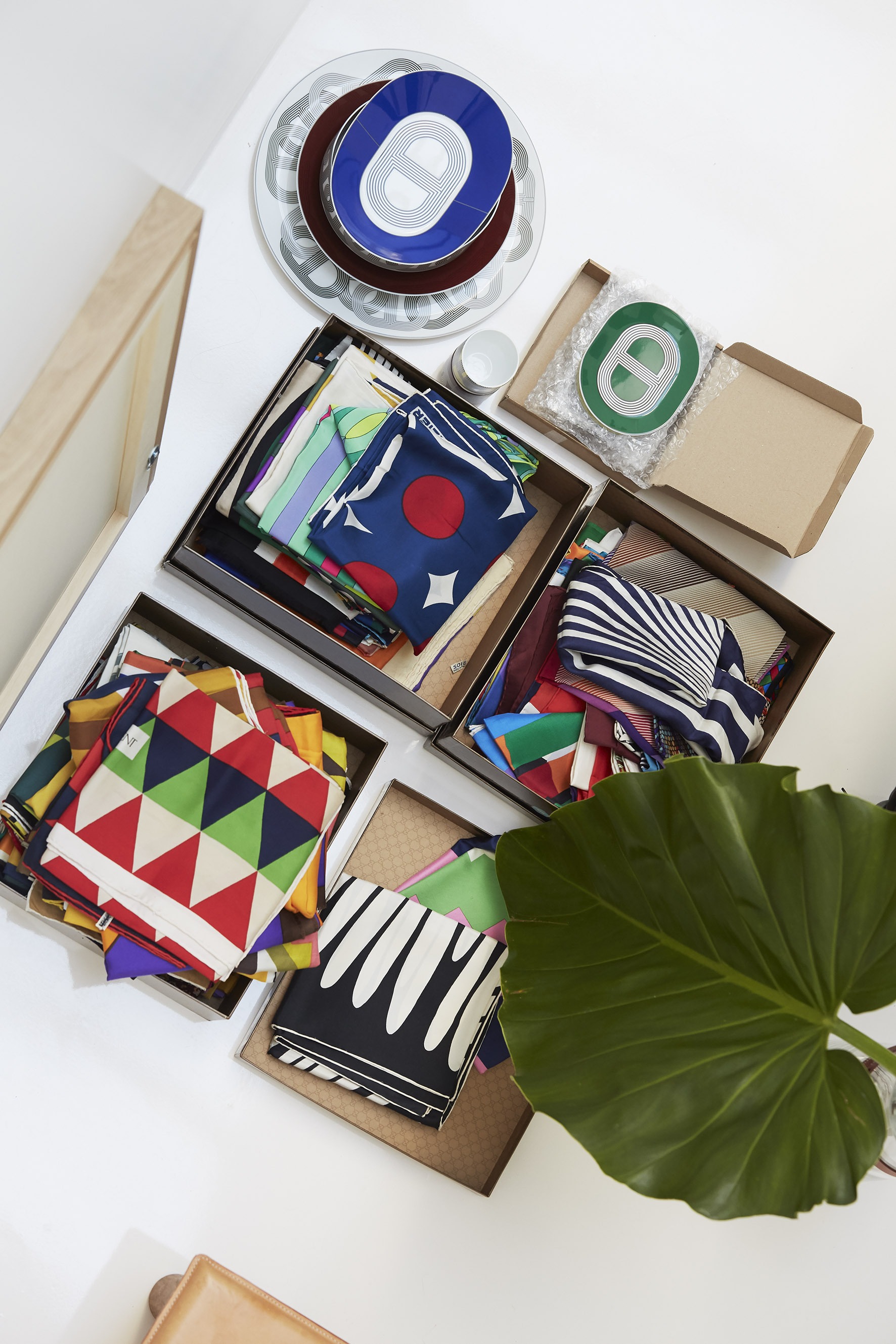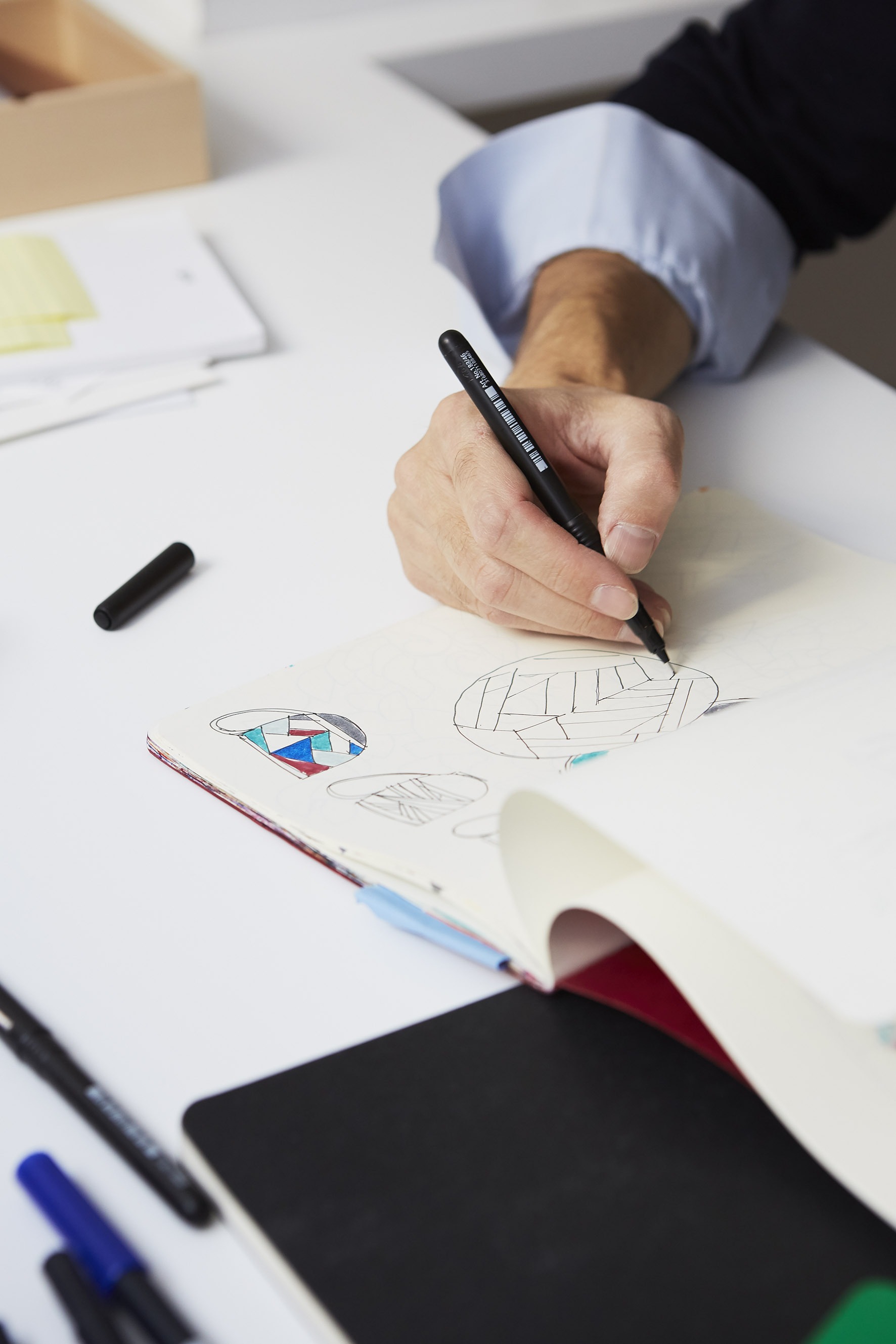 His passion for collecting got underway in 2003 when he founded the textile design firm, Les Soieries Modernes, after working as a freelance artistic director for ten years. He was also given the opportunity to create his own silk scarves in Hermès' hallowed workshops in Lyon – the birthplace of the silk industry in France – as part of the company's initiative to share its equipment with selected artists.
Close
Thanks to his collaboration with these Masters of Silk in Lyon, he was able to hone his skills and learn the nuances of this fascinating métier. His love of this unique cloth and its infinite possibilities continued to grow. There, he also met Pierre-Alexis Dumas, Hermès' Artistic Director, who asked him to design a carré (an Hermès iconic scarf) – a fabulous opportunity to work with another lover of this precious material. This initial collaboration, which would weave lasting ties of loyalty and trust, resulted in the commission of another twenty scarves. In 2011, the artist was appointed Creative Director of Tableware at Hermès.
Close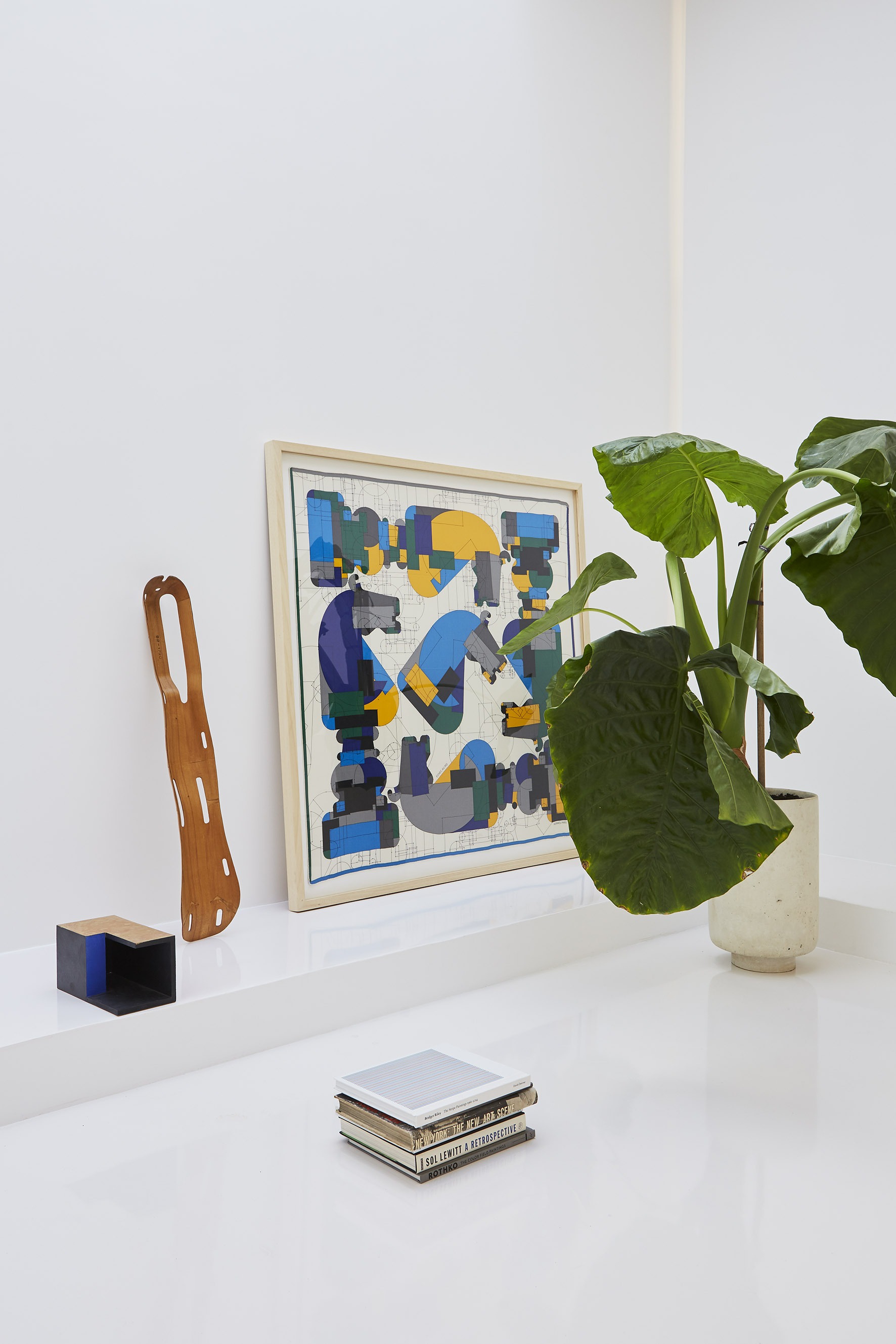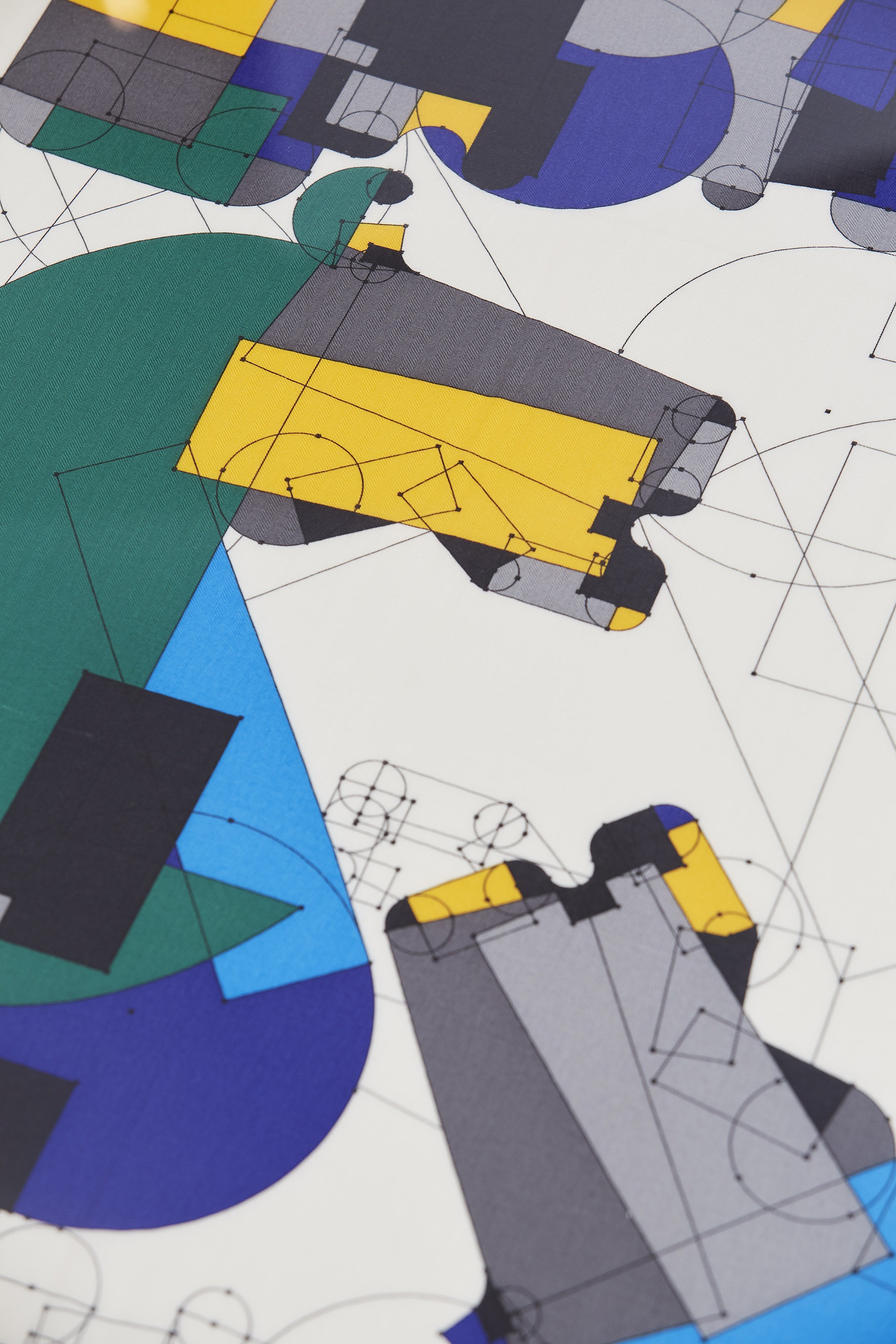 His own brand has had to take a back-seat due to increased professional obligations, but nothing has halted his quest to track down more of these ethereal silk beauties. This interest has also led to a twofold realisation: the incredible graphic inventiveness and boldness of certain compositions, which make him humble, and the ever-present desire to share his discoveries. This is his goal, which he considers as an ensemble rather than a collection. He recounts this anecdote: "There was a time when I was buying scarves compulsively. Every morning, Genevieve – my postwoman – and I had a sort of ritual. We would open the packages over a cup of coffee to see which carrés were inside. Sometimes, they'd been sent from the other side of the world even though they'd been bought in Paris for a special occasion. Occasionally, the sender would include a little note explaining the story behind the scarf. I still have some of the envelopes decorated in exotic stamps; they represent a pilgrimage of sorts." 
Close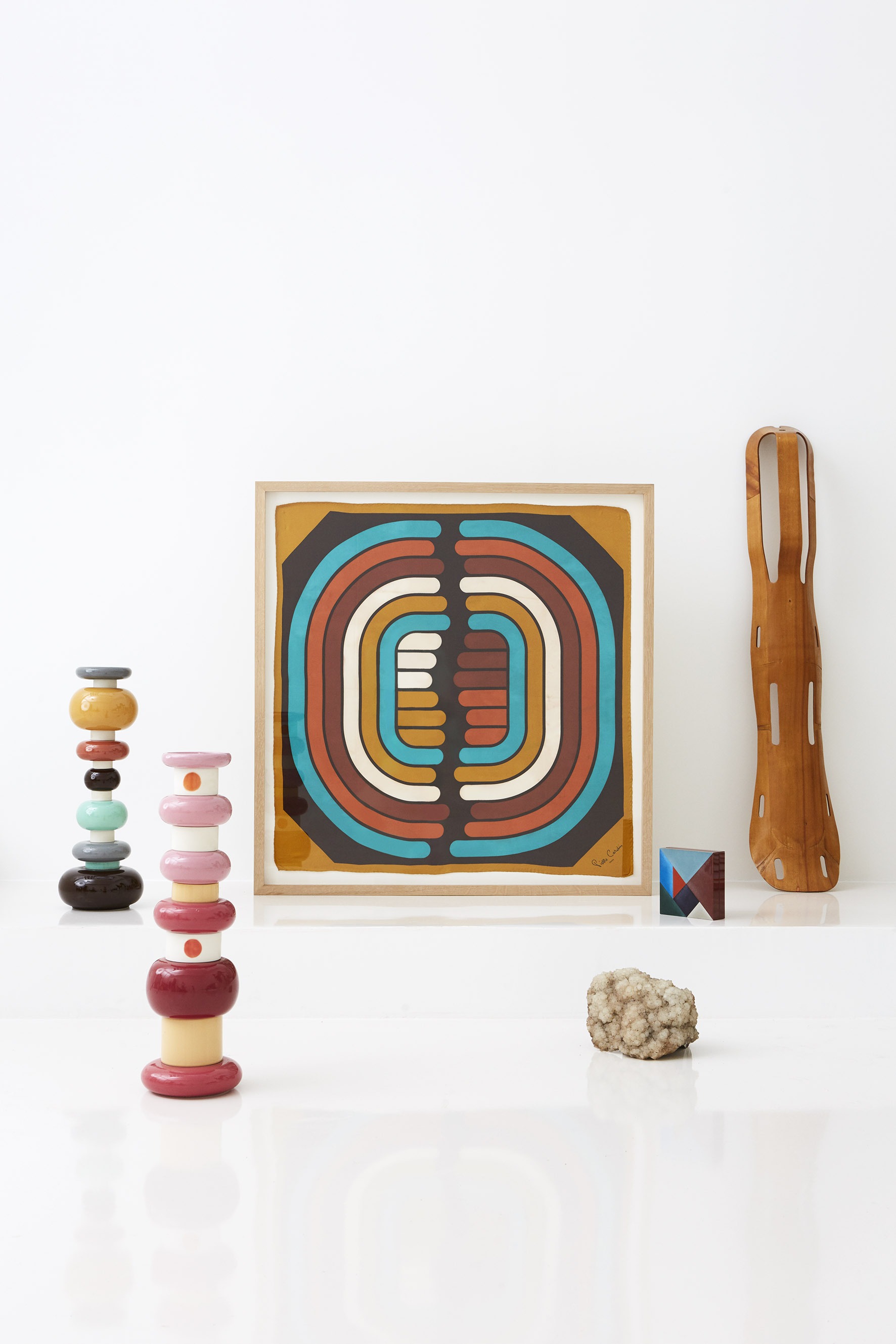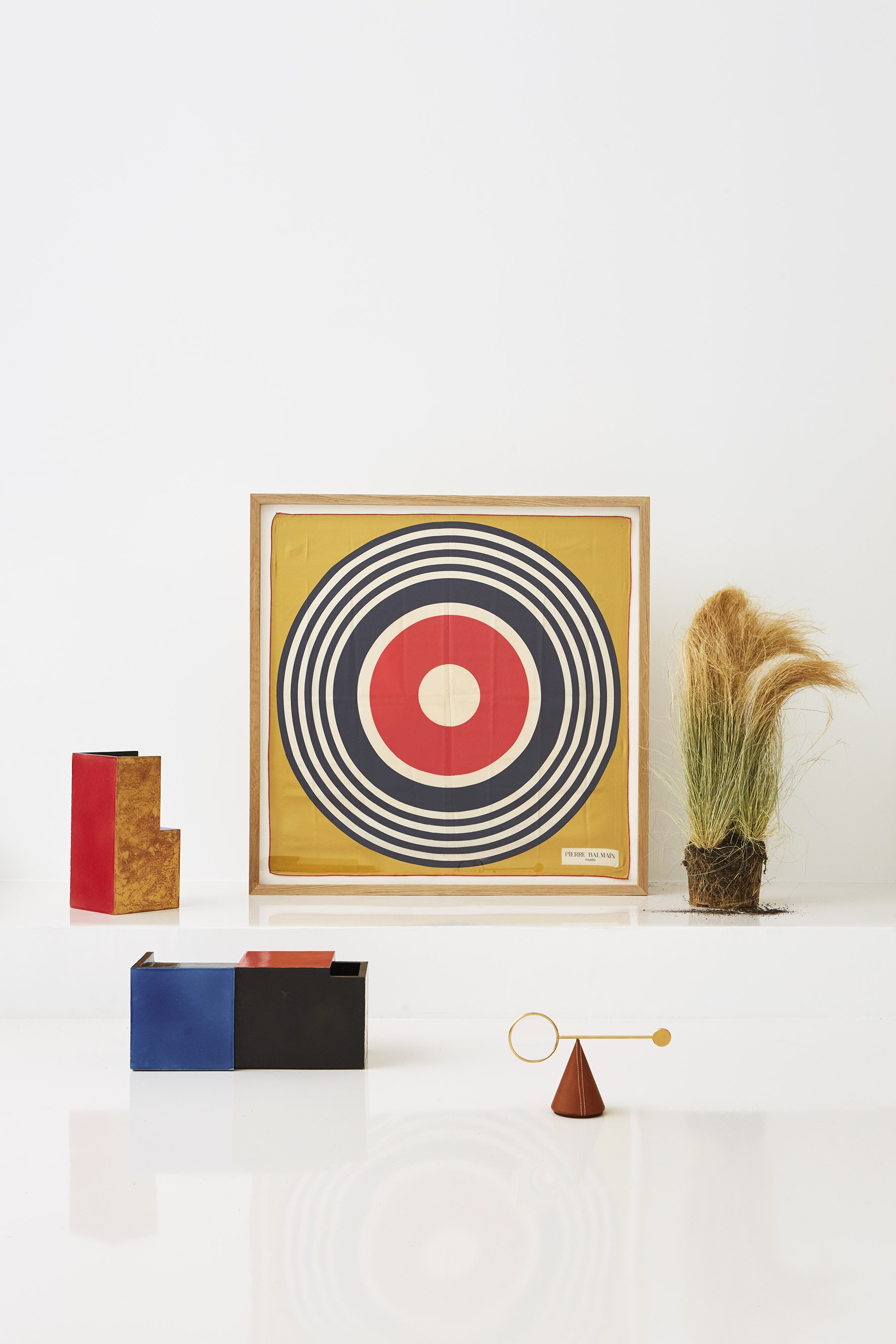 "There was a time when I was buying scarves compulsively. Every morning, Genevieve - my postwoman - and I had a sort of ritual. We would open the packages over a cup of coffee to see which carrés were inside. I still have some of the envelopes decorated in exotic stamps; they represent a pilgrimage of sorts."
Close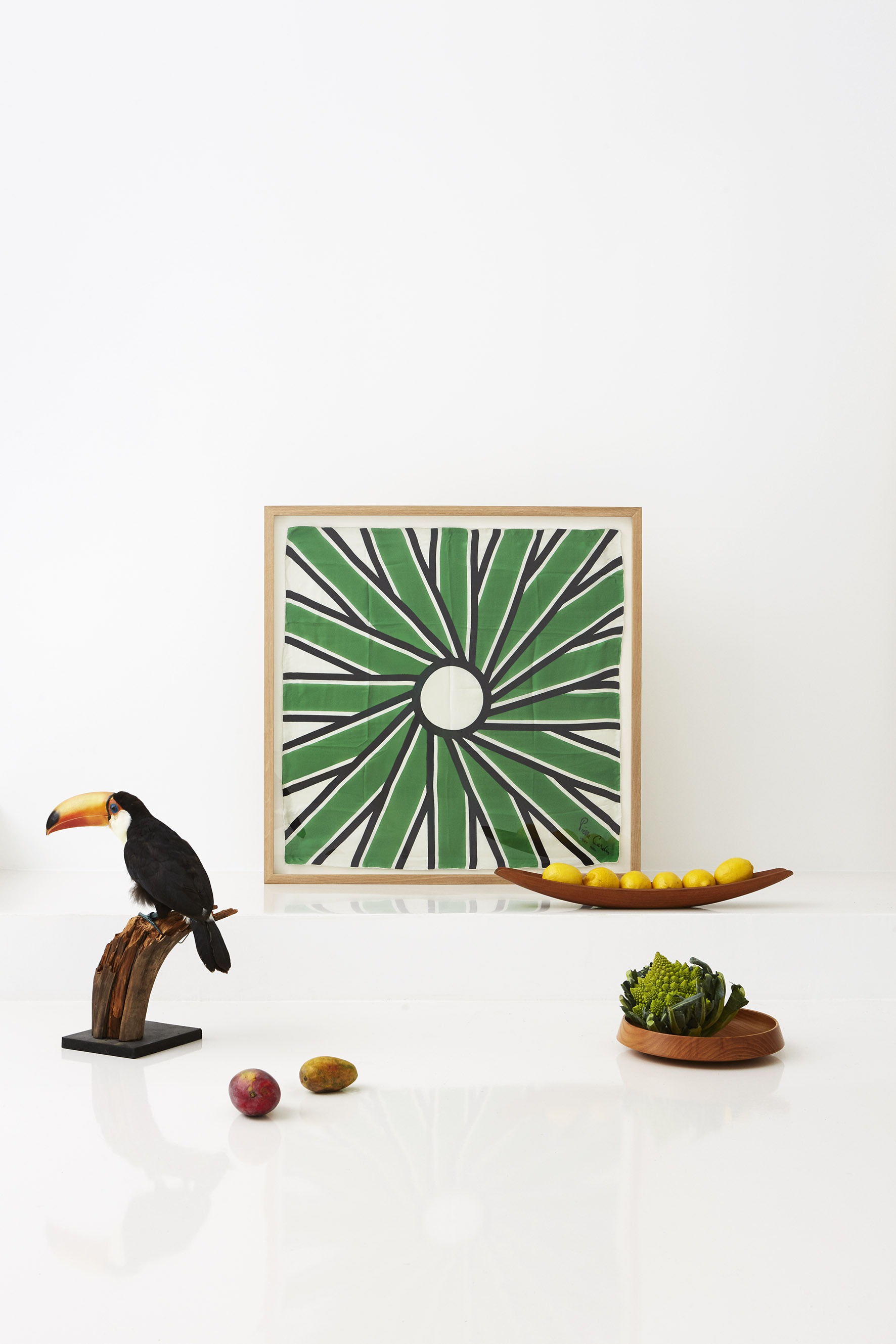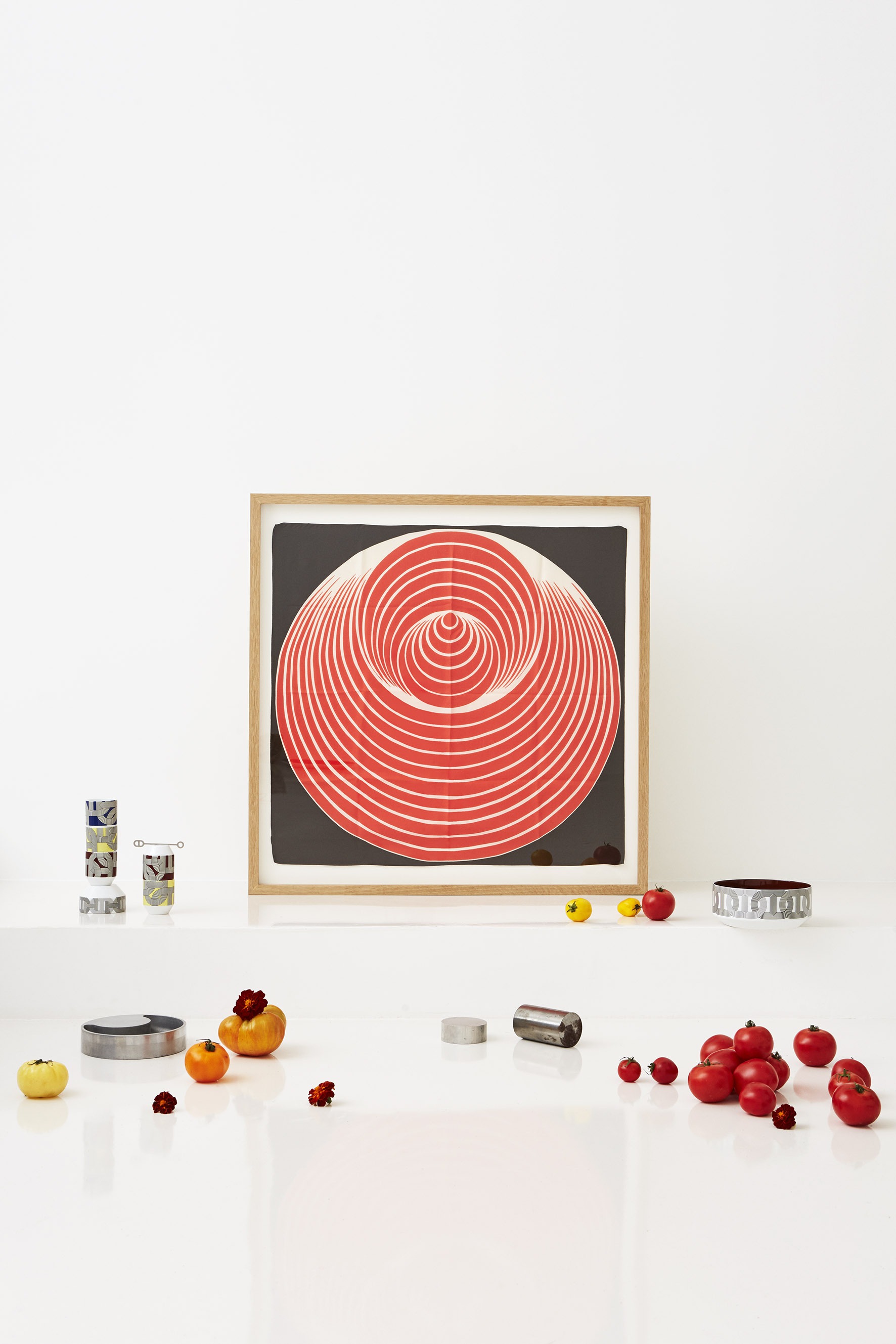 Unlike collectors who can only enjoy their passion in secret, Benoît-Pierre wants to share his finds and the life moments that animate the fabric. The word 'ensemble' takes on a different meaning: a personal affair which has become an interest he wishes to share. While his little white boxes do have something of the sacred about them, they are not fleeting conversation pieces but rather a cataloguing method. Showing the pieces, exhibiting them, publishing them, and perceiving them through other eyes and sensibilities is something he is keen to attempt. So, he is designing a soft square-format book, which gives the reader a glimpse of some of the rarest scarves in his collection, drawing on the vast database he created with his photographer brother. A good way to introduce the subject to a wider audience. A presentation book where each page is a chromatic revelation. He is working hard, tracking down the right pieces, making contacts – the right moment will come. Each day, he methodically chooses which vintage carrés best reflect the format of an Instagram post. 
Close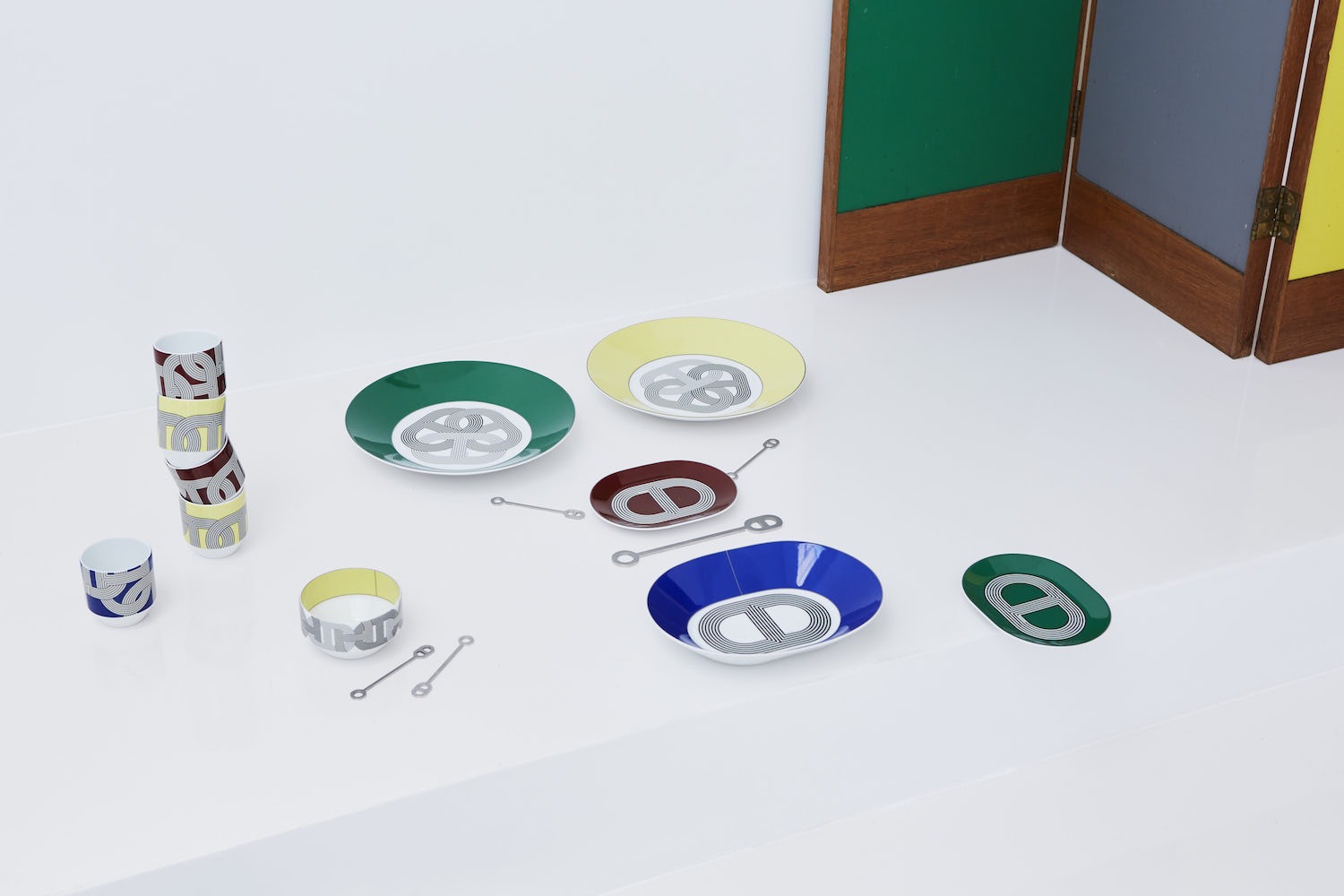 Meanwhile, he likes to surround himself with certain designs for the sole pleasure of viewing them and spending time in their beautiful vibrant company. In his apartment nestled among the roofs of the Marais, his carrés are framed and hung on the walls of his living room. In his new workshop, a haven in the city, Echec au Roi – a design he created for Hermès – ensures the tranquillity of the place. This recently completed setting resembles a sort of white cube. Like a spotless carré that has absorbed all the colours of his 10,000 scarves, leaving only their light. Do his retinas need a break? To satisfy his need for whiteness, he has given Nathalie Battesti, his friend and an architect, carte blanche. 
Close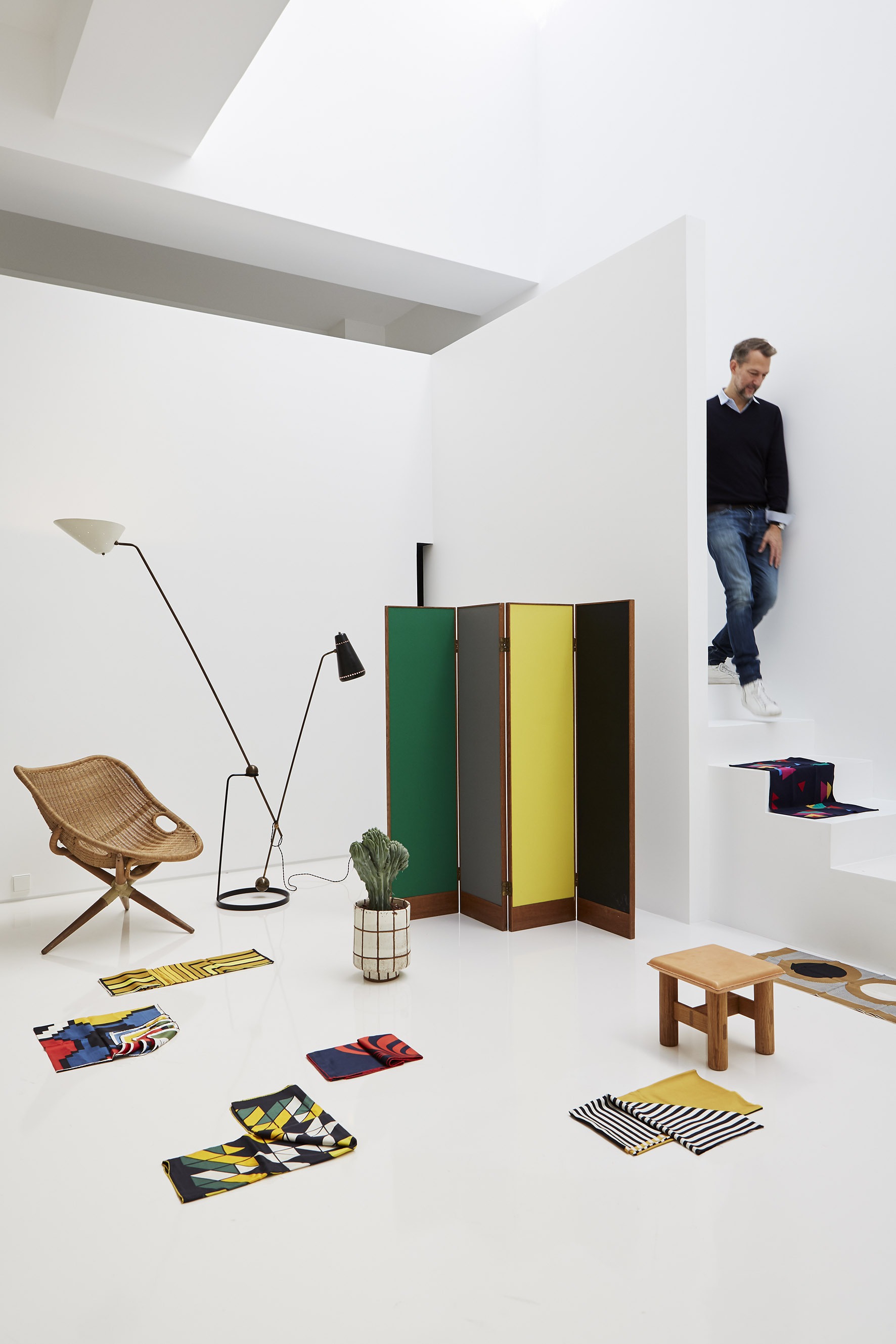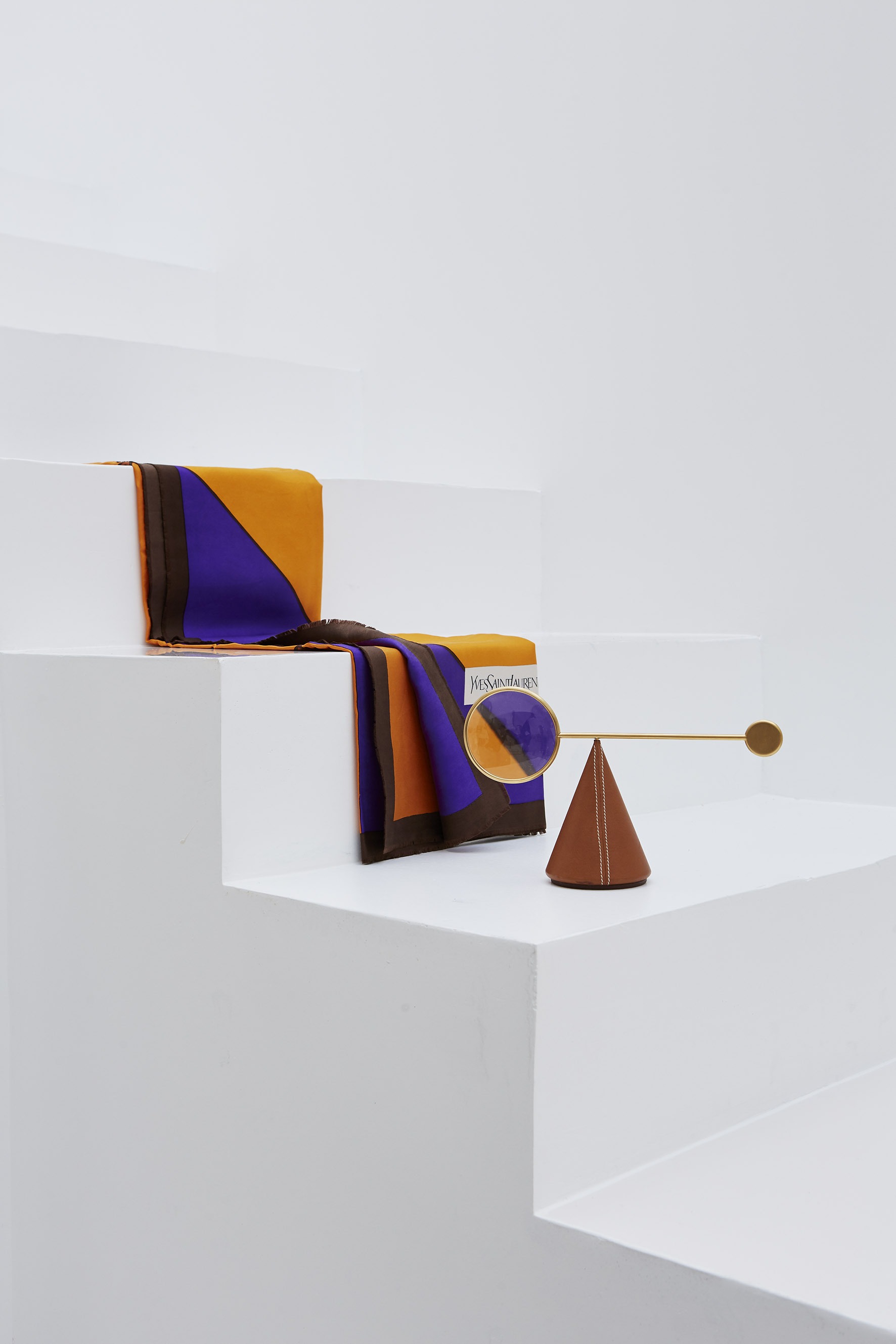 In this space, which one enters via two white marble monoliths, he has decided to take new inspiration. His sole request: to be able to work barefoot. The overhead light bathes the main room, which is perfectly conducive to contemplation and reflection. His dream? Simply to place an object on the floor and to be able to stand back, contemplate it and work without any visual interferences. And without recourse to a screen. While music is more than welcome, it does not come from any old speakers but rather, from two Maison de la Radio replicas, circa 1954. A pair of 'Chistera' tripod chairs, designed in 1949 by Joseph-André Motte, are the only pieces of furniture to grace the room. 
As a devotee of design, Benoît-Pierre likes simple, minimal, modest and scant forms. When an object is created as the result of a union between two masses in movement, you achieve pure and authentic design. And his carrés reflect this spirit, capturing the seductive force of colours on a simple square of fabric. While he often works with precious fabrics like silk, he also enjoys the bold resonance of patterns imprinted on cotton, polyester and rayon. Anything goes as long as there is a strong visual impact.
Close