The building located at Pamplona Street No.88 of Barcelona used to be a warehouse and storage space covered in graffiti. Andrew Trotter talks with its owner Skye Maunsell.
Close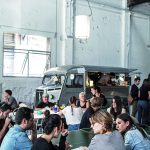 Tell us a little about the history of you guys, your studio and the building.
Jordi Veciana and Jordi Castel moved to this building 9 years ago, they restored it and set up their studio Castel Veciana Arquitectura. The building used to be a warehouse and storage space covered in graffiti, now the space is divided in two main areas, the design studio at the back and what we call Espacio88 in the front. I have an independent design firm based within the space and am also part of Espacio88. At 88 we organise creative/artistic and cultural events, and at the same time rent out the space for private events, photo shoots, comercial ads, art exhibitions. And more, its becoming a very popular platform for the area. We recently built a mobile kitchen to organise food related events, and of course it's also the parking spot of Skye Coffee co.
How and when did you have the idea to start Skye Coffee co, and open up Espacio 88 to the public?
The idea was there quite a long time ago, but just under a year ago it actually became reality. I always thought the coffee world was very interesting, and wanted to learn more about it, and having discovered all sorts of great spots for drinking great coffee in London and New York, I realised there was a need for something appealing, new and different in Barcelona. Mix that with my passion for classic vehicles, design and restoring things, Skye Coffee co. finally happened. For me Espacio88 was the perfect parking spot for Skye Coffee co, we wanted to open up the space to the public more by converting it into an inspiring meeting point for people, businesses and friends that work or live in the area.
Close
I guess it is only in Poblenou that you have spaces like this in Barcelona!
The building's shape and structure is typical of the neighbourhood of Poblenou, wooden trusses and brick walls. At the end of the XIX century it was the most important industrial area of Catalunya and from that period a lot of those industrial buildings have remained, sadly a lot have also been taken down.
This neighbourhood reminds me a lot of Shoreditch in London or Williamsburg in New York. The space is quite unique, we enjoy working in it and people love to come in, explore and walk around, it's great to be a part of that.
Did it all start with the van? What is the history of the van?
Well I had my eye on the classic Citroen H van for a while.I had always wanted one, even if it was just to drive up the coast or buzz around town! This one is from 1972, I bought it from a retired Industrial designer whose wife had a florist, and used the van to display flowers.It took quite a long time to restore and design the interior, adapting it into the mobile coffee shop, particularly when one´s so picky about image, details and style like me!