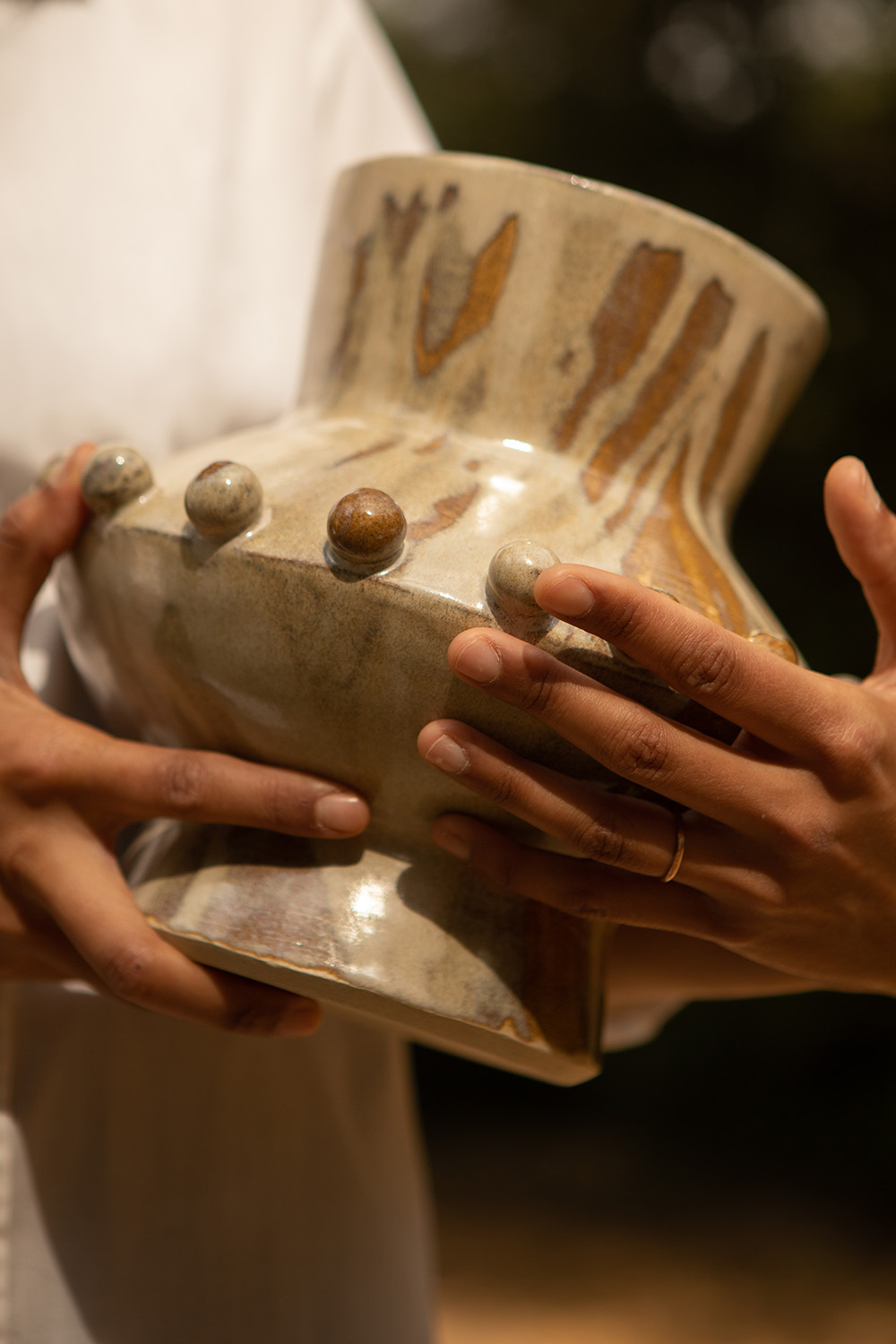 Ceramist and potter Landy Rakoto works at the top floor of an 18th century house adjacent to the Chateau de Brissac, in the French countryside of Anjou.
While watching her shape the collection of objects she recently completed, an old proverb comes to mind: the secret to a joyful life is to create a trail of meaningful, purposeful moments, and then falling in love with each and everyone of them. When Landy is creating in the midst of her studio's calm atmosphere, every gesture, as quotidian as it might be, is filled with the intention and transcendence of a ritual. Her hands make vases, candleholders, plates, mugs, cups or bowls, emanating an energy that, decisively, gets transferred to clay as it grows towards its culminating form. Every movement is perfected by constant meditative repetition, but still embraces the beauty of all natural imperfections that are intrinsic to hand made items.
Close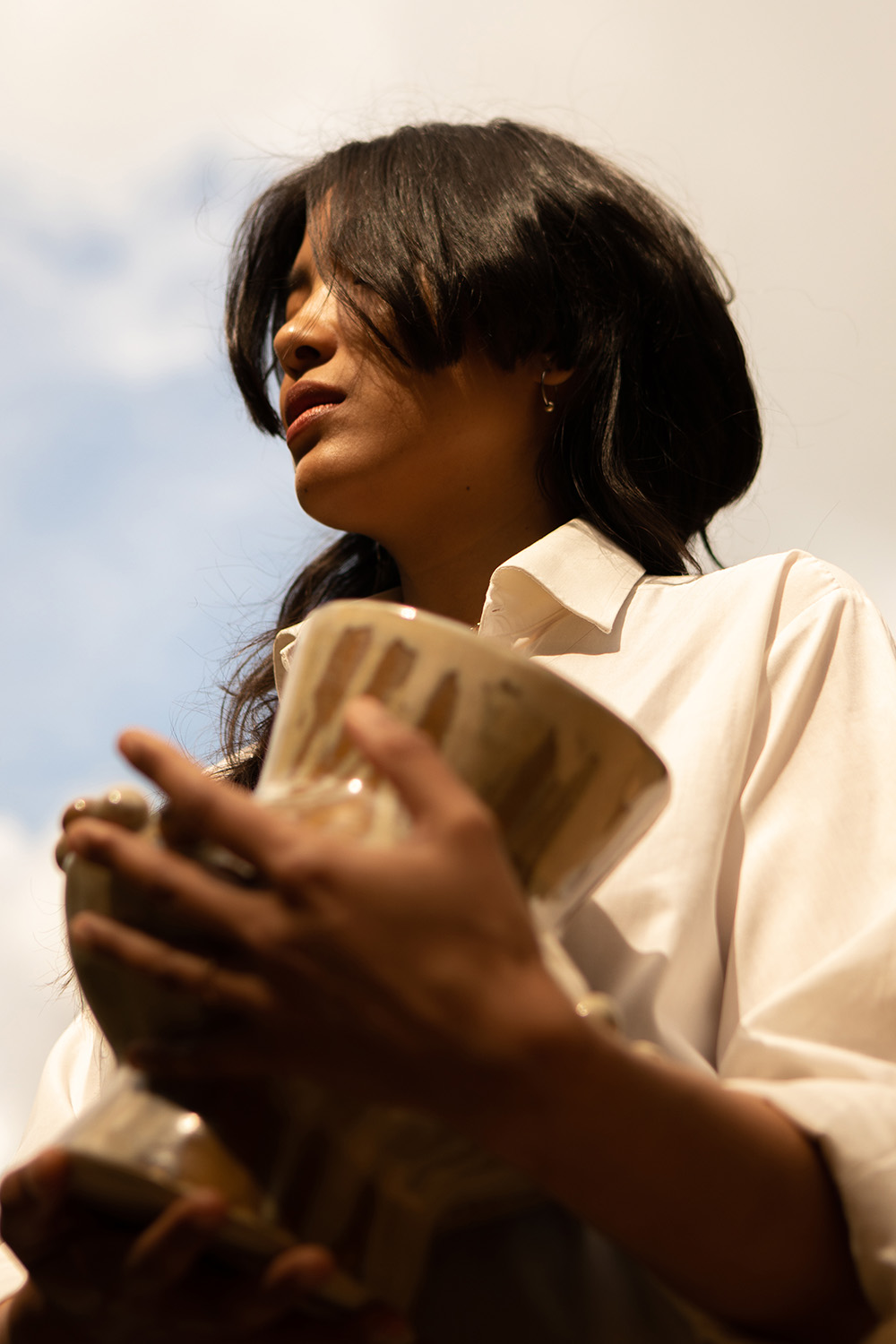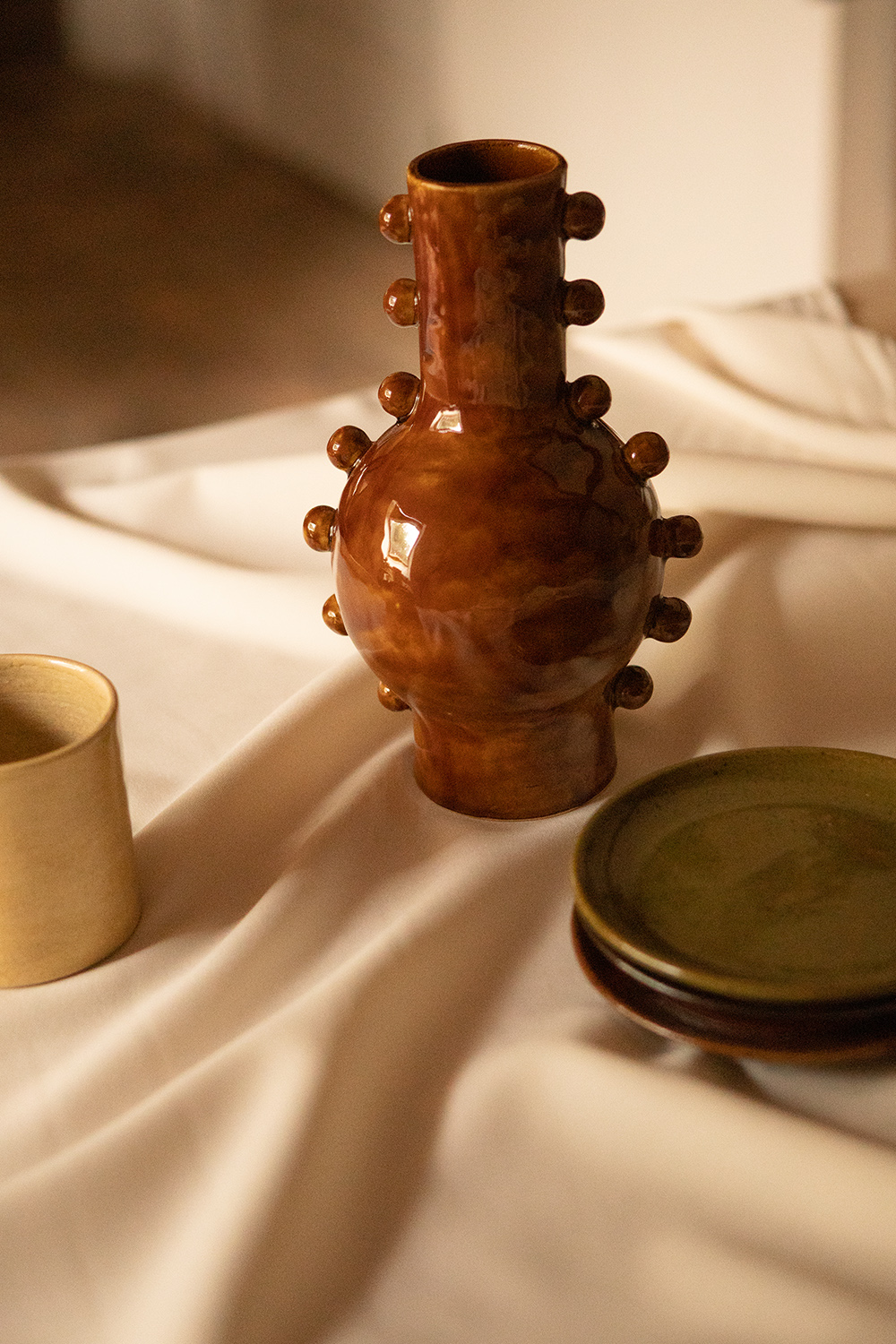 Landy's craft can be described as an alchemy that transforms the mundane earth into objects that are both attractive and functional. Her work is connected to the traditions rooted in ancient worlds and that have travelled across history until our days. Indeed, we are a product of many fused journeys that have taken place through time and geography. Landy and her work prove it without a doubt. She is French-Malagasy, but her path as a ceramist and potter started in Berlin where she first presented her objects at the Zora Auguste gallery by Nella Beljan, before moving back to France.
Close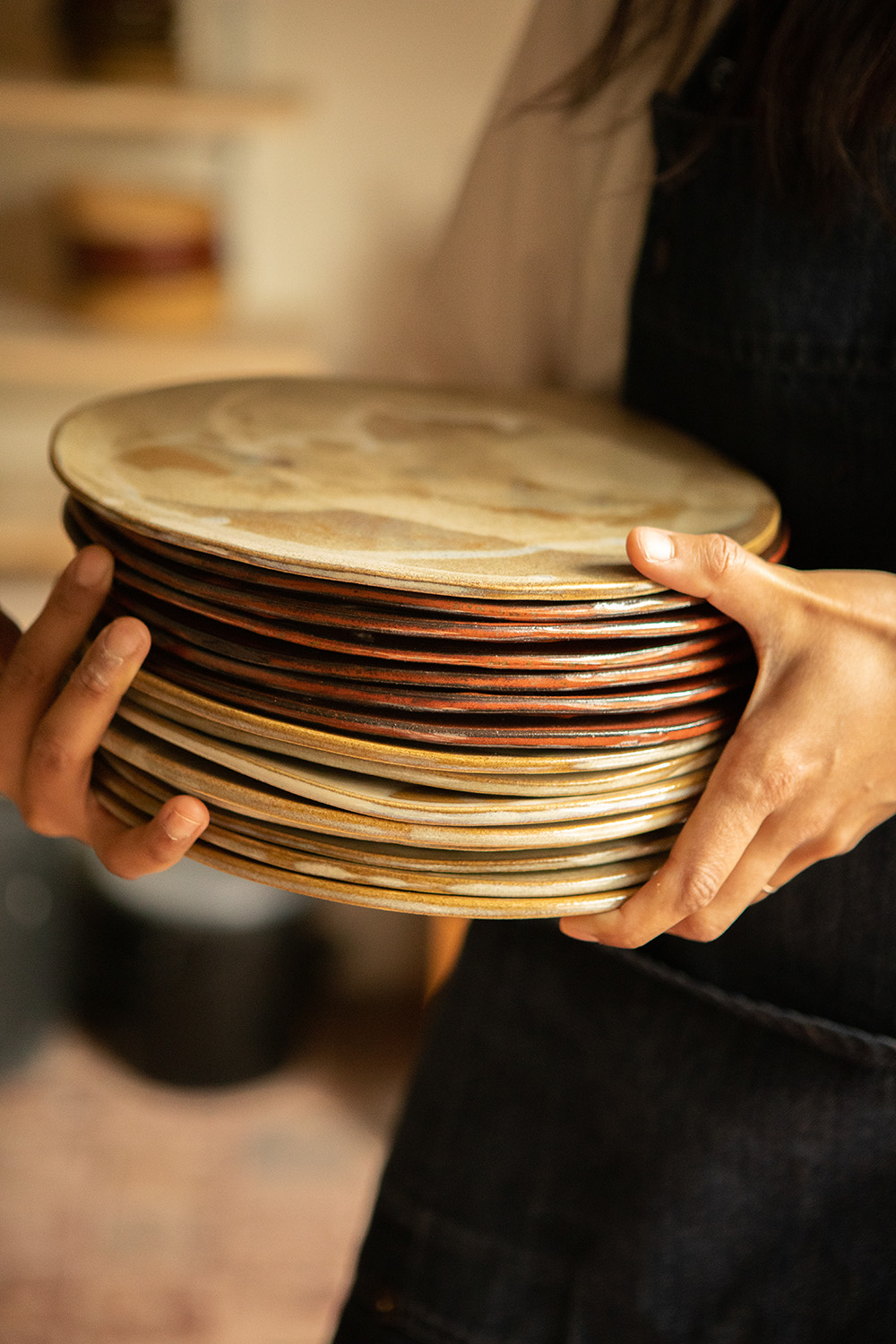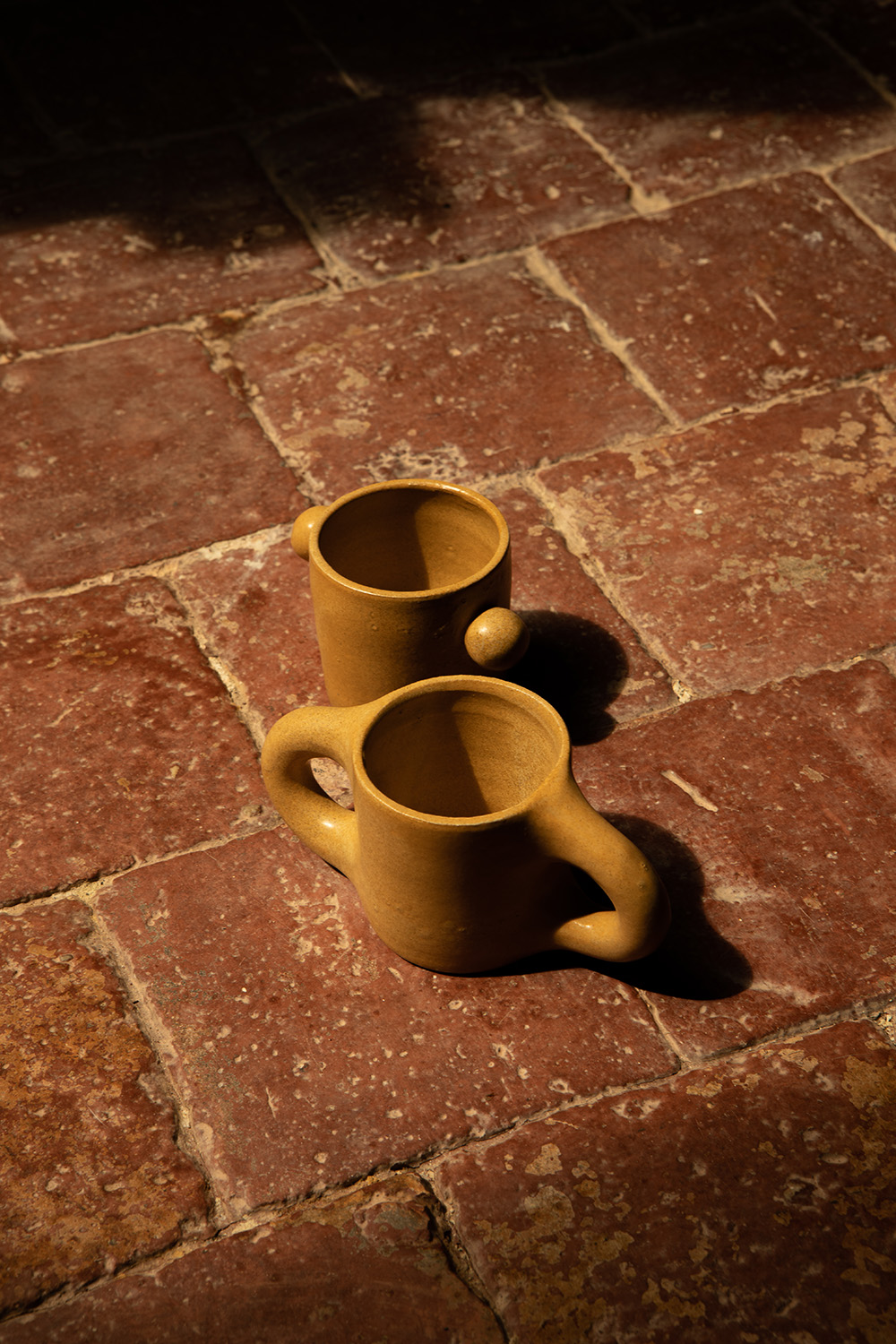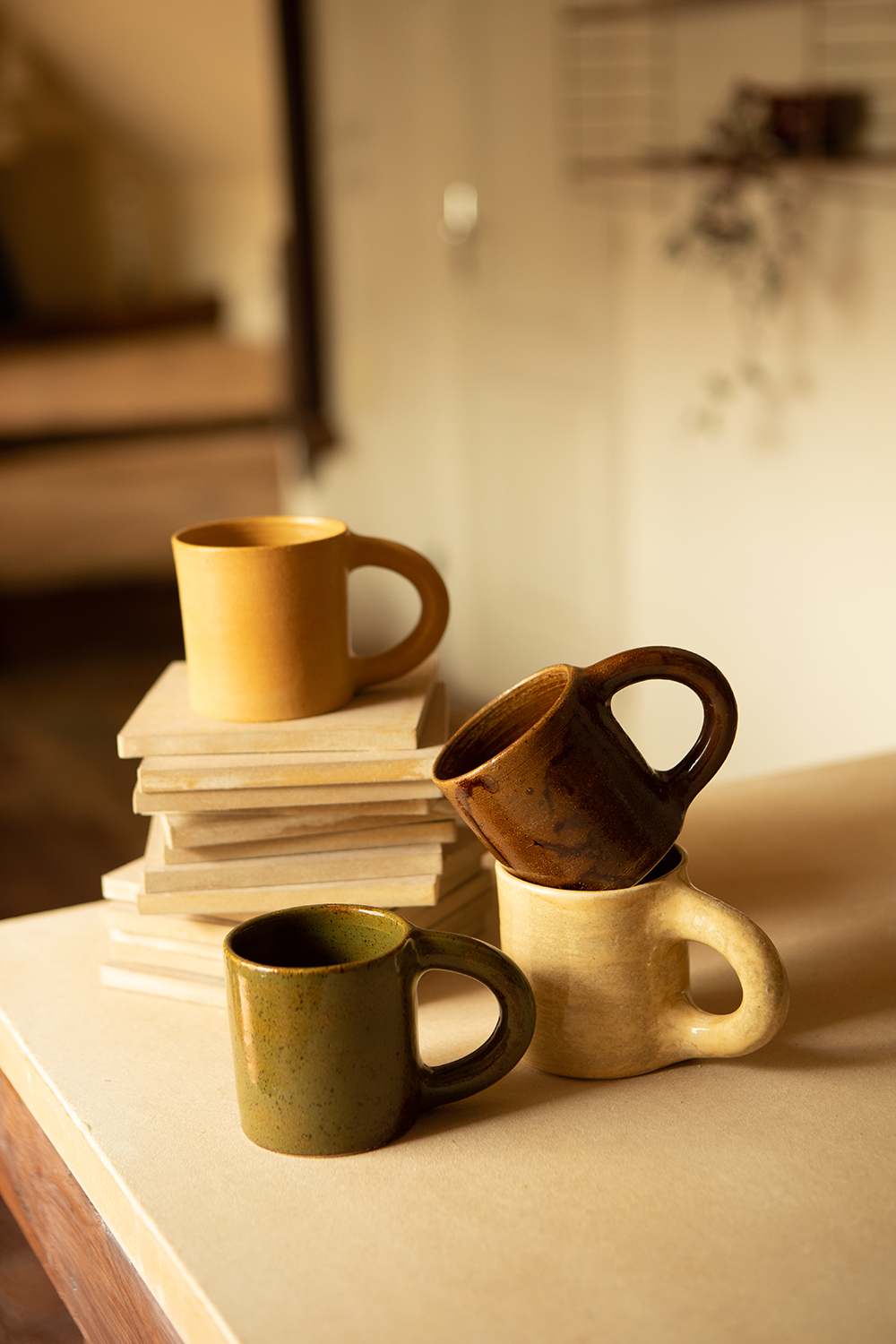 Now, from a studio, stepped in heritage, she gathers all elements that unite her to the sensory experiences that might have been shared with previous generations: the constant turning of a wheel under the natural brightness gliding through the skylight window, the ever shifting shadows and silhouettes around old dark wooden beams or the temperature of water running over one's hands when washing off that layer of remaining clay. The silences, perhaps some downy murmurs, complete an intimacy that unfolds within such an atmosphere. Surrounded by all these daily elements that are so essential to life —earth, light, water, fire— ideas become material realities and a unique collection of work emerges. Its organic essence is even reflected in the names of the glazes that add texture and colour to each piece: Volcano, Sea Oak or Sand.
Close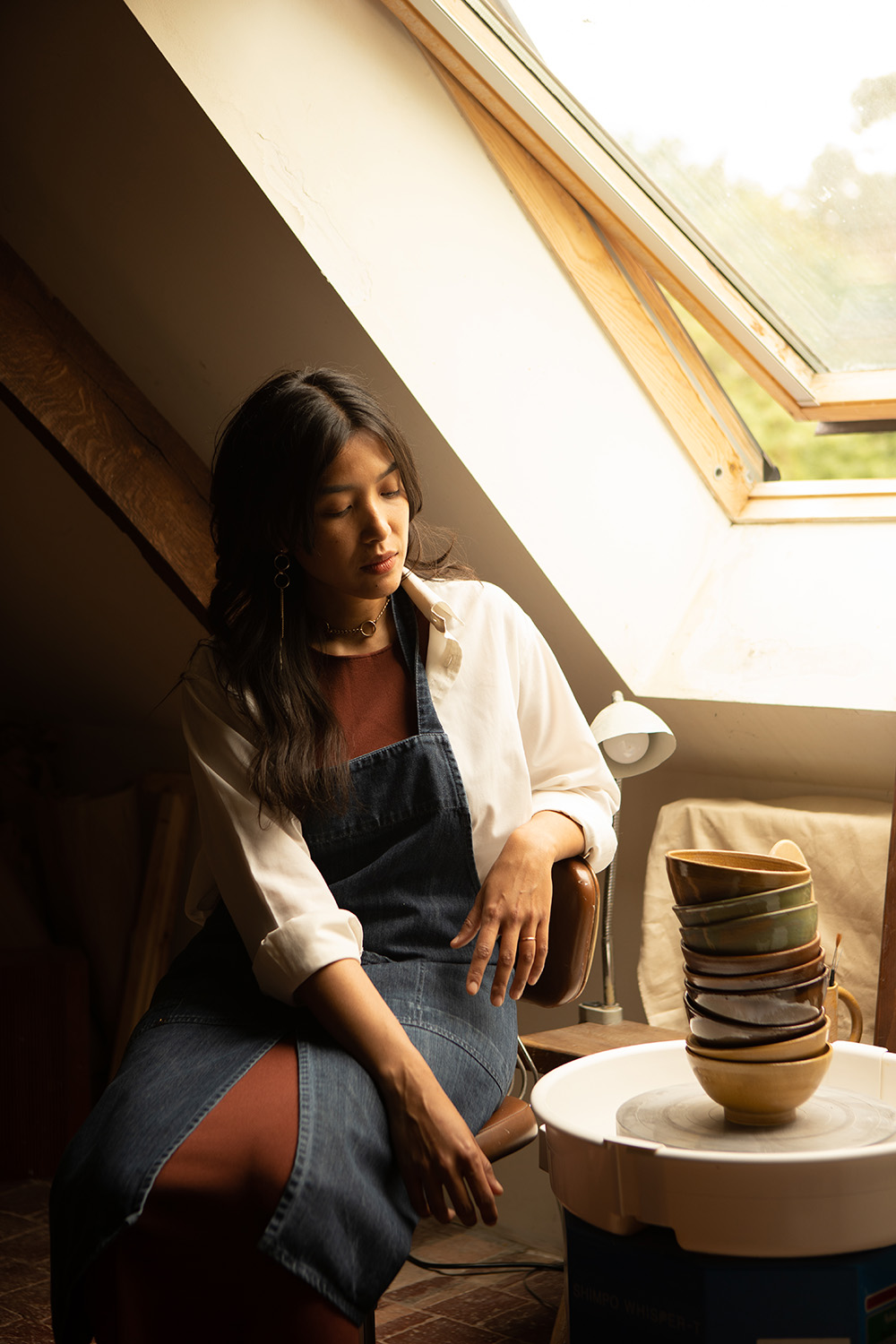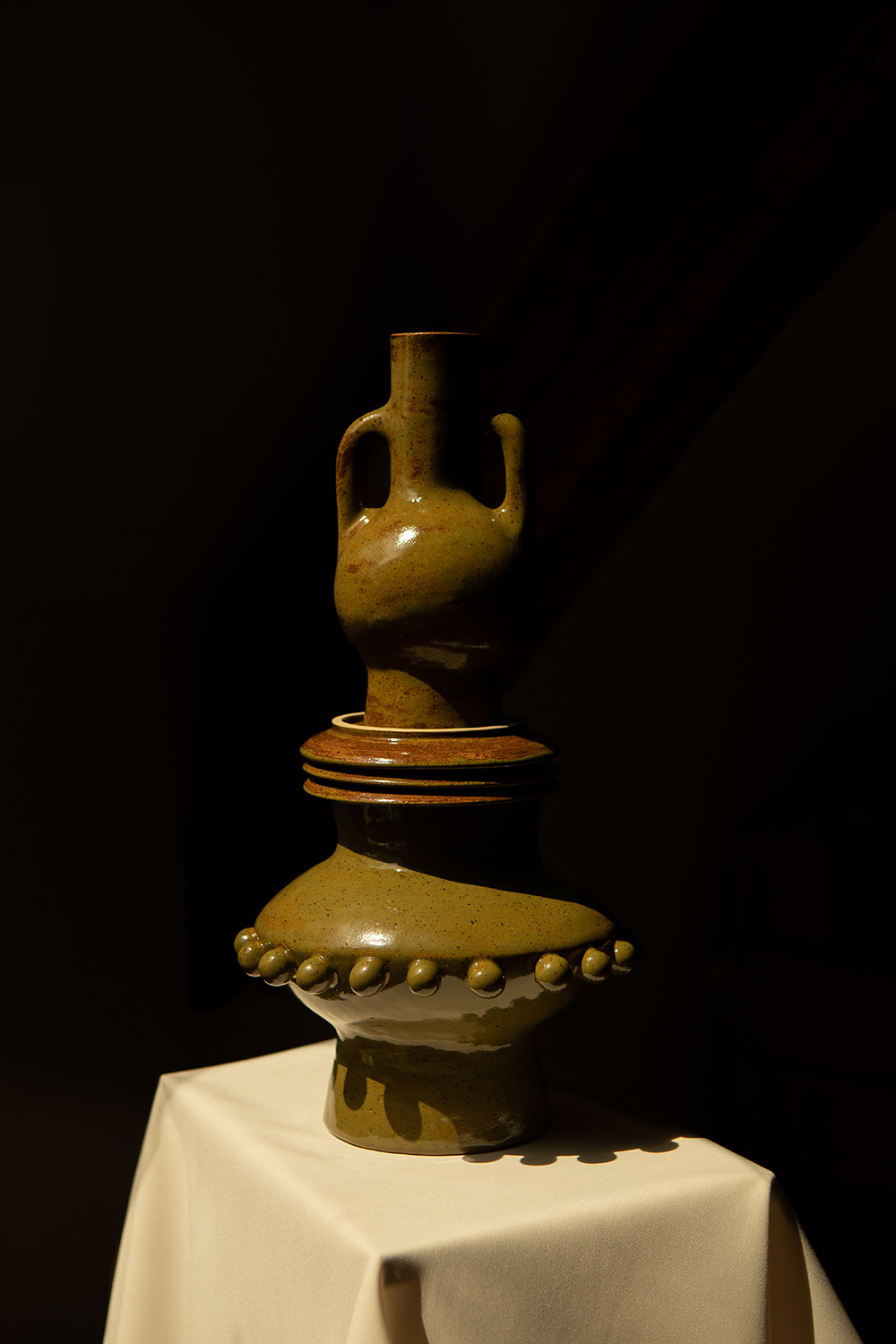 Here, the rusticity and warmth of diverse ancestral aesthetics are assembled and, at the same time, the designs appear modern and contemporary in the way geometry is freely expressed as well as the robust, brutalist, minimalist, simplicity of the shapes. There is even a humorous hint of what one could call vintage futurism, particularly in the UFO Vase. The result could be the perfect definition of a classical timeless style that not only aims to connect tradition with the present, but also to bring it towards the future. These pieces are made to last. The delight of creating this connection and then making it available to the public is what drives Landy. 
Close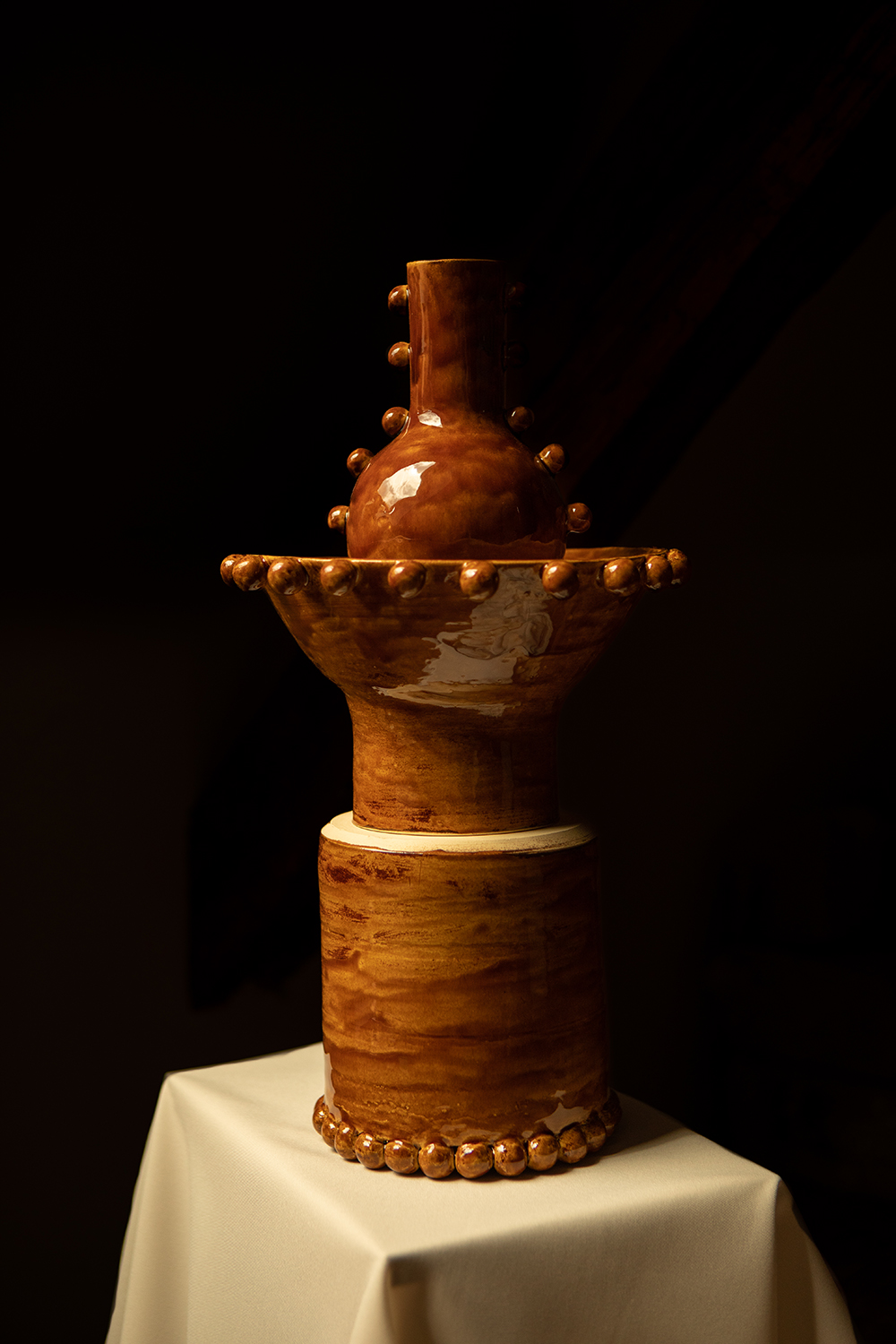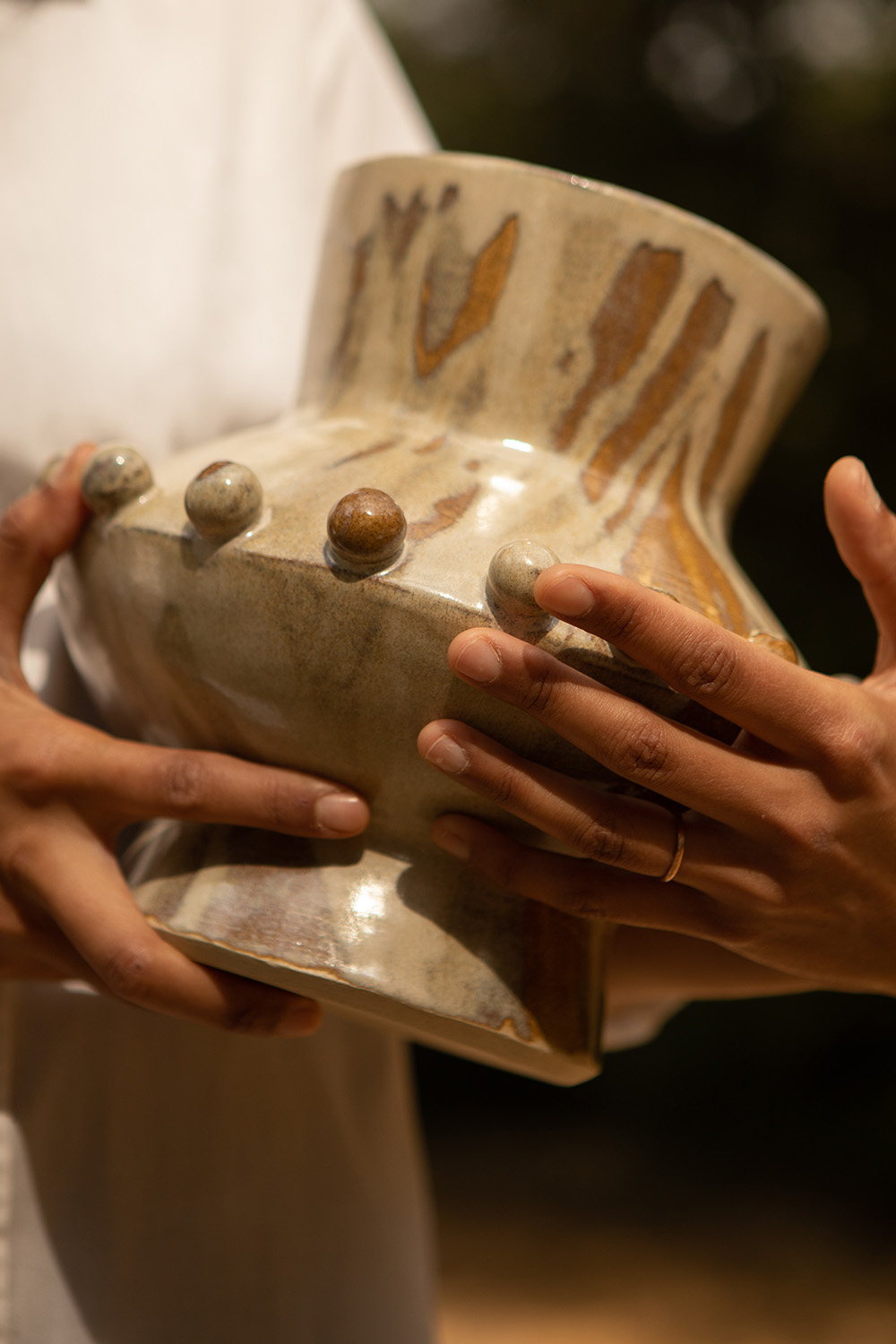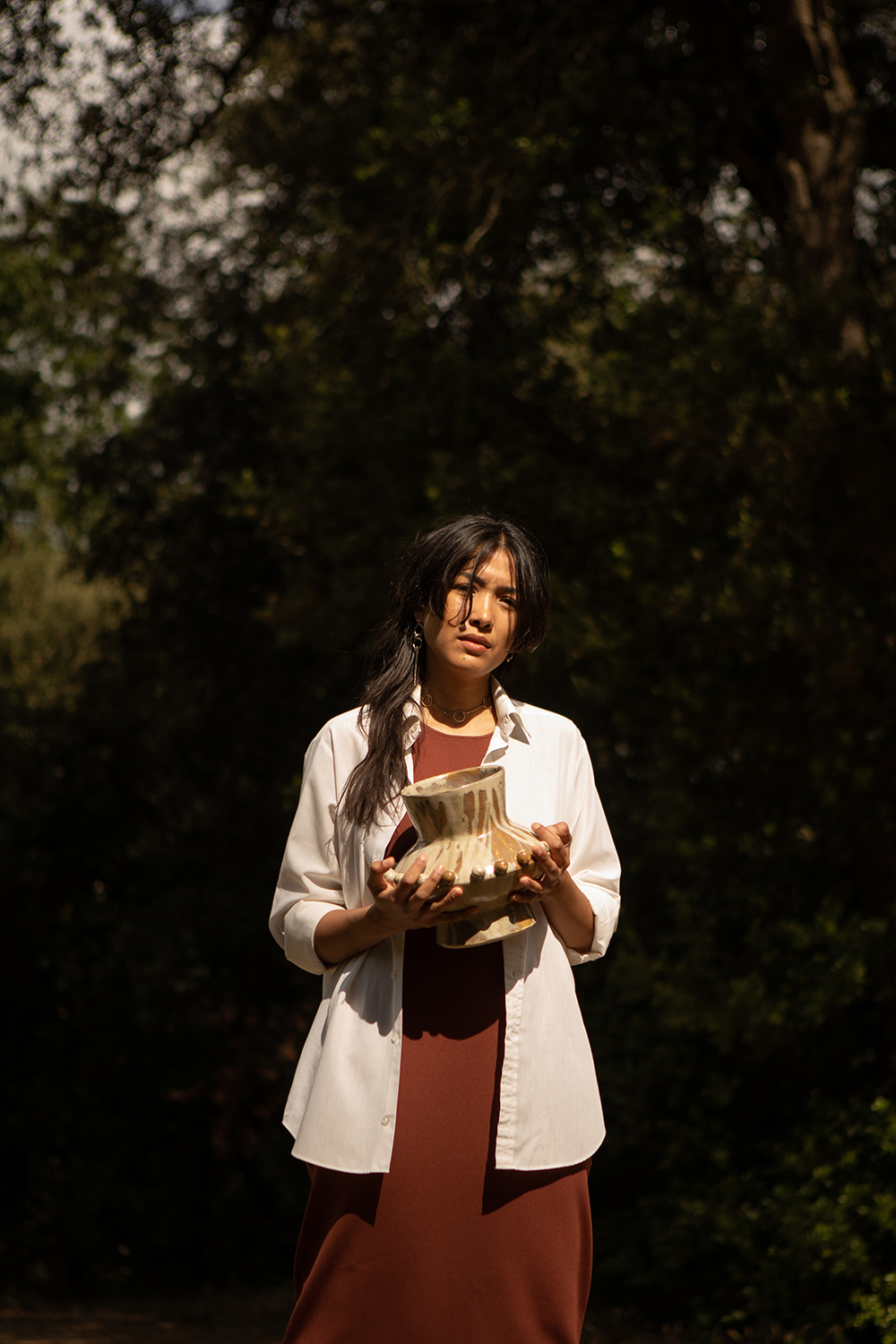 She also quotes French sculptor and ceramist Valentine Shlegel, one of her inspirations, who said: "J'aime le quotidien exceptionnel" (I love the daily exceptional)—.  This, or rather the exceptional daily, could summarise a well curated life as well as how this creator lives and works. It is in fact, daily connection one of the themes that further define the meaning of her collections: not only from past to present or from earth to item, but also through everyday contact with something as personal as, for example, the tableware we use. Objects we touch, wash and carry, that hold the food we eat, the water we drink or the brightness from the candles we light. All that is present in all the moments we share, whether ordinary or special or even emotional, they are all part of our life and our story. A piece of Landy's story remains written under each of her objects.